Actor Cloris Leachman has been making audiences laugh for over seven decades. But as a longtime vegetarian and animal advocate, she knows that the holidays are no laughing matter for the millions of turkeys who are slaughtered every year.
She teams up with PETA once again to celebrate these intelligent, emotional birds and ask everyone to stop eating animals. The new ad campaign features her with Frank, a 6-month-old rescued turkey who was originally destined for slaughter but now enjoys a life of freedom at a reputable sanctuary.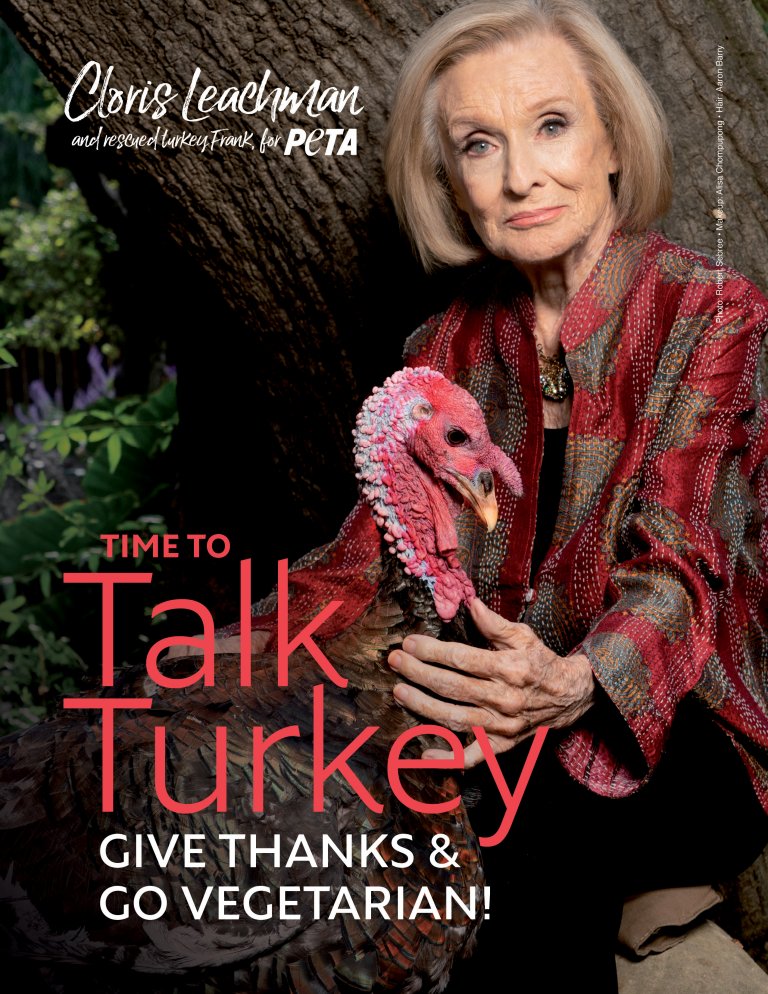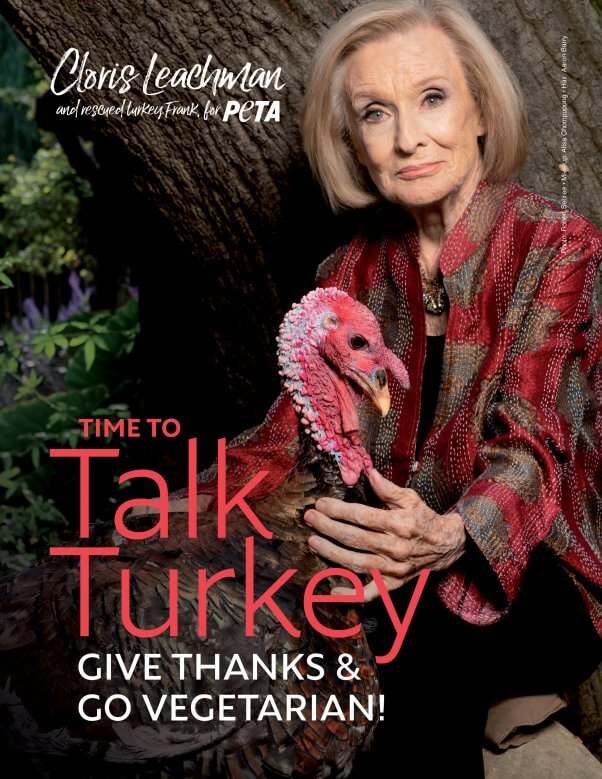 "If you wouldn't eat a dog, why would you want to eat a turkey?" Leachman asks in the campaign video. She was particularly smitten with her feathered costar. "I love Frank! Is he married?" she quips with her famous wit. In the interview, she also shares how she originally went vegetarian over four decades ago and reminds everyone that "[t]here's no reason to eat animals."
In case you needed yet another reason to cut out animal-derived foods, Leachman is proof that it can help prolong your life—although we can't make claims that it will help with curbing profanity. "You can discover it for yourself, but I'm ninety-f*cking-two," she said, "and I'm coming on ninety-f*cking-three, and I haven't eaten meat for a long, long time."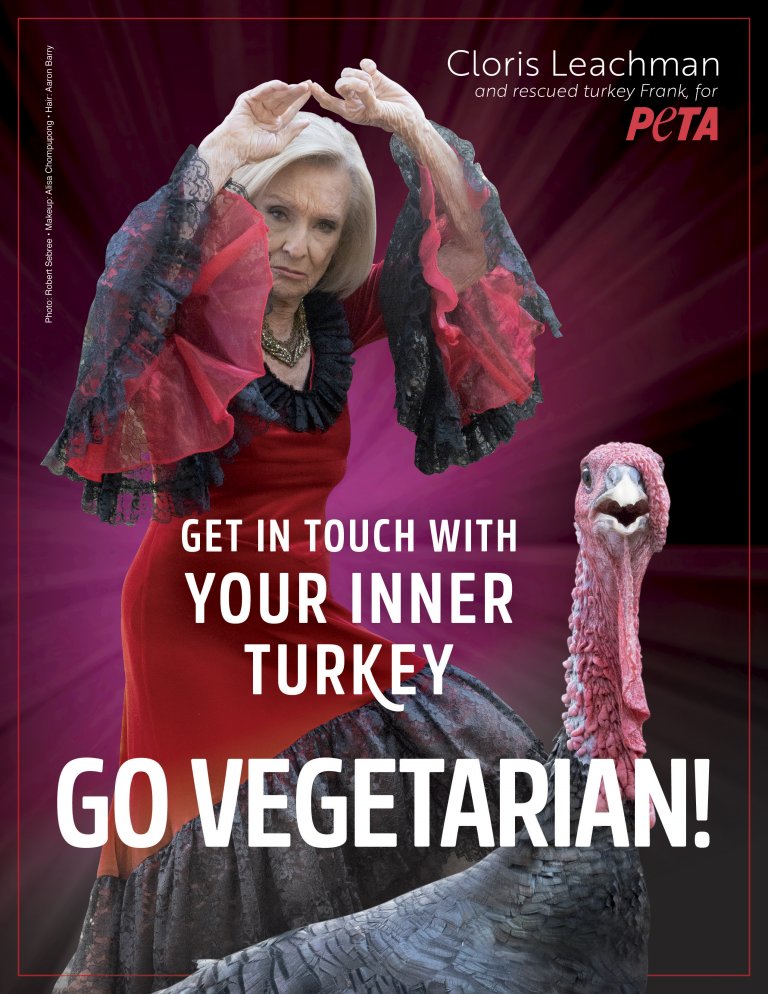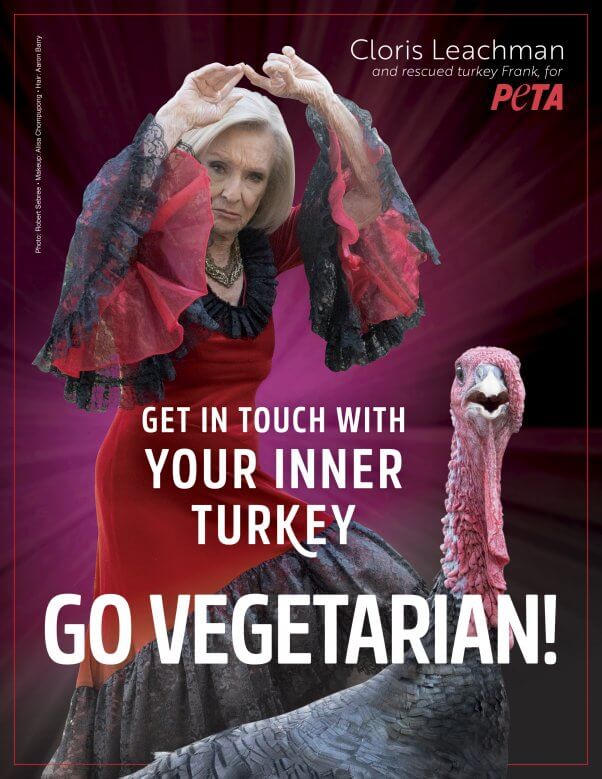 This is not the first time that Leachman has spoken up for animals. In a 2009 PETA ad unveiled in New York City's Times Square, she donned a stylish gown of lettuce and cabbage to encourage people to go vegetarian. Thanks to her and many other celebrities, leafy greens continue to be a top trend, popping up all over the runways—and on people's plates.
Roughly 240 million turkeys are raised for food every year in the U.S. alone, and approximately 85 million of them are slaughtered just for Easter, Thanksgiving, and Christmas. The suffering starts well before they're killed, as these gentle birds can spend five to six months crammed into dark, crowded sheds with no more than 3.5 square feet of space each.
Recently, the false promotion of "humane" or "heritage" turkeys has gained popularity among wealthy consumers and high-priced restaurants. Companies like Heritage Foods USA and Good Shepherd Poultry Ranch are duping people into spending hundreds of dollars on "happy" turkeys. But in reality, these birds have been jabbed, yanked by a wing or leg, crammed into filthy cages, and forced to travel for 12 hours without food or water.
Want to make sure that all animals are happy around the holidays and every other day? Pro tip: Don't eat them.
There are many delicious ways to have a compassionate holiday meal. If you're looking for some vegan menu inspiration, check out some of PETA's favorite holiday recipes.
Give turkeys something to be thankful for this holiday season—order your free vegan starter kit now!