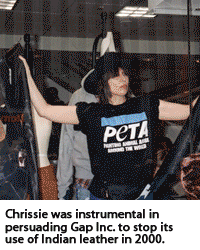 Over the years, PETA and animals have always been able to count on Chrissie Hynde. In fact, there is absolutely nothing that the gutsy, outspoken Pretenders frontwoman and founder wouldn't do to further the cause of animal rights.
From leading demos to writing countless letters to inviting PETA to table at her many tour stops to signing petitions—to even opening her own vegan eatery, The VegiTerranean Restaurant, the plight of animals is always on Chrissie's mind. And she's never too busy to roll up her sleeves and pitch in.
In 2004, Hynde led a protest against KFC in France, where she and other activists smeared "blood" on the windows and were arrested. She's also called for an end to New York City's horse-drawn–carriage industry, taken part in demonstrations calling for a ban on mulesing and live export while touring in Australia, and spoken out against Iams.
When she's not busy helping animals, Hynde and The Pretenders manage to make some of the best music you'll ever hear—they don't induct just anyone into the Rock and Roll Hall of Fame, you know. Check out "Boots of Chinese Plastic" and "Love's a Mystery" from the band's long-awaited ninth studio release, Break Up the Concrete, and order your copy today at Amazon.com or through iTunes, which entitles you to three bonus tracks.
Check out what Chrissie had to say when PETA Senior Vice President Dan Mathews recently caught up with her during The Pretenders' current tour.
You don't have to be an international rock icon like Chrissie to make a difference for animals. There are endless ways that you can help animals every day—from the animals you share your life with to the ones killed for food or clothing to those being tortured in labs or by the entertainment industry.
Probably the best and easiest thing that you can do to help animals is to stop eating them. But don't just take our word for it—get started by taking the Pledge to Be Vegan for 30 Days. And be sure to check out Chrissie's new interview with PETA on PETA's blog, The PETA Files.