Like many vegans, Bonnie-Jill Laflin began as a vegetarian. She joined forces with PETA to create an ad to promote her compassionate lifestyle—and she realized that she could be doing even more good by giving up all animal-derived foods. As a woman working in the male-dominated world of professional-sports scouting and reporting, Bonnie-Jill has no problem raising her voice for what she believes in. So she's back with PETA to update her sexy vegetarian ad with a sexy vegan one.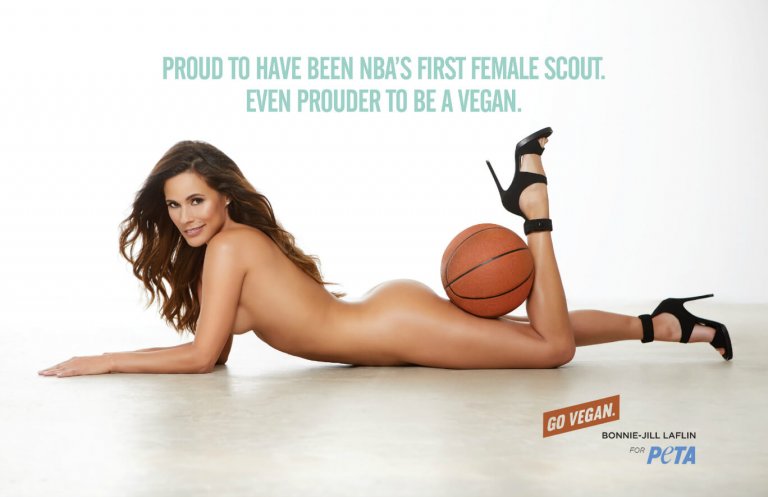 Consuming eggs and dairy isn't compassionate—the only way not to participate in the torture and killing of animals is to go vegan.
If you buy animal-derived foods like milk, cheese, yogurt, and eggs, you're probably supporting factory-farming industries. On these farms, workers repeatedly artificially inseminate cows to force them to produce milk, take babies away from their mothers, and kill baby males, because they're considered useless except for their meat. Bonnie-Jill went vegan and is encouraging others to do the same. She had a chat with PETA about her decision to "go all the way" and take a stand against all cruelty to animals.
Feeling that she wasn't doing enough as a vegetarian, she wanted to stop supporting any industry that profits from exploiting animals. Watch behind-the-scenes footage of her naked ad, in which she explains her motivation for going vegan and what you can eat instead of chicken wings:
The Cruel Egg Industry and the Miserable Lives of Dairy Cows
Egg-laying hens are crammed into cages so small that they're unable to spread their wings, and workers cut off their beaks with a hot blade. Male chicks are discarded as an unnecessary coproduct, killed typically by being suffocated or ground up while still alive.
Mother cows on dairy farms are repeatedly and forcibly impregnated to force them to produce milk, which is meant for their own babies but which humans take instead. Male calves are killed for veal, and females are either slaughtered immediately or forced to follow in their mothers' footsteps—enduring a life of forced pregnancies and stolen babies.
Beyond the physical violence that goes on in these industries, when we treat other animals as commodities, when we rob them of their milk and eggs, we diminish them from the diverse individuals they are to a nameless, faceless mass with a price tag. We violate their basic, fundamental rights and blatantly disregard their interests.
Join Bonnie-Jill and do your part for animals, your health, and the environment—it's never too early (or late) to make the kind and smart choice to go vegan. It's never been easier to stop eating meat, eggs, and dairy "products"—there are countless compassionate options in grocery stores and at restaurants across the country. PETA also has hundreds of free delicious vegan recipes for you to try!