Sometimes guardians need a little help communicating with their animal companions. Turning to a reputable dog trainer who uses only force-free methods can be a game-changer when it comes to behavior that can be dangerous for you and your animal companion. However, not all dog trainers are ready to help you learn how to communicate effectively with your dog using humane methods. When guardians mistakenly place their trust in "board and train" facilities, they don't know whether the trainer is employing abusive and violent tactics behind closed doors.
What Happens at 'Board and Train' Facilities?
Across the U.S., dog trainers have been accused of, charged with, and convicted of cruelty to animals for abusing dogs entrusted to them for "board and train" programs.
Here are just a few of the victims' stories.
When newlyweds Masera and Emeka Ndukwe of Dallas left their 1-year-old dog, Brooklyn, at Alan Brown's "board and train" facility before going on their honeymoon, they had no reason to believe that their animal companion would die in a cluttered van two days later. The facility had good online reviews, and the Ndukwes had conducted a phone and in-person interview with Brown beforehand. However, just 2 days after dropping him off, Brooklyn was dead.
For several days after Brookyln's death, Brown had reportedly led the couple to believe that the dog had been doing well at his facility, claiming via text that the canine had been thriving in training classes and that things were going "great." However, the Ndukwes grew worried when Brown failed to provide the promised photo updates. It wasn't until the newlyweds told the trainer that their friends were going to pick up Brooklyn that he informed them that the dog had died.
Another dog, Hershey, allegedly died in Brown's care just two weeks prior to Brooklyn's death. The Ndukwes eventually discovered an online review claiming that a 1-year-old German shepherd named Booster had also died in Brown's custody after being left in the heat.
In another incident, a  German shepherd named Scout was picked up early from a facility in Virginia after someone notified his guardian that the puppy was in bad shape. Ultimately, Scout was euthanized in order to relieve his suffering from the trauma of being kept in a crate for hours on end. After authorities were alerted, 12 other dogs were found on the property confined to crates and kennels without bedding and standing in their own urine and feces. They didn't have access to food or water, and at least one dog was severely underweight with untreated injuries to all four feet, which required emergency veterinary treatment.
After the death of a young German shepherd named Gunner at an Alabama "board and train" facility made headlines, seven additional guardians came forward to say that their dogs had also been traumatized or even died—suffering from starvation, injuries, or infections—while boarded at this training facility. Gunner's guardian, a nurse, said her dog "definitely died of wounds and torture."
Similar stories of abuse and death at "board and train" facilities have been reported in Florida, Kentucky, Massachusetts, and nearly every other U.S. state.
Are German Shepherds Hard to Train?
Many of the dogs abused at training facilities are German shepherds. People often underestimate the amount of work and communication that the large, clever, active breed requires to get the proper amount of exercise and mental stimulation. Just like humans, when dogs are bored, they become more and more frustrated.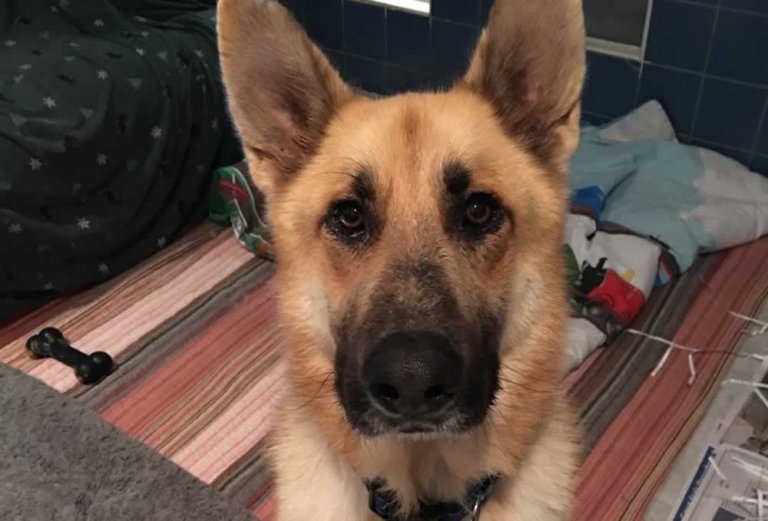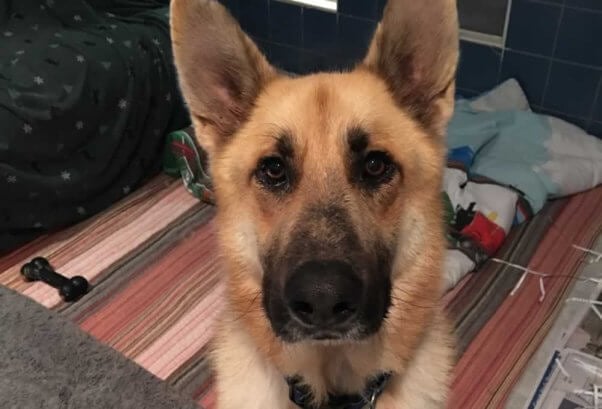 German shepherds, like all other dogs, can thrive with force-free training that keeps them mentally and physically stimulated. Like any dog, they can be wonderful companions for people who are willing and able to provide everything the dogs need to remain happy and healthy—and who will do the research to know that positive-reinforcement training is effective for large and small dogs alike.
You should never buy a German shepherd or any other dog. It's cruel to buy a dog while there are millions in animal shelters or struggling to survive on the streets across the country. There are many shepherds, mixed breeds, and all other types of dogs in shelters who could be the perfect companion for you if you're ready for the lifelong commitment.
Reminder that there are 70,000 dogs on @petfinder who need homes, including breeds like French Bulldogs, Labradors, and German Shepherds!#NeverBuyDogs #AdoptDontShop pic.twitter.com/uvN5myiZe3

— PETA (@peta) March 17, 2021
Why Are 'Board and Train' Facilities Still Allowed to Operate?
There are no national or state standards for dog trainers. Anyone can call themselves a "trainer" and start "training," which means that it's crucial that you do your homework before selecting one. Whenever there's an effort to strengthen (or even create) licensing requirements for dog trainers, the American Kennel Club (AKC) lobbies against it. The AKC only cares about money, not dogs.
Good training begins with the one holding the leash. A good trainer will teach you how to understand your dog, be consistent, and better meet your dog's needs. If you aren't being trained, it's time to find a new trainer!
Learn How to Choose a Dog Trainer Who Will Be Kind to You and Your Dog