Can you imagine watching this footage …
… and then continuing to support the bloody, violent wool industry? Forever 21 can—the retailer has been doing it for years. The footage above was recorded on a sheep farm in Australia, the world's largest exporter of wool. The video is part of a recent exposé of the global wool industry—one of 13 that PETA and our affiliates have released since 2014. We've shared our exposés with the retailer, but it still refuses to do the right thing.
So we're putting Forever 21 on blast.
In just the last few months, we've turned the heat way up on the clothing company. Most recently, we posted a billboard in downtown Portland, Oregon—a few blocks from a Forever 21 store—that shows a sheep urging people not to buy wool and instead to shop vegan.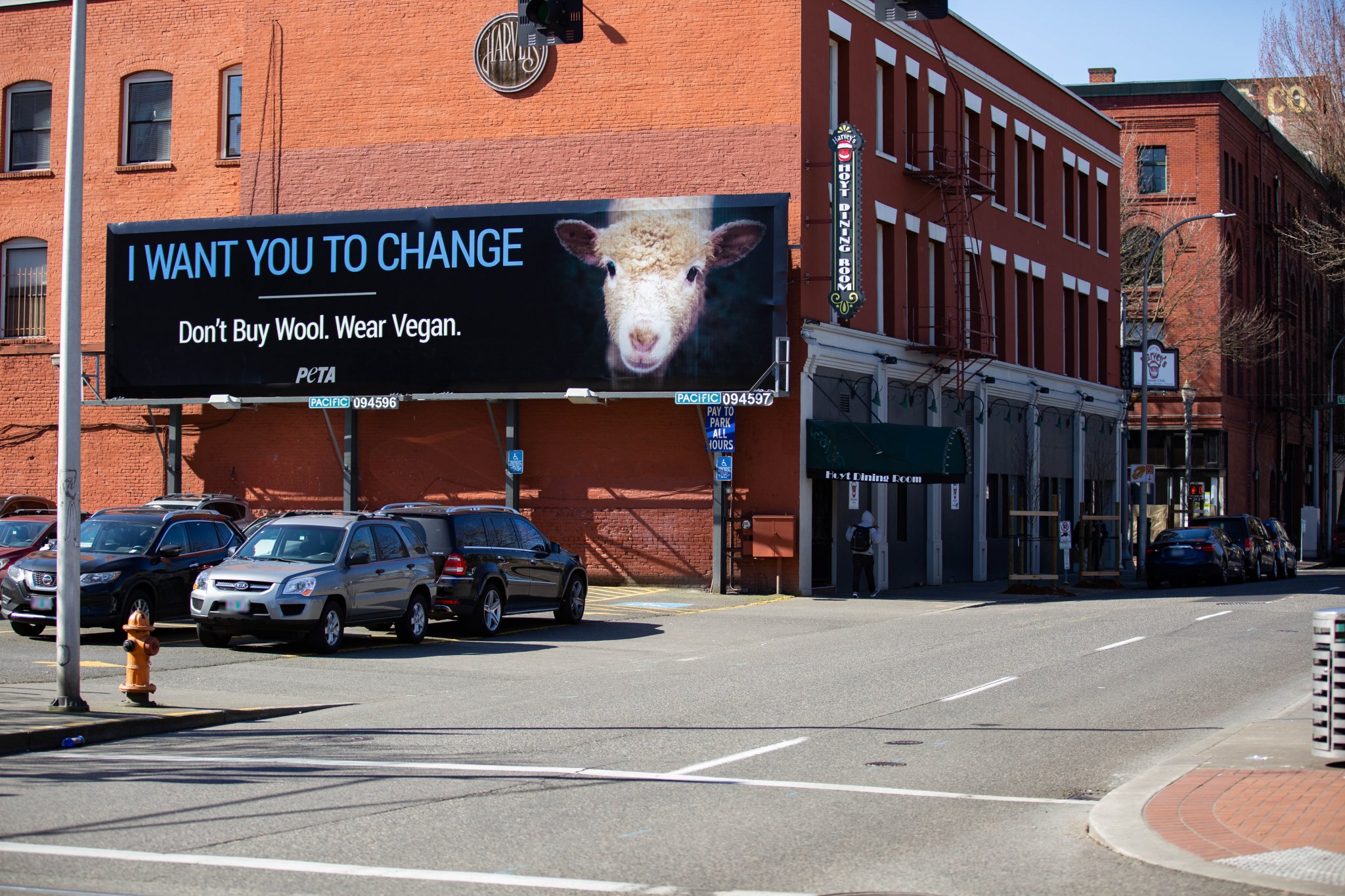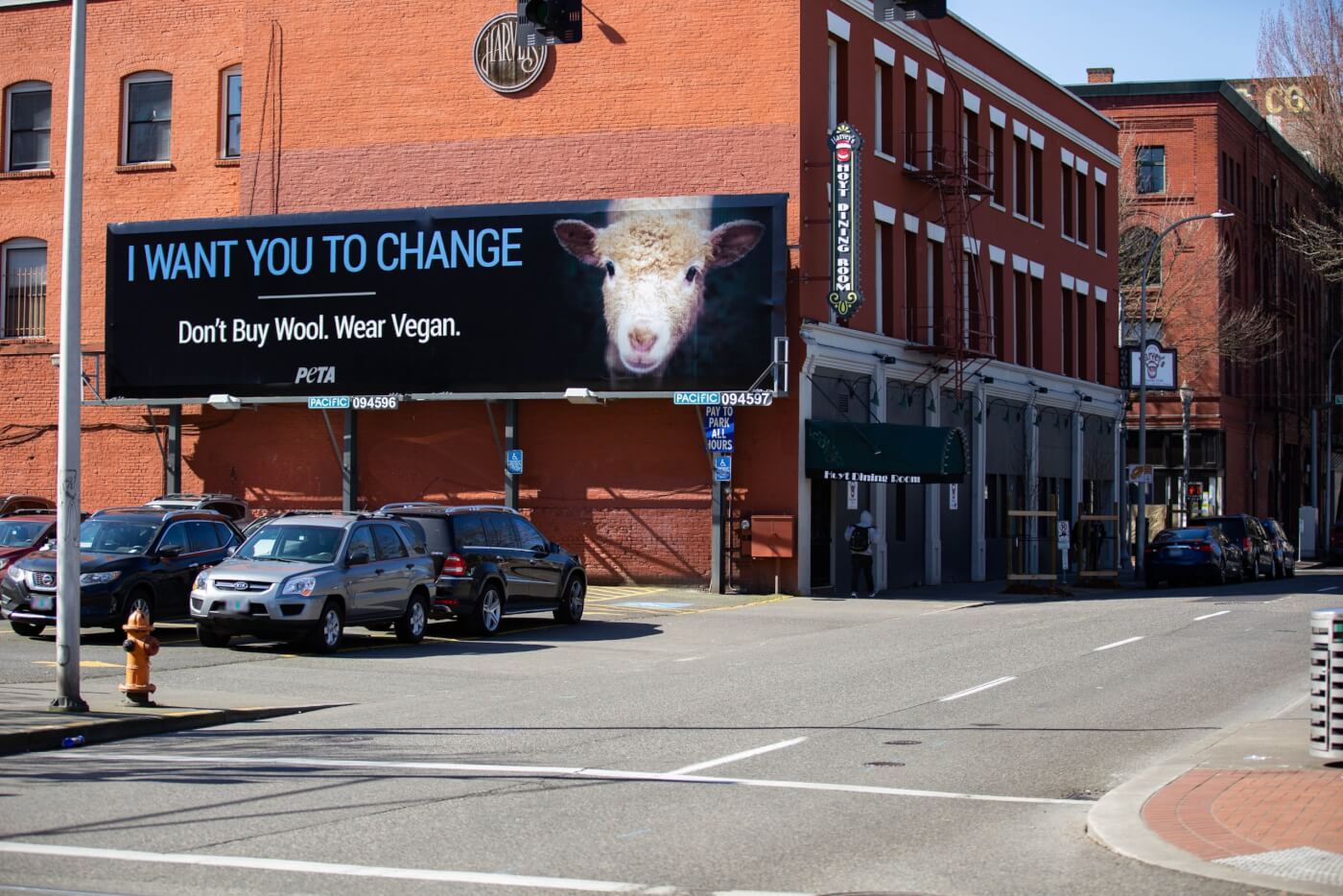 PHOTO: Pacific Outdoor Advertising
Just last month, a shearer who was caught on camera punching sheep and beating them in the face with heavy electric clippers during a PETA Asia undercover investigation pleaded guilty to cruelty to animals in Australia, which is a leading exporter of wool to the U.S.
Consumers deserve to know that Forever 21 is profiting from an industry in which gentle lambs and sheep are beaten, mutilated, terrorized, and even killed for wool.
In October, we posted a giant anti-wool billboard outside its headquarters in Los Angeles.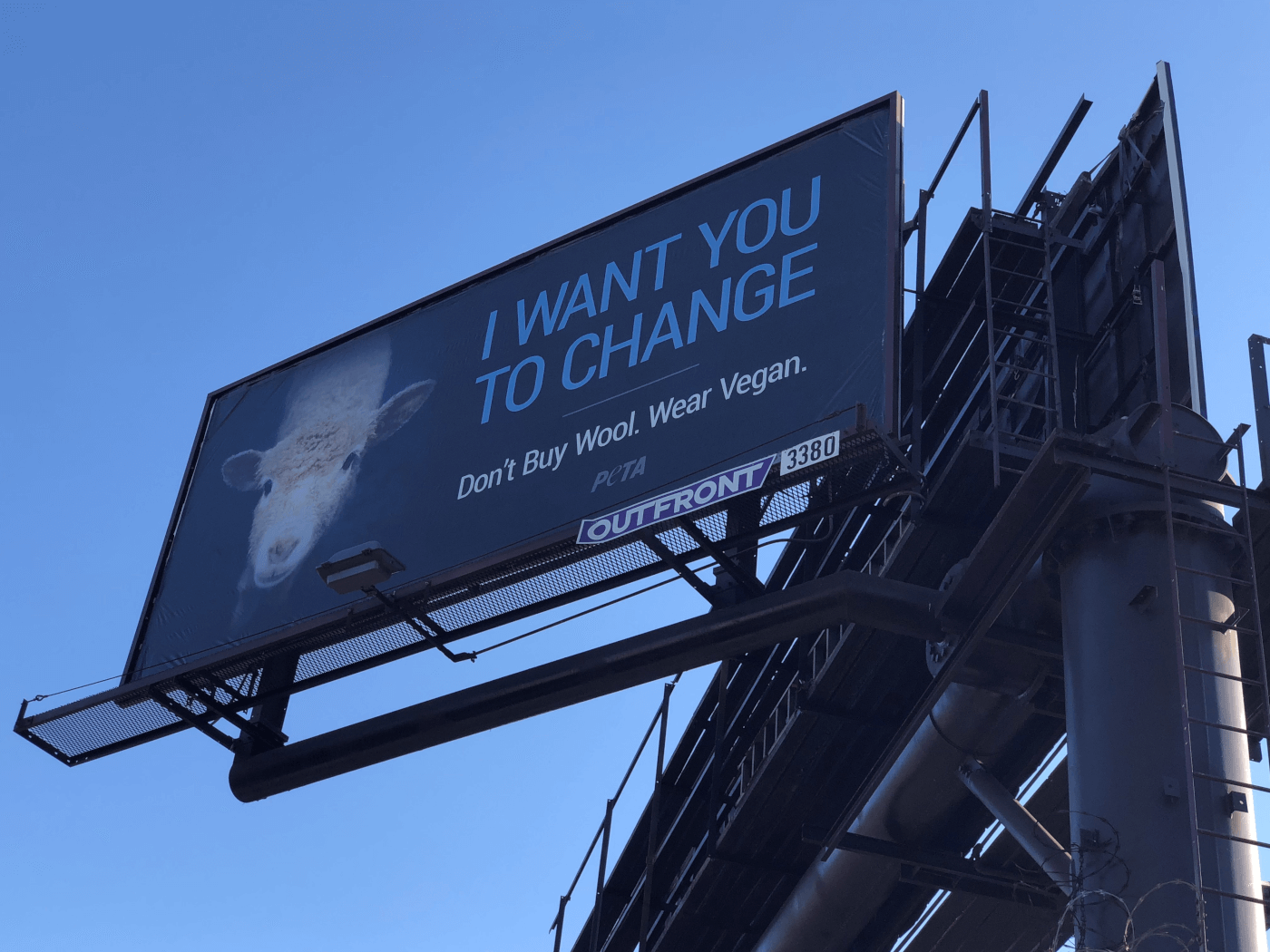 Despite numerous PETA exposés revealing horrific cruelty to frightened lambs and sheep at wool operations around the world, Forever 21—which recently filed for bankruptcy—refuses to stop selling wool. This new ad sends a pointed message that stylish vegan knits are here to stay—forever.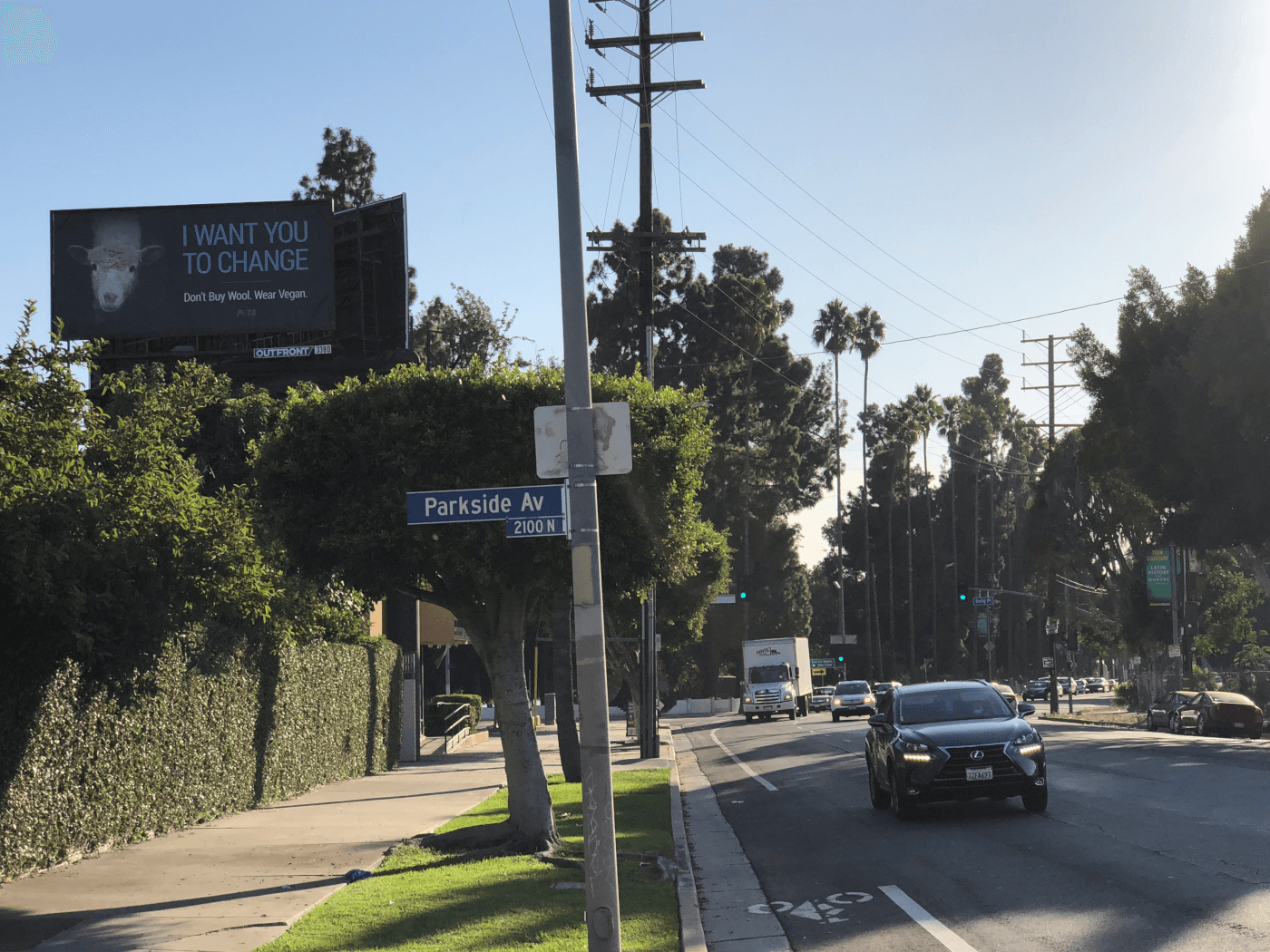 In September, we put up ads on 20 bus shelters near two Forever 21 stores in Oklahoma City showing a sheep's sweet face and the words "I'm a Living Being, Not a Sweater. Boycott Forever 21," urging the company to stop profiting from the cruel wool industry and instead opt for readily available vegan alternatives. A passerby and their canine companions couldn't help but stop and consider one of them: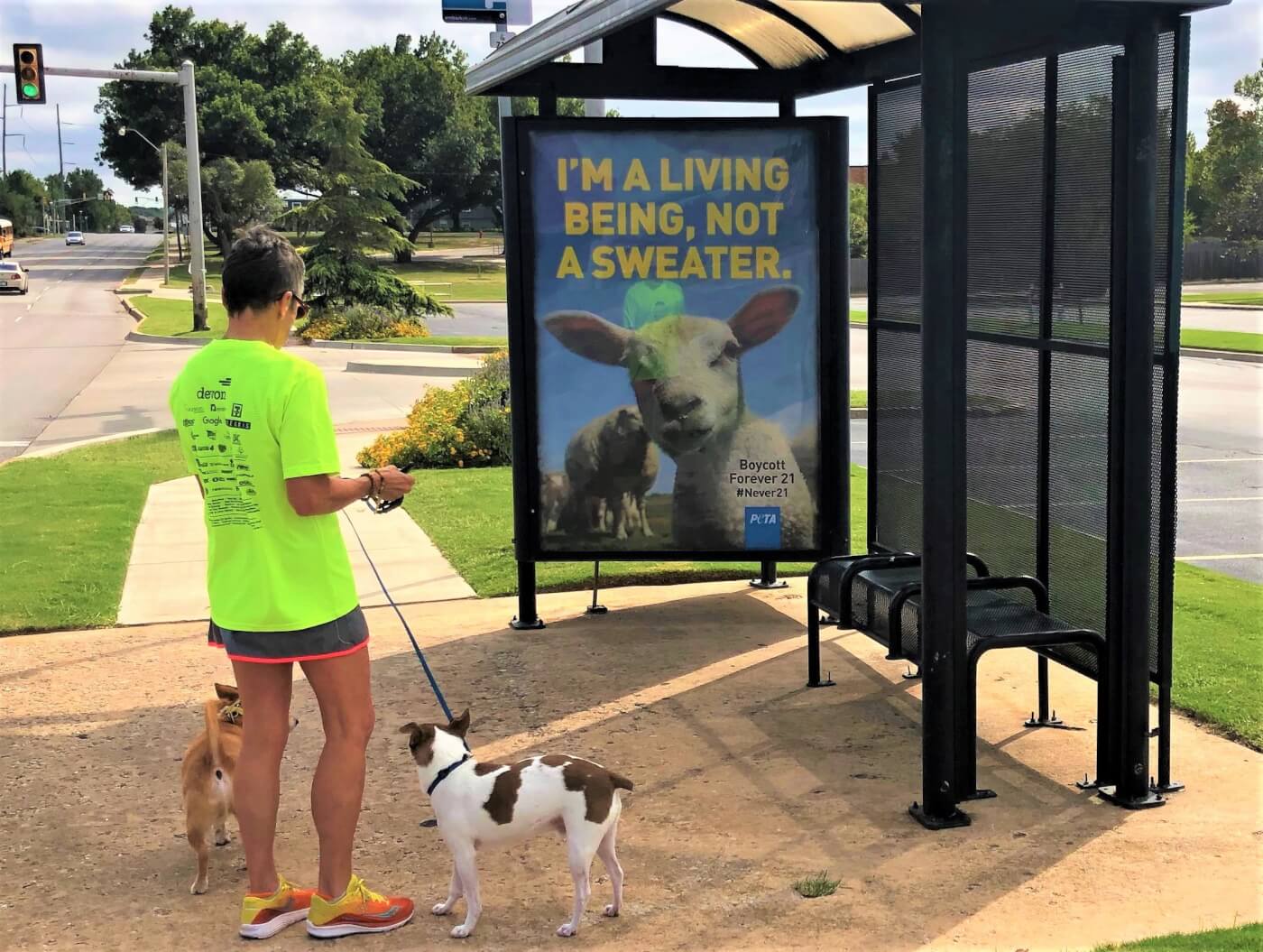 Meanwhile, in Washington, D.C., more than 60 students from college and university campuses across the U.S. (and some in Canada, too) rallied together against the retailer, reminding fellow students and all consumers that sheep suffer for wool, but they don't need to.
We also put up a billboard near two of the chain's stores in Denver proclaiming, "Don't Let Forever 21 Pull the Wool Over Your Eyes. Wool Is Just as Cruel as Fur."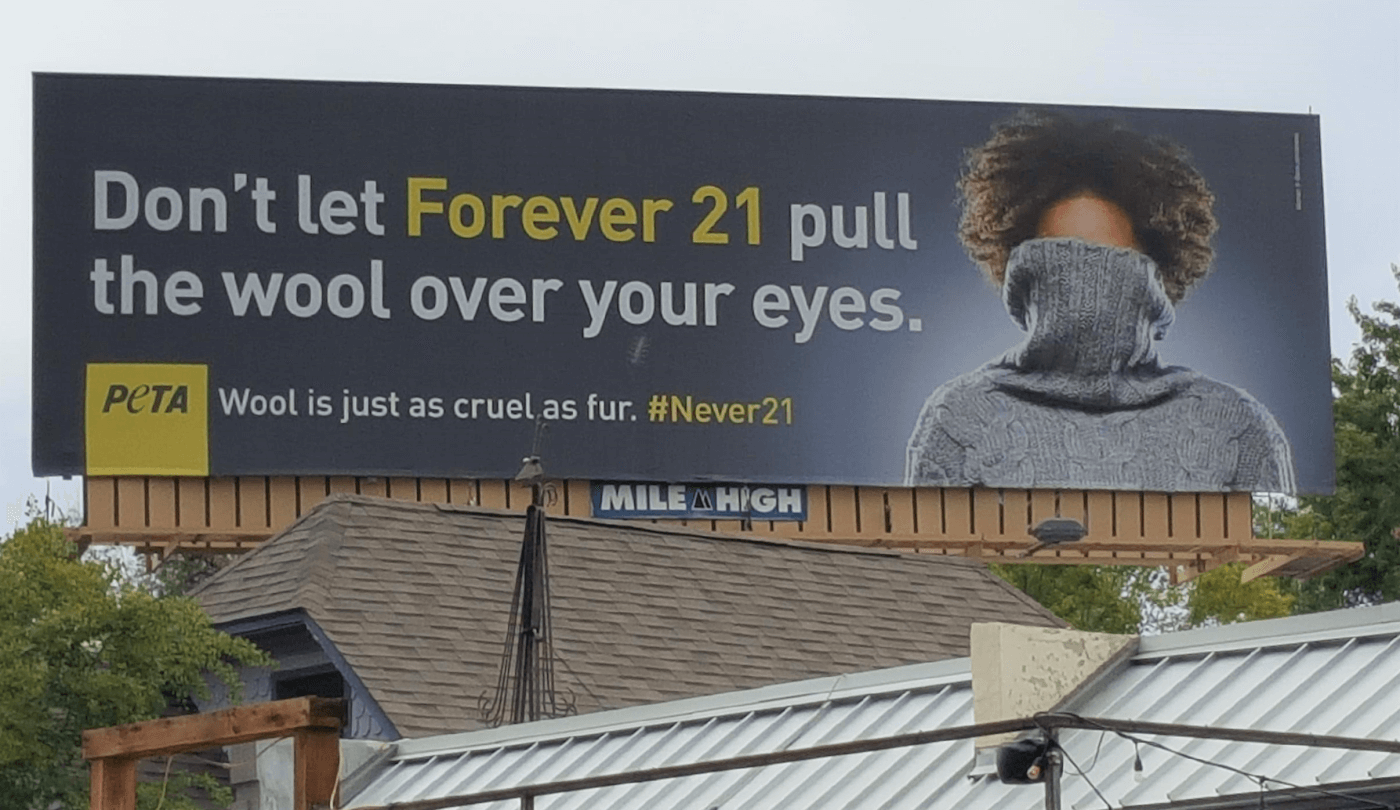 A similar billboard was erected outside the Madison, Wisconsin, West Towne Mall—which has a Forever 21 store—showing a sheep's sweet face and the words "I Want You to Change. Don't Buy Wool. Wear Vegan."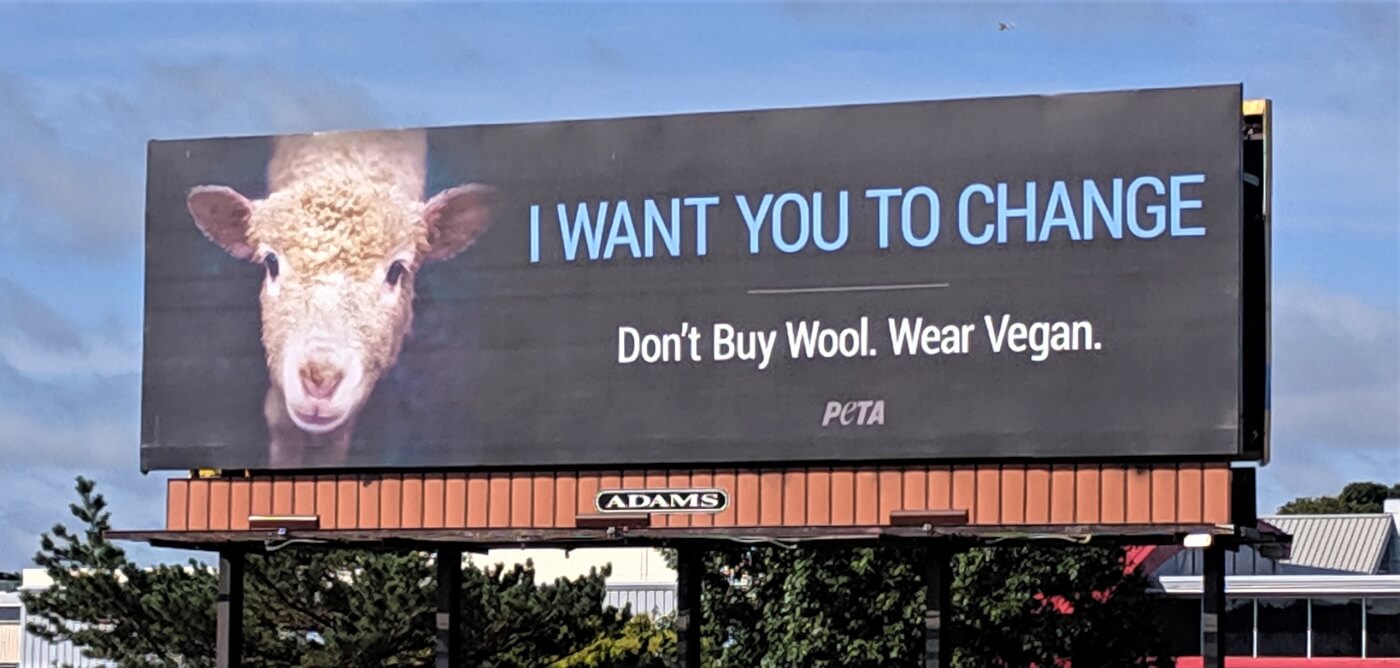 In February 2019, we placed three ads on bus shelters near the Forever 21 store in Fort Wayne, Indiana. The ads remind shoppers that sheep are living beings while encouraging them to leave wool out of their wardrobe and to opt for stylish vegan alternatives instead.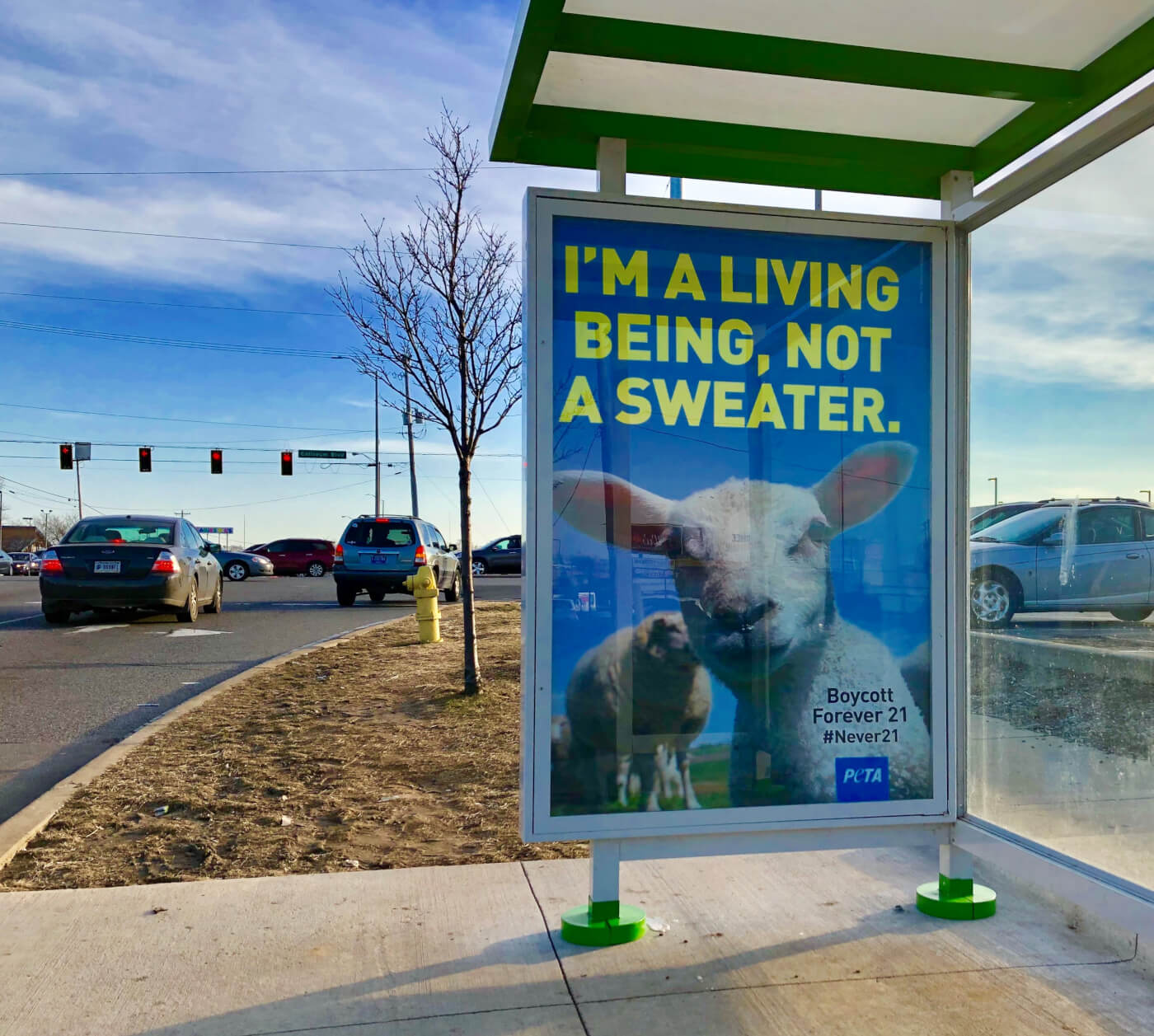 Earlier in February, we placed 27 pro-vegan ads on buses operating near Forever 21 stores. The ads encourage shoppers to stay away from the company until it agrees to stock exclusively stylish and compassionate animal-free knitwear. Ads can be seen in Buffalo …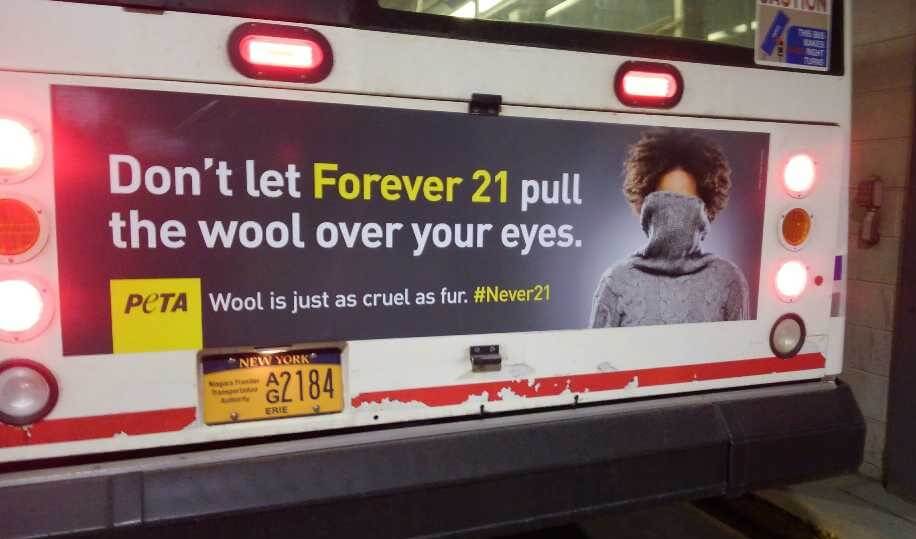 … and Syracuse, New York …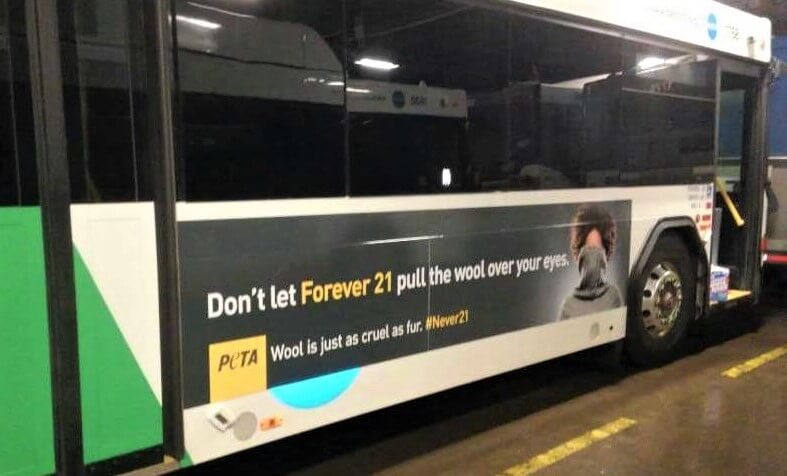 … and Louisville, Kentucky.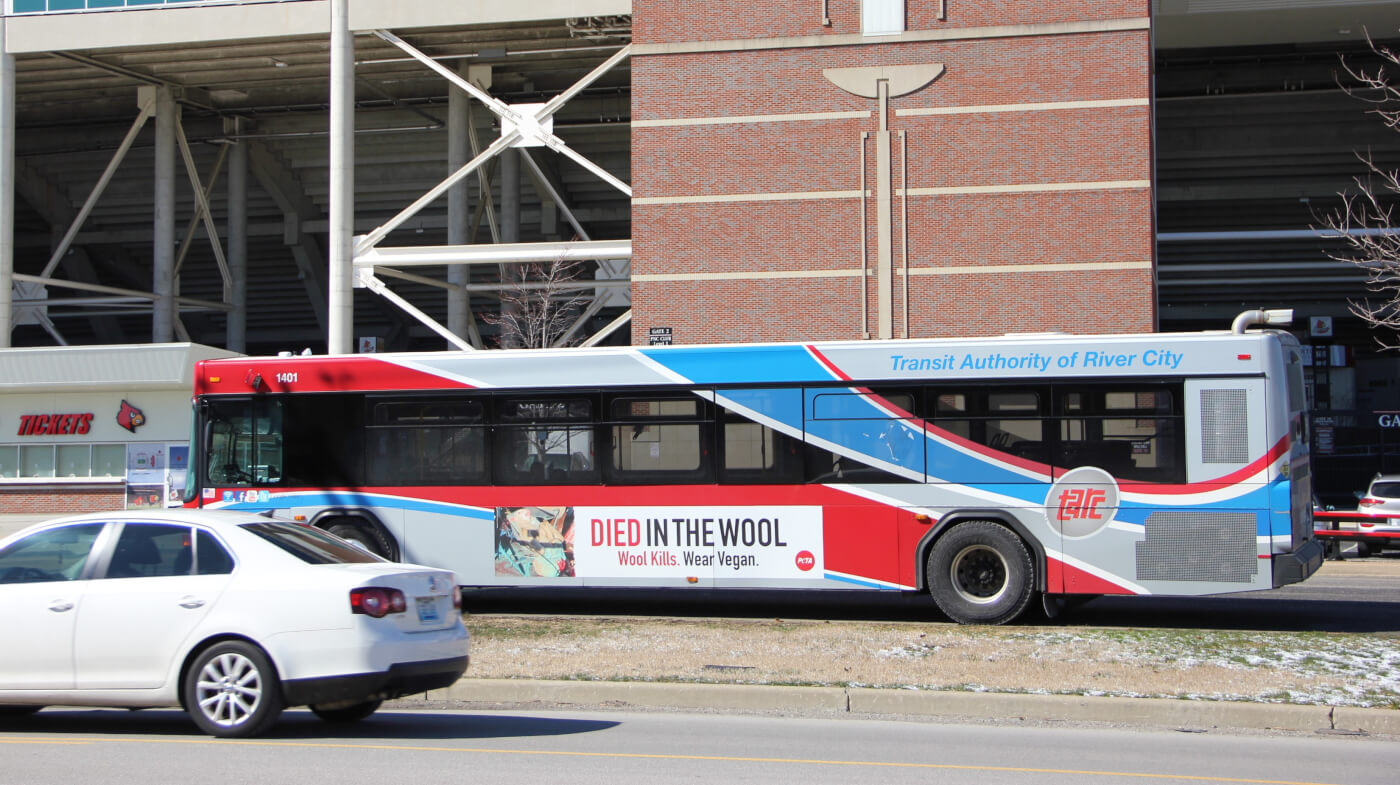 Also in February, a group of activists assembled outside the Beverly Hills, California, home of Forever 21 CEO Do Won Chang to urge him to modernize his brand by rejecting animal abuse and stop selling wool immediately.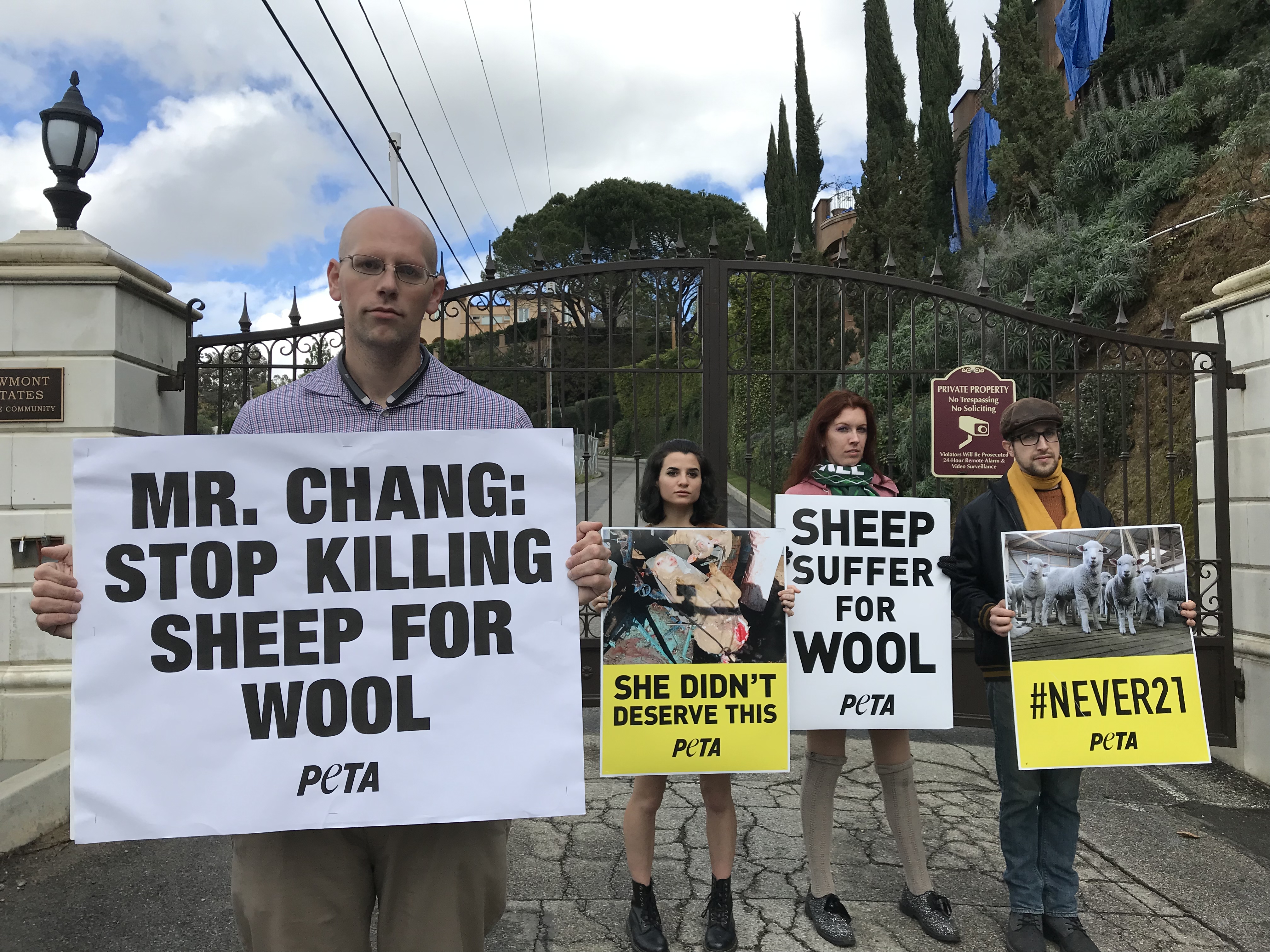 Prior to this, a group of PETA supporters gathered outside the Forever 21 store in Kahului on the island of Maui, Hawaii, to urge shoppers to avoid the brand until it agrees to stop selling wool. The protest was led by Texan Dani Alexander, who received a trip to Hawaii courtesy of Humane Travel after winning PETA's 2018 Sexiest Vegan Next Door contest and decided to take her activism on the road.
Just after the new year, we placed ads showing an image of a terrified, bloody lamb (from our most recent video exposé) on the tops of taxis operating near Forever 21's Atlantic City, New Jersey, store.

We've had some help in calling out the retailer's cruel actions. Last month, a Los Angeles teen (who's among Forever 21's target age group) led a spirited protest outside the company's Hollywood Boulevard store.
Another compassionate teen led a protest the following day in New York City. Temperatures were low, but that didn't stop her from rallying local activists to join her in speaking up for sheep.
PETA activists echoed the sentiment a few days later, taking to the streets of Los Angeles to urge Forever 21 publicly to stop selling wool. It was impossible for the hundreds of passersby to miss the message.
The following day, thousands of miles east, a group of PETA protesters dressed in "bloody" white clothes and sheep masks stared down Forever 21's Center City storefront in Philadelphia. Holiday shoppers were urged to avoid the brand until it agrees to stop selling wool.
Salt Lake City got a piece of the action, too, when—the week prior—another group of "bloody sheep" gathered in front of a local Forever 21 store. Activists held signs proclaiming "Sheep Suffer for Wool," and showed scenes from a PETA wool-industry investigation to shoppers. Onlookers were shocked to see workers beat petrified sheep in the face, deliberately mutilate them, and cut the throats of fully conscious animals.
Across the pond, a mere few days before Black Friday, shoppers outside Forever 21's Oxford Street store in London were urged by "sheep" to shun the retailer until it agrees to stop selling wool.
More Black Friday "sheep" gathered outside the Forever 21 store in Portland, Oregon, to show shoppers footage from PETA Asia's recent wool-industry investigations.
https://www.instagram.com/p/Brv-ImqhPcw/
And New York City shoppers couldn't ignore the activists in front of Forever 21's Times Square storefront, who screened recordings of sheep being beaten and mutilated on farms. Passersby discovered that Forever 21 profits from cruelty to animals and were encouraged to choose only wool-free, vegan apparel.
How many more times must we expose the cruel treatment of sheep in the wool industry before Forever 21 does the right thing?
The only acceptable answer is zero.
So join us in demanding better from the company. As a shopper who wants to support retailers that don't cause animals to suffer, you can make a difference. Click below to urge Forever 21 to drop wool immediately in favor of the many beautiful, warm, animal-friendly materials available today made from recycled plastic bottles, biodegradable Tencel, bamboo, organic cotton, modal, rayon, and hemp—many of which outperform wool.
Are you on Instagram? Head over to Forever 21's Instagram page and post a comment on any and all posts asking it to drop wool and to use only vegan materials.
PETA is teaming up with young people in California, Hawaii, New York, and North Carolina to coordinate additional protests calling on Forever 21 to stop selling wool. Get more information about holding a demonstration, and find out how to join our Action Team.