Comedian, actor, and activist Amanda Seales and her one-eyed wonder pup, Geordi, joined PETA to celebrate mutts and remind people how important and rewarding it is to adopt an animal companion from a shelter.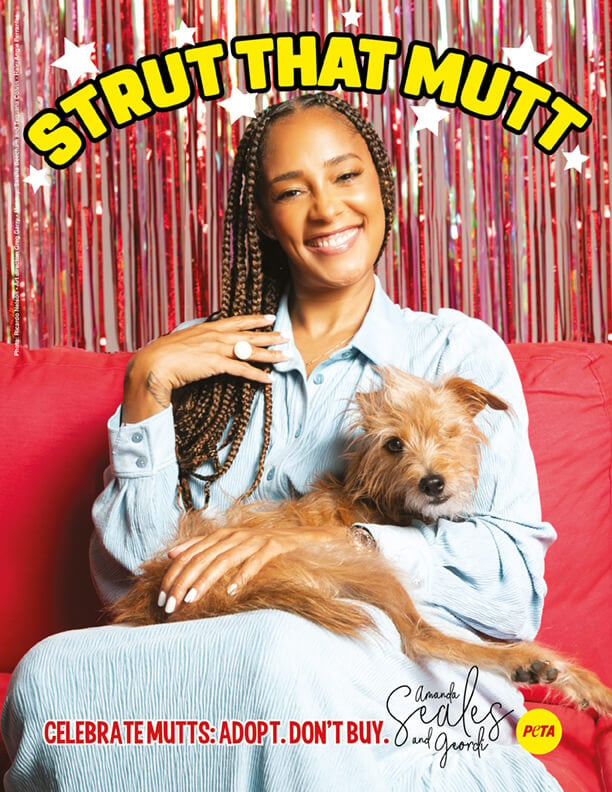 Photo: © Ricardo Nelson
Animal homelessness is a huge crisis, and animal shelters across the country are severely crowded. When someone purchases a dog, including one of the flat-faced designer dogs Amanda talks about, they're contributing to this problem, which is devastating not only for the millions of homeless dogs but also for those bred to have excruciating health issues.
Breathing-impaired breeds (BIBs) have become very popular as the latest victims of marketing campaigns and social media hashtags. Humans have bred them to have genetic deformities that significantly affect their health and well-being, just to look a certain way. These dogs—including French and English bulldogs, Boston terriers, pugs, and boxers—have been bred to have snouts that are shortened and pushed so far back against their skulls that there isn't enough space to accommodate normal anatomical features, making it hard for them even to breathe.
Some BIBs also have difficulty sleeping, they're more likely to suffer heatstroke, many have dental and eye problems related to their misshapen skulls, and even with extensive medical care like corrective surgery, most still struggle to breathe for their entire lives. When people can't or won't provide these dogs with the veterinary care the breeds desperately need, they're left to languish, relinquished to shelters, or abandoned.
According to a recent veterinary study, BIBs can no longer be classified as "normal dogs" because of their health irregularities. The U.K is considering a ban on their breeding and sale, Germany has restricted their breeding and appropriately calls them "tortured breeds," and in Norway, a court ruling established a precedent for the recognition that flat-faced dogs suffer more than others and should no longer be bred.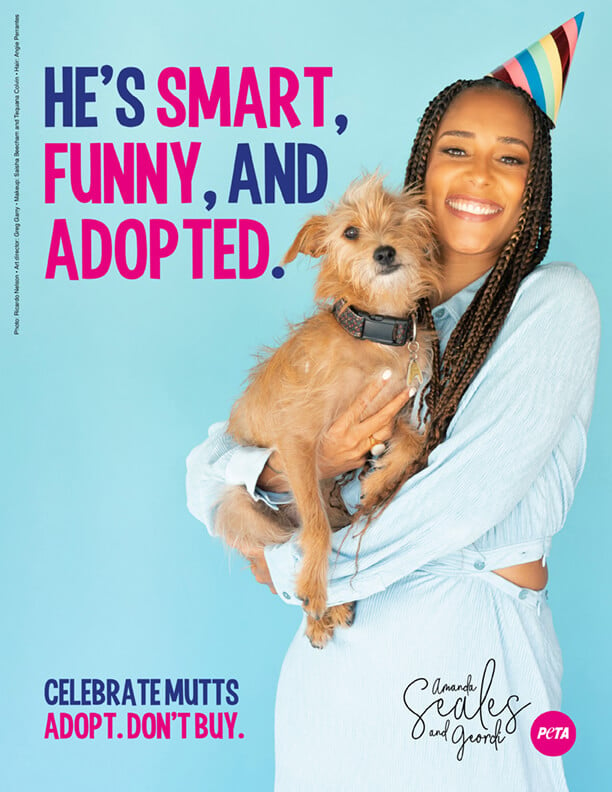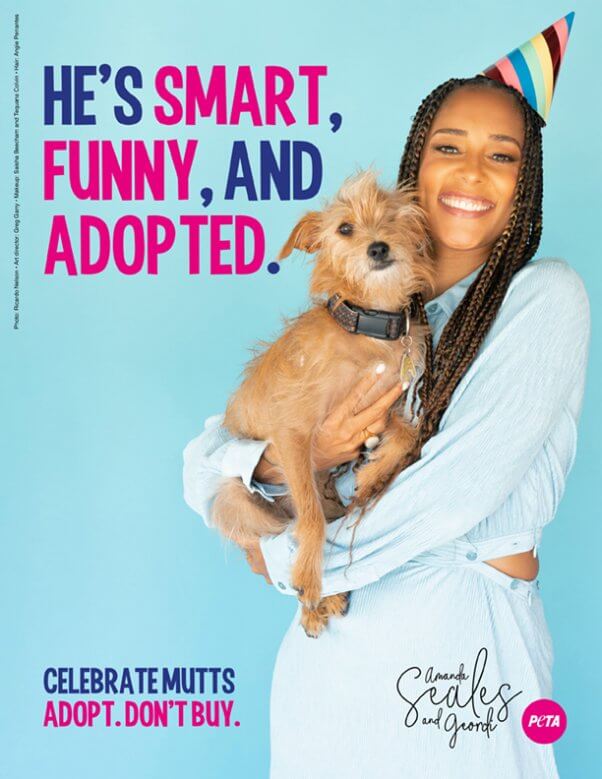 Photo: © Ricardo Nelson
"Why are people spending thousands of dollars on designer dogs who can't breathe? By adopting from a shelter and not supporting breeders, you can send the message that breeding dogs to suffer is not the vibe."

—Amanda Seales
All "purebreds" (flat-faced or not) suffer from congenital, often painful conditions. The aesthetic standards set by the American Kennel Club, the group that sanctions the Westminster Kennel Club Dog Show, among others, can leave many dogs crippled and in nearly constant pain and may even lead to an untimely death. If you have the time, money, patience, and love to care for an animal for life (which could be more than 15 years), please adopt one from a shelter. If you already have a BIB dog, commit to making their life as fulfilling, healthy, and comfortable as you can.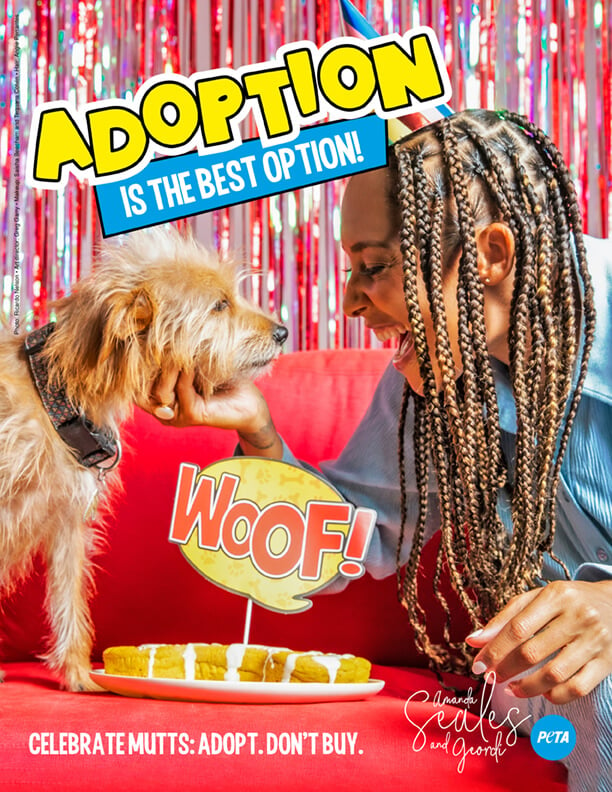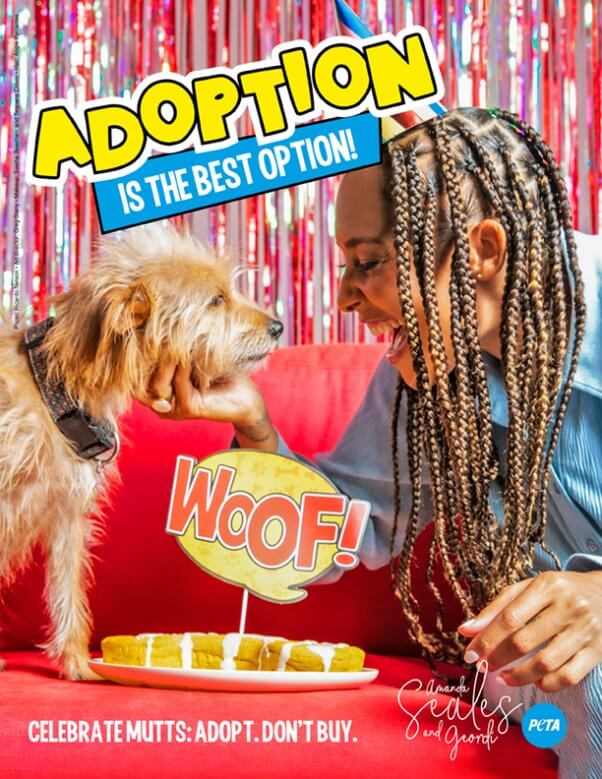 Photo: © Ricardo Nelson
Join Amanda Seales and Pledge to Adopt, Not Buy!
There's no such thing as a responsible breeder. By bringing more puppies into the world, breeders are contributing to the companion animal overpopulation crisis, which leaves millions and millions of homeless dogs struggling to survive on any given day. Every puppy bred into existence means a lost opportunity for a dog waiting in a shelter for a family of their own.
If you or your loved ones are truly ready to bring an animal companion into the family, remember to adopt from an animal shelter, rather than supporting a breeder.