For 10 long years, PETA's fieldworkers visited Ada, a heavily matted dog who yearned for affection, and every time, they'd ask her owner to surrender her instead of leaving her tied up to a propane tank and other objects outside, only to receive the same answer over and over again: No. But PETA persisted, and finally, her neglectors gave a new answer: Yes! And now, as this PETA video shows, Ada is spending her golden years with a wonderful, warm family.
Once her former owners agreed to relinquish her, we wasted no time spiriting Ada away to our headquarters and gave her a nice long bath and a brand-new haircut. She quickly found the perfect home with PETA staffer Hollie Wood.
As the video shows, Ada quickly formed an unbreakable bond with Hollie's daughter, Eliot, and now the two best friends are inseparable. Ada's always first in the car when it's time to pick her human sister up from school—she can't wait to see her again—and while she may technically count as a senior dog, she happily matches Eliot's youthful energy. Now, Ada's much too preoccupied with school runs, play time, walks, and cuddles to give a thought to her decade of deprivation—and Eliot wouldn't have it any other way.
Dogs Like Ada Suffer Every Day—Here's How You Can Help Them
For 10 years, PETA fieldworkers showed up for Ada to make her life spent chained in a backyard as good and safe as we possibly could. And while Ada is now finally inside a home with people who love and respect her, thousands of dogs are still stuck outside all year round, forced to suffer through scorching heat in the summer and devastating cold in the winter.
You can help "backyard dogs" by sponsoring a PETA doghouse today. Another effective way to help them all year long is to work with elected representatives to pass ordinances that ban or restrict chaining. To get started, see what current legislation on tethering dogs your community has.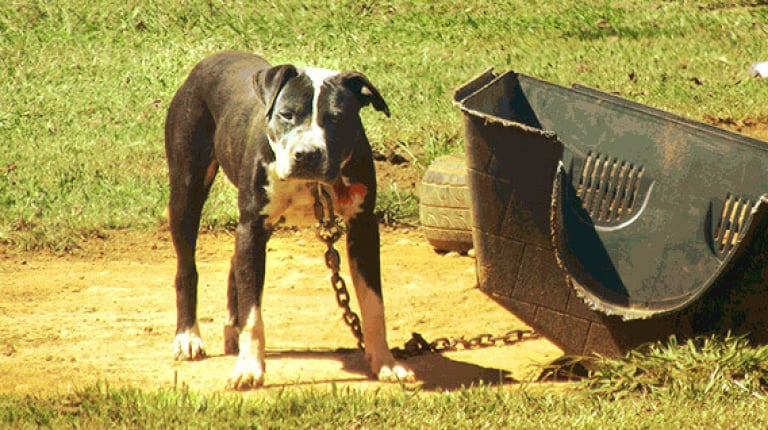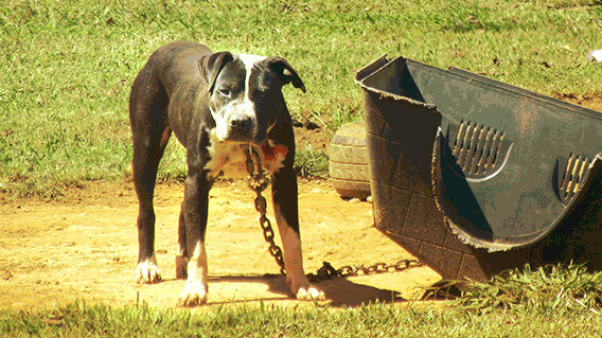 Dogs should never be left outside unattended, but when they're outside and deprived of access to water or shelter, the situation is an emergency and local authorities should be contacted immediately. If they're unresponsive, contact PETA for help. Their well-being, if not their life, could depend on your taking action.
If you see a chained dog in your area whose situation is not an emergency, read PETA's tips to help chained dogs: