They've both been featured in killer PETA street demonstrations this month! Now, we're known for being clever, sexy, and interesting when it comes to our eye-catching demos, but in my opinion, the last few weeks have really taken the cake. Check it:
These hottie-boom-botties have teamed up at San Francisco's annual leather-fetish festival to remind people that you can still have the fetish without the flesh.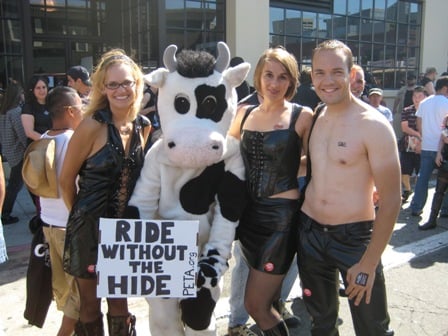 PETA Germany activists staged a naked die-in to draw public attention (as well as tons of German media attention) to their frustration with the European Union's support for the cruel bullfighting industry.
Our good pal Frieda the Sea Kitten laid out our ever-popular (not to mention massive) sea kitten quilt for aquarium attendees in Tampa to remind them that sea kittens are wonderful animals who shouldn't be held in captivity.
Written by Christine Doré