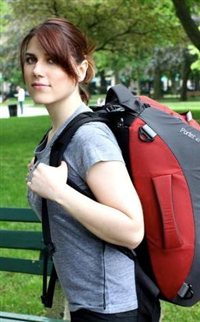 Kristin Lajeunesse is one of those lucky people who knows what she wants and isn't afraid to go after it. In Kristin's case, she wants vegan food, and she's going after it in a big way by spending a year traveling the country on a quest to eat at every (well, almost every) vegan restaurant. What does Kristin hope to accomplish by demolishing vegan fare from coast to coast? "I'm hoping to help spread awareness about veganism and highlight all of the wonderful vegan businesses … throughout the country," she says.
When Kristin started her journey in Maine in August, she didn't even have a reliable set of wheels. Since then, she's acquired a 1995 Chevy van that she's christened "Gerty." To save money, she and her travel partner, Ethan, have outfitted Gerty with bunks so that they can have a place to rest their heads (although they won't say "No" to the offer of a couch for the night). In addition to sampling vegan fare as she travels across the country, Kristin will be interviewing chefs and vegan business owners and writing about them on her blog, Will Travel For Vegan Food. She also plans to make stops to volunteer at farm sanctuaries and animal rescue groups, and at the end of her trip, she's planning a big bash to raise money for animal rights.
"I love telling people who ask about my diet how much more I enjoy everything about food now," says Kristin. "It feels like it has so much more meaning now and I take pride in the meals I prepare. I never felt this way as a meat eater … not even as a vegetarian for that matter.
Read about Kristin's favorite meals (so far, it's Green Elephant's delectable chocolate orange mousse pie) and find out where she's headed next at her website, WTFVeganFood.com. You can start your own delicious vegan adventure by signing PETA's "Pledge to Go Veg" for 30 days.
Written by Alisa Mullins