UPDATE: PETCO CEO Jim Myers announced that the company will not reopen the Johnson City store where approximately 100 animals died in flooding last month. The company is reportedly looking for another location in the village, but outraged residents don't want a PETCO store anywhere nearby. The district attorney's criminal investigation of PETCO employees' actions and the animals' deaths continues.
The following was originally posted on September 19, 2011:
PETA joined dozens of animal advocates who participated in a protest calling for PETCO to leave Johnson City, New York, after the multibillion-dollar company opted to abandon hundreds of animals—about 100 of whom drowned during massive flooding from Tropical Storm Lee.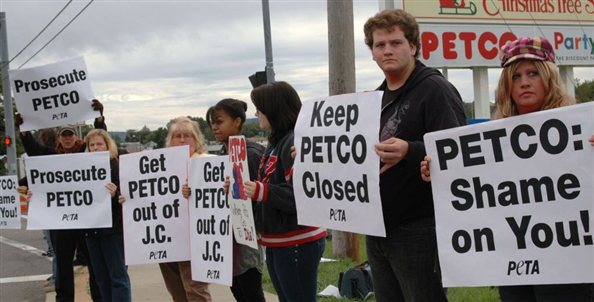 Despite highly publicized flood warnings and mandatory evacuation orders, the company had the gall to call the flooding "completely unpredictable" and intentionally left the animals behind, which Johnson City Mayor Dennis Hannon called "absolutely disgusting." Nearly 100 animals, including birds, guinea pigs, ferrets, hamsters, mice, and reptiles, suffered and died as a result. Cars that passed the 70 demonstrators honked and waved in support, showing that Johnson City residents are ready for PETCO to start packing.
PETA and Mayor Hannon called for a criminal investigation last week, and now that investigation is under way. Please join us in thanking Broome County District Attorney Gerald Mollen for taking the case seriously. E-mail him at [email protected] or call his office at 607-778-2423. Please be polite in your correspondence with Mr. Mollen and his office.
Written by Michelle Sherrow