Pop the corks on those champagne bottles test tubes! After more than five years of discussions among PETA, the Intel Corporation, and the Society for Science & the Public (SSP) concerning cruel and deadly experiments on animals conducted by high school students participating in the Intel International Science and Engineering Fair [http://www.societyforscience.org/isef/] (ISEF), the world's largest pre-collegiate science competition, the event has implemented a new policy banning experiments in which any animals die or are intentionally killed.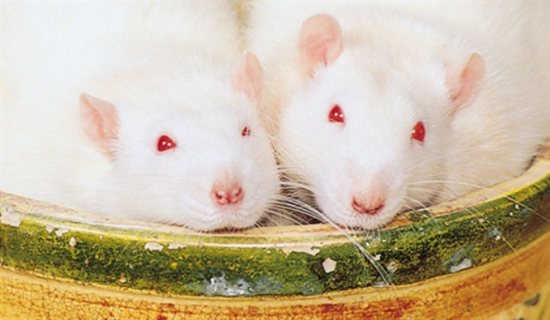 This is great news since it's estimated that in 2011 alone, thousands of vertebrate animals likely died in experiments conducted by students who were competing in regional science fairs around the world in the hope of making it to the ISEF finals. Seven million high school students participate in these fairs each year.  
Groundwork Leads to Groundbreaking Victory
For years, high school students competing in ISEF-affiliated science fairs around the world have conducted and participated in invasive and deadly experiments on animals, such as addicting animals to cocaine, inflicting brain injuries on them, injecting them with toxic chemicals, and inducing strokes in animals and then cutting them open. To stop these cruel experiments, PETA has been working with Intel and SSP since 2007 with considerable success. Prior to the new ban on deadly experiments, SSP (which organizes ISEF)—after discussions with PETA and Intel (which sponsors ISEF)—adopted a formal statement in 2010 in favor of modern alternatives to animal experiments. 
How to Help Animals in School Laboratories
Psyched about this victory? Use the buttons below to "like" it, tweet about it, and otherwise spread the word. And if you want to cut dissection and other lab-based cruelty out of your school's curriculum, get all the details at peta2.com.