You'd probably throw away old mattresses or exercise equipment, but such castoffs are the only things standing between these dogs and the next snowstorm.
For those of us who treat our dogs like members of the family, it's hard to imagine how "the other half" lives—the abused and neglected dogs who spend their entire lives on a chain or confined to a muddy pen. Many of these dogs live in impoverished rural areas with few resources—such as full-service animal shelters, humane officers, or local veterinarians—and few laws protecting animals.
https://fb.watch/dFRj-C5XDb/
Most neglected dogs are hidden out of sight in backyards, sheds, and garages. You have to go looking for them—and PETA fieldworkers do, providing them with doghouses, straw bedding, food, treats, toys, flea and fly treatment, emergency veterinary care, low- to no-cost spay/neuter surgeries, and the only kind words or tummy rubs they'll ever receive. Much of the neglect we see, while terrible, is nevertheless legal, so we counsel animal guardians about proper care and check on these animals regularly.
These photos, taken by PETA fieldworkers on their daily rounds, will give you an idea of how desperately these animals need our help.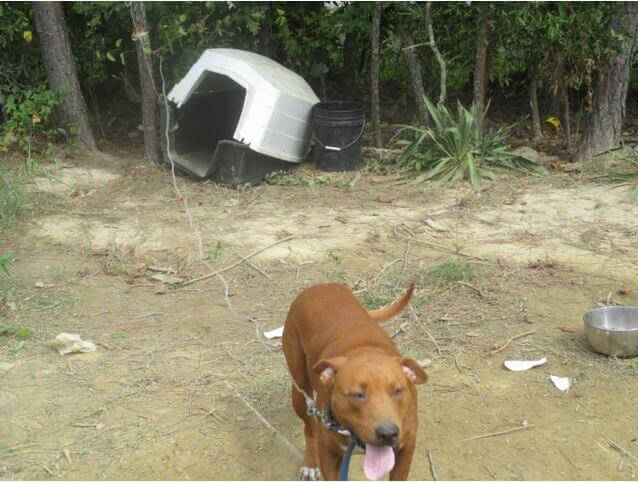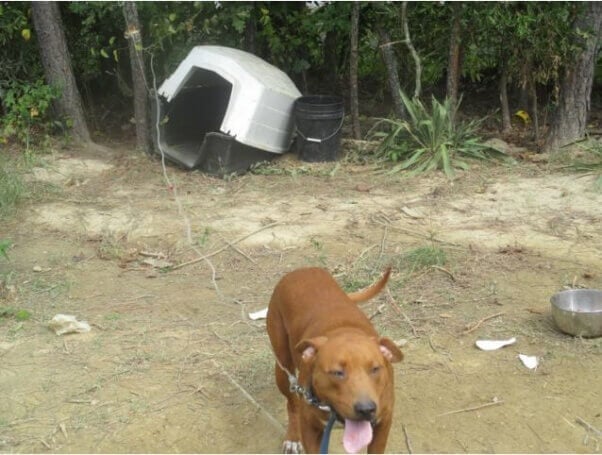 We've lost count of how many of these flimsy plastic "doghouses" we've seen. They're basically glorified carriers (which we also see a lot of) and offer little to no insulation or protection from the cold.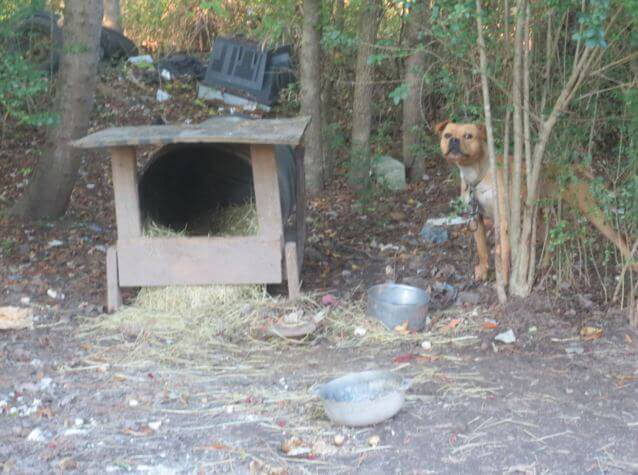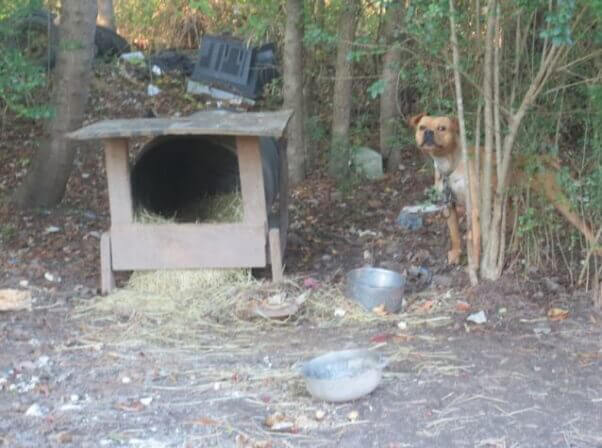 PETA fieldworkers also see a lot of overturned plastic barrels repurposed as doghouses, but this one is unique—it has a "porch"!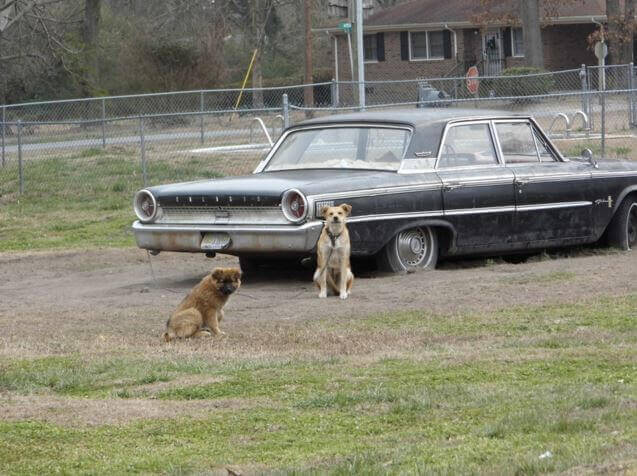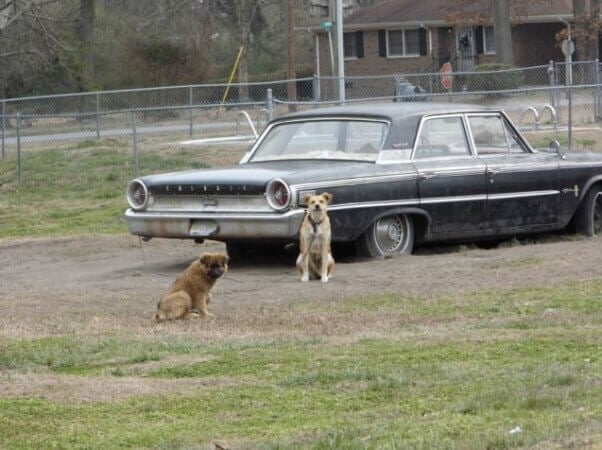 A common sight in the country—dogs chained to car bumpers. Even if the dogs could get in the car, it wouldn't be proper shelter.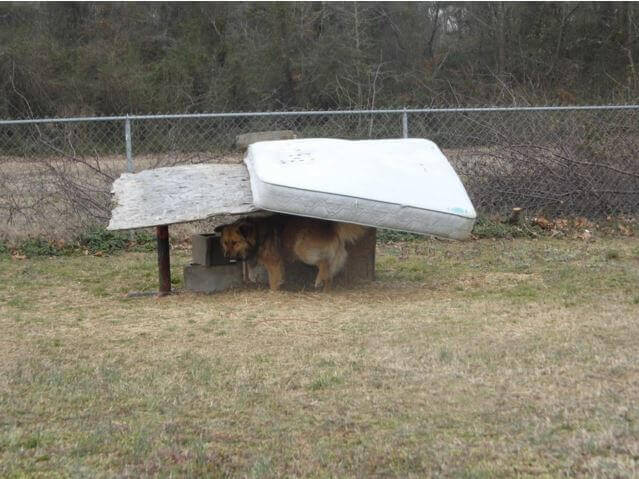 Why haul away your old mattress when you can toss it to the dog in the backyard?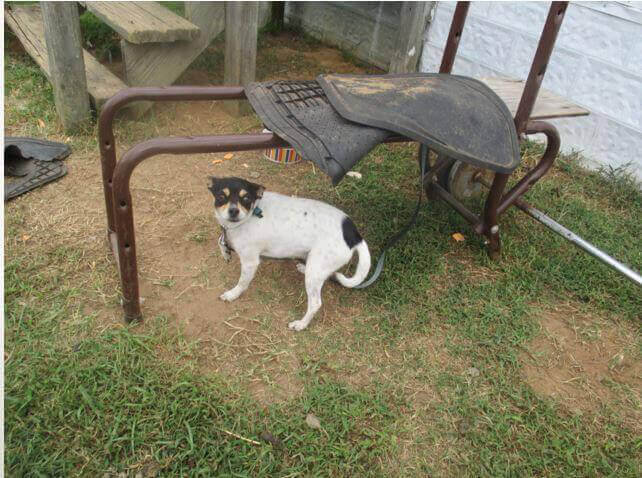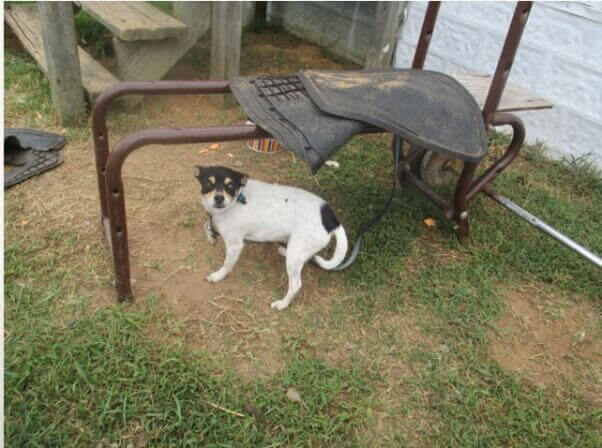 The rubber floor mat "garnish" on this discarded weightlifting bench is a nice touch.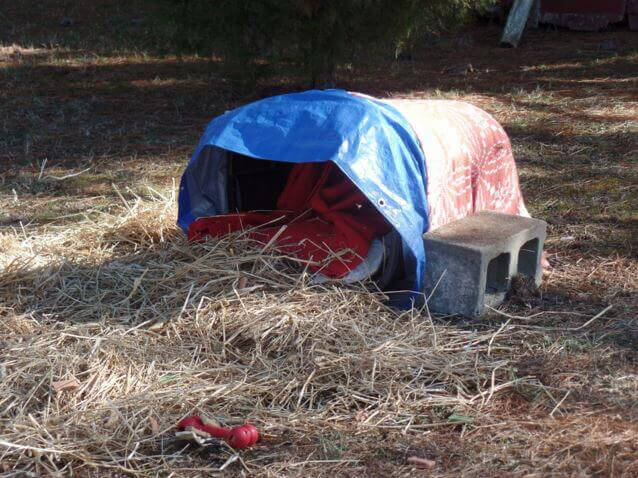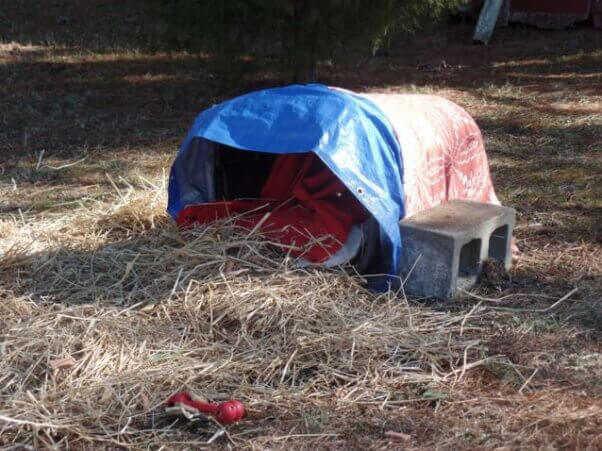 Blanket forts are fun if you're a kid stuck inside on a rainy day. If you're a dog stuck outside on a rainy day, the blankets get wet and, if it's cold enough, freeze. No fun.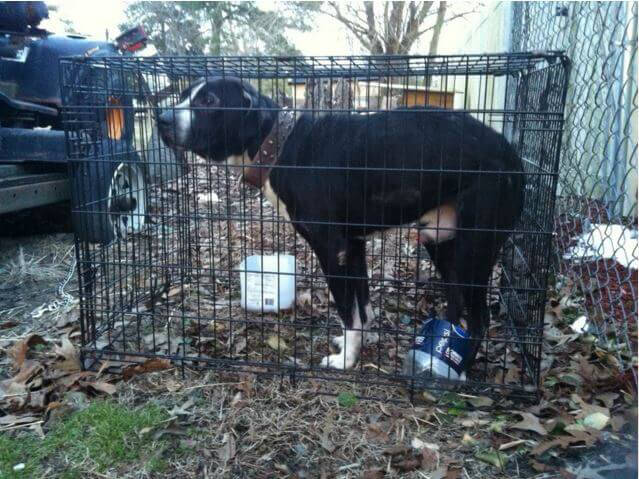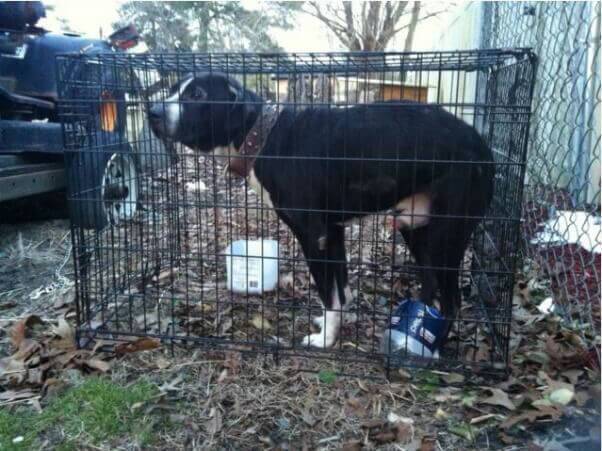 It's always awful to confine a dog to a crate for hours—or days—on end, but it's especially awful when the crate is outside in the cold and rain.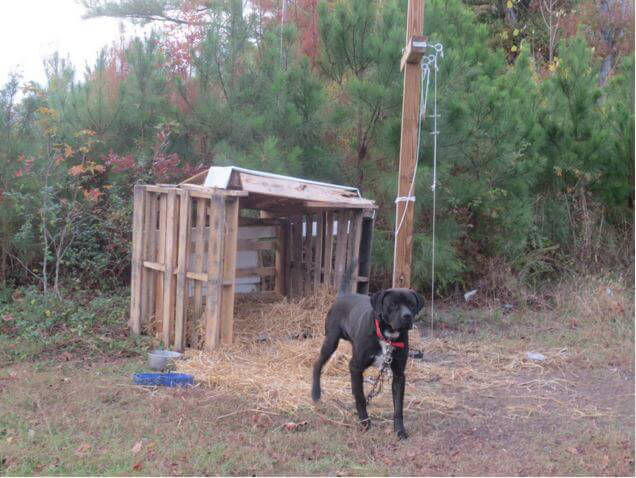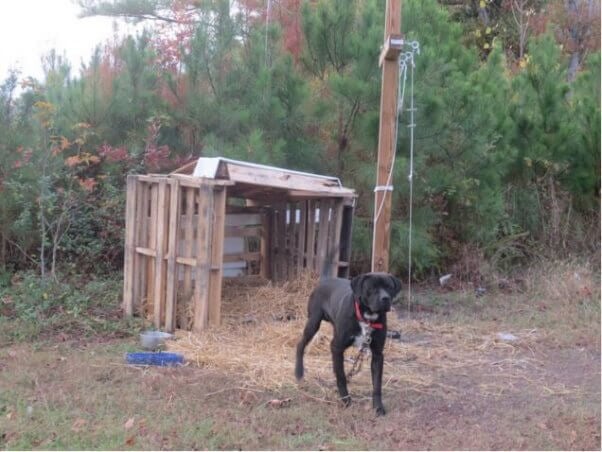 The only useful item here is the straw, which our fieldworkers provided.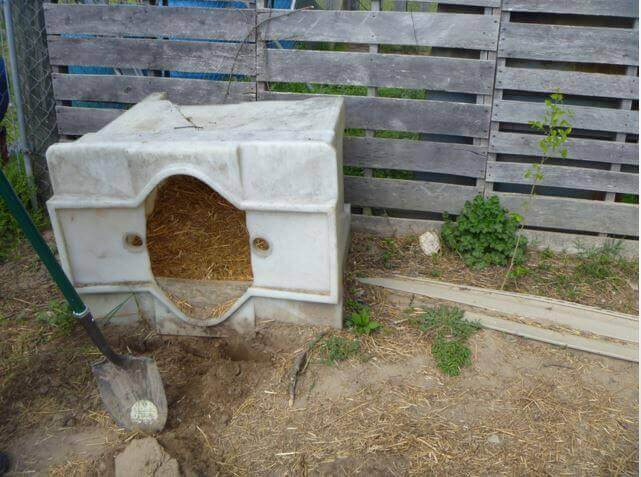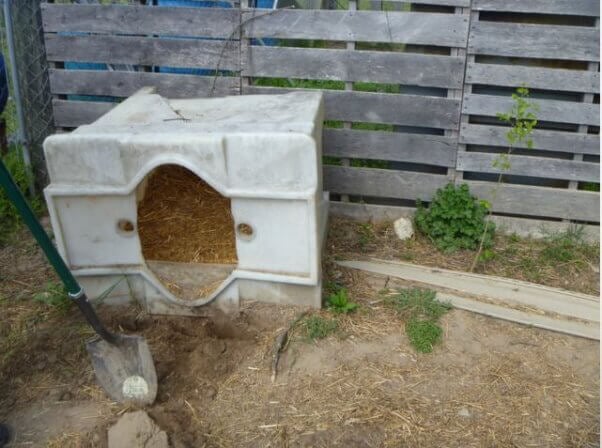 We're not sure what this is, but one thing it's not is a doghouse.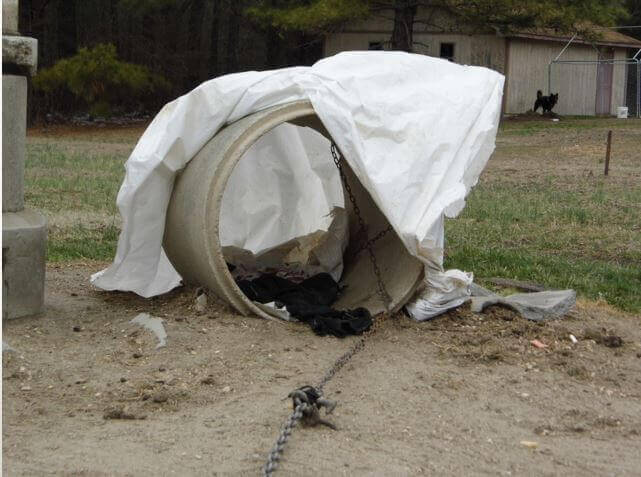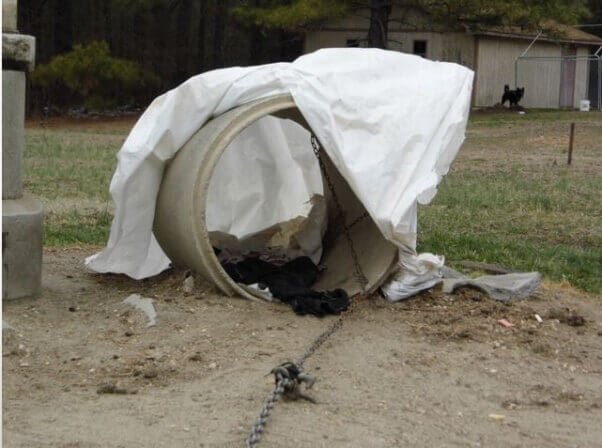 Put this in a museum in New York City and it's an art installation. In rural North Carolina, it's just a really crummy doghouse.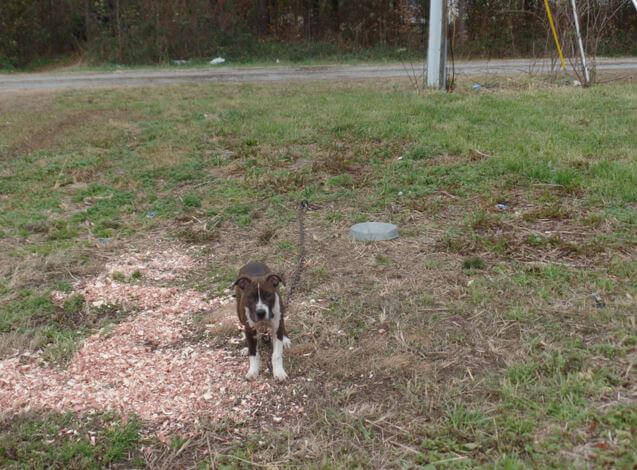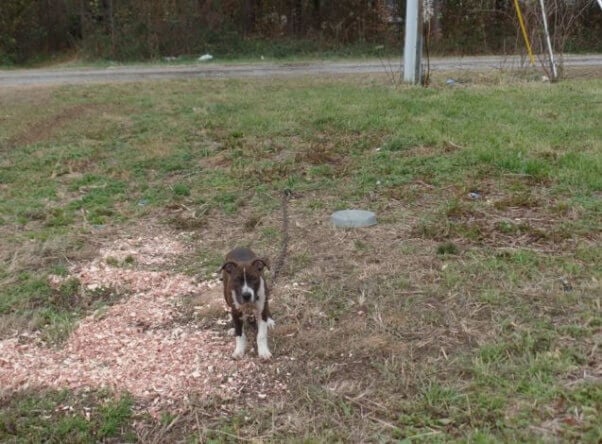 Last but not least, a (former) pile of cedar shavings. The look on this dog's face says all you need to know about how pathetic this is.
The good news is that—thanks to the support of caring people like you—the dogs in these photos were provided with sturdy, custom-built doghouses by PETA (and two of them now live indoors!).
While our doghouses can never take the place of keeping dogs inside and treating them like members of the family (which our fieldworkers always urge people to do), they can mean the difference between life and death for dogs left outside on even the coldest days.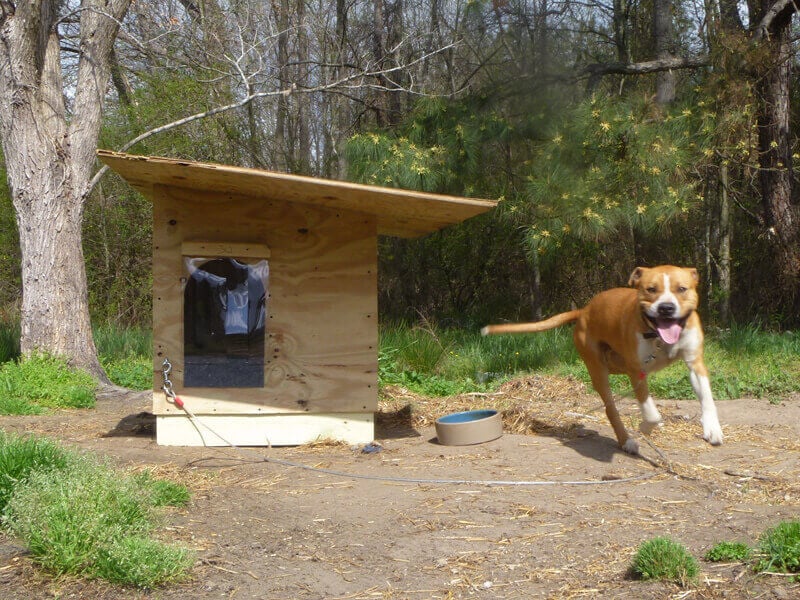 If you'd like to help us get more doghouses to dogs in need this winter, please become an "Angels for Animals" doghouse sponsor today.