October 30, 2018, Update: New Jersey is on track to become the first state ever to ban wild animals from traveling acts!
Nosey's Law covers spectacles such as fairs, carnivals, circuses, and flea markets. The ban passed the state's General Assembly by a 71 to 3 vote and passed unanimously in the Senate. The bill is now on its way to the desk of New Jersey Gov. Phil Murphy to be signed into law.
"The mistreatment of any animal is inhumane and wrong," said bill cosponsor Sen. Andrew Zwicker in a news release. "But it is particularly disturbing when wild, endangered animals are captured, misused, and exploited for profitable entertainment."
PETA's tireless advocacy for Nosey laid the foundation for this unprecedented law.
Using eyewitness video footage, inspection reports, expert opinions, and celebrity support, PETA made sure that the world knew how infamous handler Hugo Liebel kept the arthritic Nosey chained so tightly that she could barely move. He has been cited by the U.S. Department of Agriculture for nearly 200 animal-welfare violations. Most of these citations are related to his mistreatment of Nosey, including repeatedly denying her proper veterinary care.
After hearing from numerous PETA supporters, venues across the country—including in Arkansas, Florida, Illinois, Indiana, Michigan, Oklahoma, and Texas—declined to host Nosey.
Liebel caused outrage in 2015 when he took Nosey to the New Jersey State Fair. People were horrified to see this lonely, stressed, and painfully arthritic elephant plodding in circles day after day, and they called for the fair to stop the elephant act. Raymond J. Lesniak, then a state senator, called on the New Jersey Department of Fish & Wildlife to investigate but realized that further measures were needed. So he introduced Nosey's Law to ban traveling elephant acts in the state—which has since been expanded to cover other wild and exotic animals as well.
January 16, 2018, Update: To the disappointment of animal advocates everywhere, exiting New Jersey Gov. Chris Christie decided to seal his legacy with a note of apathy for animals by "pocket vetoing" Nosey's Law. This means that since he failed to act one way or another on the bill, it will have to start all over in the new legislative term.
Nosey's Law passed in the Senate unanimously and in the Assembly with only two opposing votes. The fact that it was so popular and made it to the governor's desk was a huge feat.
PETA and other animal rights supporters will continue to push everywhere, including in New Jersey, until animals are no longer exploited in circuses, where they're beaten, chained, jabbed, neglected, and forced to do confusing tricks in cruel performances.
Originally published on January 8, 2018:
Around the world and right here at home, there's a growing resistance to circuses that chain, beat, and jab animals in order to force them to perform confusing tricks—look no further than New Jersey for evidence of this as the Garden State becomes the first in the nation to ban traveling wild-animal acts.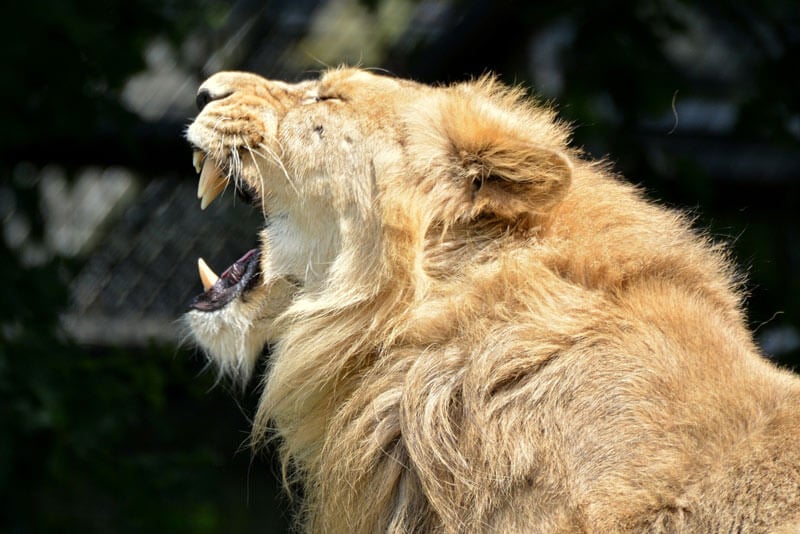 First introduced as "Nosey's Law" by Sen. Raymond Lesniak, the legislation prohibits the use of wild or exotic animals in traveling acts. It  overwhelmingly passed the Senate by a vote of 31-0 just as the 2017 legislative session closed and is now on its way to Gov. Chris Christie's desk for approval.
The legislation is named in honor of Nosey, an elephant whose freedom has been the focus of a bitter lawsuit between authorities and infamous animal handler Hugo Liebel. When authorities seized Nosey—who is lame and currently residing at an animal sanctuary while awaiting a decision on her fate—she was found tightly chained, confined in her own waste, and without proper shelter.
https://twitter.com/SenatorLesniak/status/948625535898398721
"Nosey is an elephant who is virtually crippled by arthritis, and who is forced to travel the country to give rides at fairs, flea markets, and other events," wrote Sen. Lesniak when he first introduced the bill. "The arthritis has likely caused Nosey unnecessary suffering and permanent disability, and reports indicate that Nosey has been denied necessary veterinary care. … Nosey's owners continue to use her in shows. This bill would prohibit such shows in New Jersey."
Last year, both Illinois and New York banned all traveling elephant acts, but New Jersey is the first state to go further and prohibit all animal shows.
The Garden State just showed that it won't be long before we bid goodbye to all animal acts and circuses.
No living being exists simply to be a spectacle or to perform tricks for human entertainment, yet all circuses and traveling shows that use animals treat them as mere props, denying them their freedom and an adequate standard of living.
Elephants, tigers, bears, and other animals in circuses are forced to perform under the threat of punishment with sticks, bullhooks, whips, and electric prods—by businesses that claim to offer a good time for the whole family. Torn away from their homes and subjected to beatings, isolation, and neglect, these animals will continue to pay the price for human greed as long as people continue to pay the admission fees to these performances.
You'll never visit a circus with animals again after watching this. pic.twitter.com/4M8le9XAaS

— PETA (@peta) July 1, 2017
PETA thanks Sen. Lesniak and the animal rights advocates of New Jersey, who proved that if we work hard together, we can restore the freedom that all animals exploited by circuses deserve.
Let's end all animal acts!
While states like New Jersey, Illinois, and New York make progress for animals, Wisconsin's government continues to operate Circus World—an archaic event with a long history of abusing animals. Demand an end to this state-sponsored cruelty.
PETA supports animal rights, opposes all forms of animal exploitation, and educates the public on those issues. It does not directly or indirectly participate or intervene in any political campaign on behalf of or in opposition to any candidate for public office or any political party.