As of now, Nosey the elephant is free from her infamously abusive handler, Hugo Liebel, but she isn't out of the woods just yet. Although the Florida Fish and Wildlife Conservation Commission denied Liebel's captive-wildlife permit in June, he has appealed the denial, and the case is pending.
PETA is moving to present damning information about Liebel's chronic failure to supply itinerary information before the Division of Administrative Hearings.
Just recently, Polk County Code Enforcement notified him that it's against code to keep any exotic animals on his property.
Nosey was seized from Liebel's possession and temporarily moved to The Elephant Sanctuary in Tennessee after Lawrence County, Alabama, officials found her tightly chained, forced to stand in her waste, and without proper shelter. Earlier this month, PETA and several individual plaintiffs sent an official notice of their intent to sue on behalf of Nosey unless Liebel agrees to relinquish her to an accredited sanctuary. A custody hearing in Alabama is set for next week.
The following was originally published on June 30, 2017:
Hugo Liebel's disregard for the law has caught up with him.
Earlier this month, the Florida Fish and Wildlife Conservation Commission (FWC) denied Liebel's application to renew his captive wildlife permit—which is required for him to possess Nosey the elephant in Florida—after he told the government agency that he didn't have a tour schedule for her when, in fact, he did.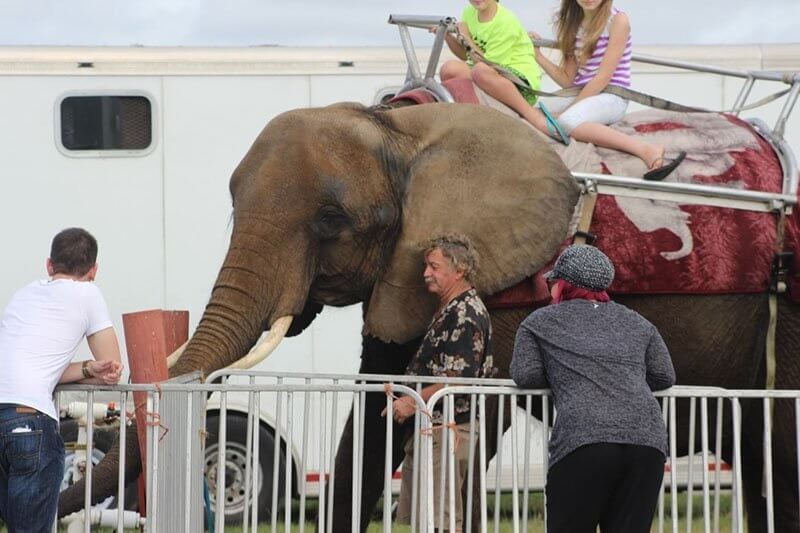 According to the FWC, Liebel was denied on the grounds that he "withheld itinerary information" and "submitted materially false information" to the agency.
This is a serious offense—agencies require current itineraries so that they know where traveling exhibitors go in order to inspect them to ensure the welfare and safety of animals. When exhibitors withhold that information, it allows them to evade inspections. No doubt, Liebel has more than a few reasons for wanting to dodge an animal-welfare inspection.
He still has time to appeal the denial, but if it holds, he will not be able to possess Nosey in his home state.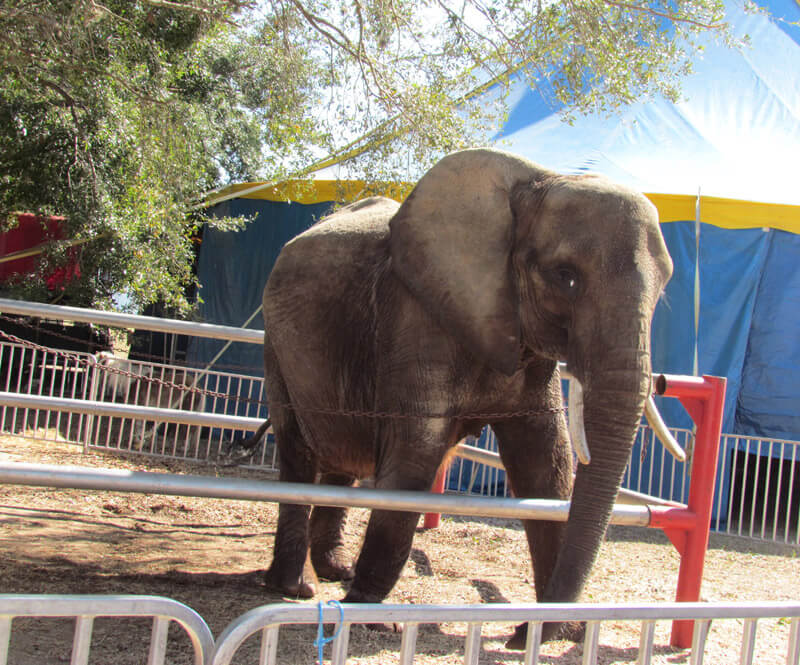 We're excited that Nosey may be one step closer to freedom, but this permit denial may not be enough to stop this notorious animal abuser. That's why PETA has sent an urgent letter to the U.S. Department of Agriculture (USDA) asking it to terminate Liebel's federal Animal Welfare Act license.
This is how Liebel treats Nosey, one of the loneliest elephants in the country.
Month after month, he forces her to give rides and perform tricks, even though she's showing signs of crippling arthritis. This painful, chronic disease may eventually kill her.
Liebel has been cited by the USDA for nearly 200 animal-welfare violations. Most of these citations have been related to his mistreatment of Nosey, including repeatedly chaining her so tightly that she could barely move and denying her necessary veterinary care.
Dr. Philip K. Ensley, one of the nation's leading elephant experts, characterized Nosey's case as "the worst, most prolonged, documented example of an uncorrected case of suffering and abuse in an elephant I have ever reviewed." She belongs in a reputable sanctuary. Her life depends on it.
Nosey needs you now, and your voice makes a difference.
After hearing from scores of PETA supporters, venues all over the country—in Arkansas, Florida, Illinois, Indiana, Michigan, Oklahoma, and Texas—have decided not to host Nosey. Stand with us as we continue to campaign for her retirement.