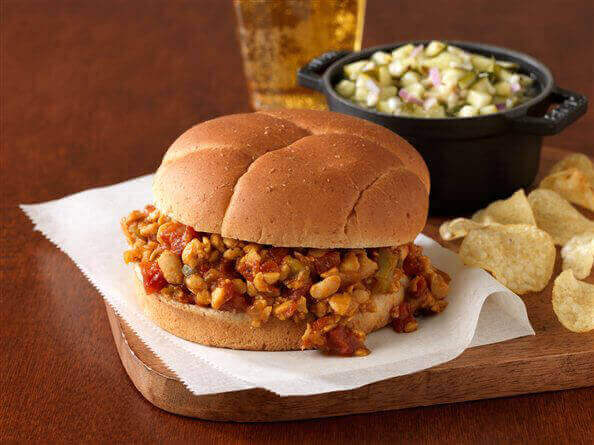 © Levy Restaurants
Take me out to the ball game. Take me out with the crowd. Buy me some … vegan pot stickers and black-bean burgers? Yep, that's right. There's no need for animal-friendly baseball fans to settle for peanuts and Cracker Jack anymore. Many MLB stadiums have a stacked lineup of vegetarian fare, everything from veggie dogs and faux chicken to vegetable sushi and portobello sandwiches. PETA recently assessed the vegan and vegetarian options at every major league stadium across the U.S. and Canada. The competition was pretty tight, but we narrowed down the field to the 10 most vegetarian-friendly ballparks:
San Francisco's AT&T Park is frequently a contender, but after being knocked out of the top three in 2013, the stadium—which came in first in 2006 and 2011 and second from 2007 to 2010—is back in the top spot again. The home of the Giants has an "expanded roster" that includes Field Roast frankfurters, portobello sandwiches, made-to-order vegetable tacos and burritos, hummus, and rice, bean, and vegetable bowls with pineapple salsa. And you thought the fans just went to AT&T Park to watch Tim Lincecum rack up scoreless innings.
Chase Utley isn't the only animal-friendly All-Star at Citizens Bank Park, the home of the Philadelphia Phillies. PETA is also cheering about the Hall of Fame–worthy vegan options, including faux-chicken patties, black-bean burgers, and Tony Luke's broccoli rabe, seasoned with garlic, lemon juice, and extra-virgin olive oil.
Pittsburgh Pirates fans get hungry whenever MVP Andrew McCutchen comes to the plate—and whenever they think about the veggie burgers, fish-free sushi, seaweed salad, vegan coleslaw, and Sloppy Janes at PNC Park.
It's no wonder why Citi Field made PETA's list of vegetarian-friendly stadiums: David Wright and other New York Mets players taste-tested Beyond Meat's new vegan burgers in the dugout, and fans are chowing down on meat-free meals, including Blue Smoke barbecue pit beans, freshly sliced mango sprinkled with chili powder, and V Is for Vegan pizza, in the stands.
The Washington Nationals might have two of the most exciting options in the majors—and we're not talking about Bryce Harper and Stephen Strasburg. We mean the roasted cauliflower sandwich and the vegan crab cake, two delicious choices that scored Nationals Park a spot on PETA's list of vegetarian-friendly ballparks.
When Rockies fans aren't fetching dingers from Troy Tulowitzki, they can be found enjoying the veggie wraps, bean burritos, fresh fruit kabobs, or other power-hitting vegan options at Coors Field in Colorado.
Robinson Cano, Corey Hart, Willie Bloomquist, Logan Morrison, Fernando Rodney, and Lloyd McClendon were terrific off-season acquisitions, but they aren't the only reasons why Mariners fans enjoy going to Safeco Field. They also love the fire-roasted vegetable soup, vegan Bao Choi, and other great-tasting meat-free meals.
Fenway Park is home to the reigning world champion Boston Red Sox and some wicked-good vegan eats, including Boca burgers, veggie dogs, hummus, portobello sandwiches, and vegan-upon-request penne pasta salad, which keep the Fenway faithful coming back for more.
The Blue Jays have truly broken through this season, and we don't mean on the field. This year, Toronto's Rogers Centre burst onto PETA's vegetarian-friendly scorecard faster than Jose Bautista turns on an 0-2 fastball. The make-your-own burrito and nacho bars ensure that vegans—even those with Mark Buehrle–esque appetites—never come up empty at the plate.
Braves fans wouldn't dream of snubbing Justin Upton for the final All-Star vote, and PETA wouldn't dream of snubbing Turner Field for the final—and much sought-after—spot on its top 10 list. With vegetable fajitas, veggie burgers, veggie dogs, fresh fruit, and more, the "Home of the Braves" deserves some recognition from fans of vegan food.
If you're curious which minor league stadiums made the cut, check back later for info on PETA's top five vegetarian-friendly minor league ballparks.