We know that we can count on our first responders in emergencies, but humans aren't the only ones who find themselves in need of help at times. These brave men and women also frequently risk their lives to save individuals who will never even be able to say "thank you"—at least, not with words. Here are just a few of the recent stories of firefighters and other first responders who stepped up when animals were in danger.
Firefighters and Police Officers Rescue Dog From Burning Truck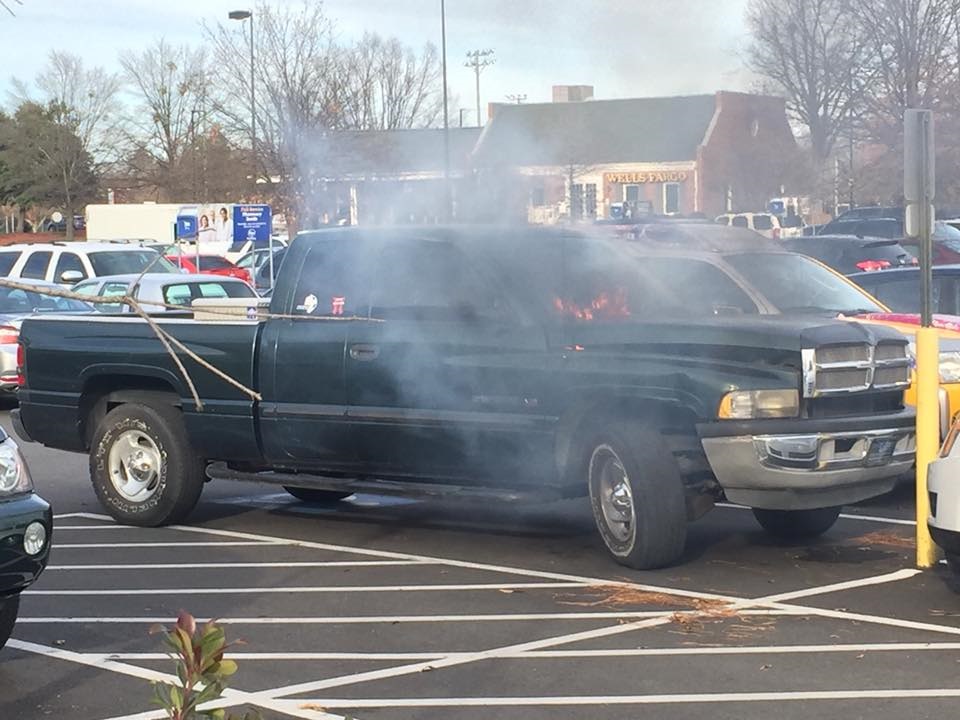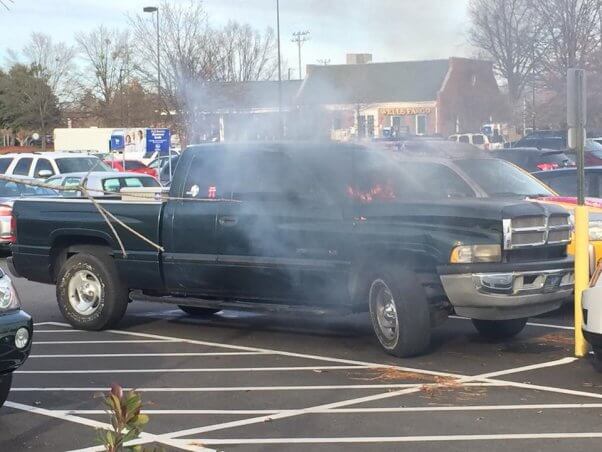 © Aiken Department of Public Safety
When emergency responders in Aiken, South Carolina, got the call that a truck was on fire in a grocery store parking lot, they rushed to extinguish the flames before anyone was hurt. But seconds mattered even more than they first realized. The truck's owner told officers that his dog, a basset hound mix named Bella, was inside. They found Bella unresponsive in the backseat and quickly worked to free her, pump oxygen into her lungs, and rush her to a veterinarian for treatment.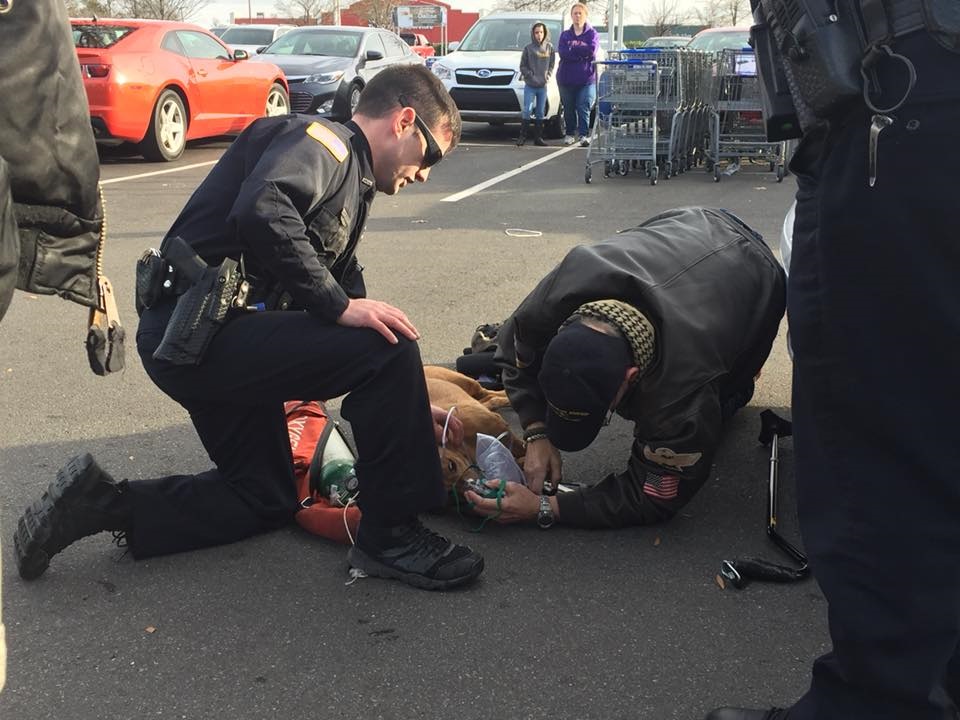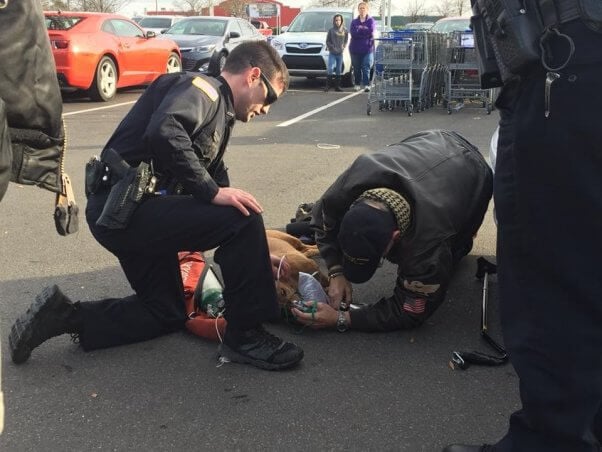 © Aiken Department of Public Safety
Bella is now expected to make a full recovery. And the heroes of the Aiken Department of Public Safety received a Compassionate Action Award and many thanks from PETA.
Firefighters Rescue Cow From Frozen Pond
A North Carolina farmer called for help when one of his cows, Julie, fell through the ice on a frozen pond and became hopelessly stuck in the frigid water. The Mount Pleasant Fire Department responded, and for two hours, as news helicopters circled overhead and thousands of people watched live on Facebook, crews used a sledgehammer and chain saw to cut through 10-inch-thick ice.
LIVE: Crews are are trying to rescue a cow from a frozen pond in Concord.

Watch now from Sky3 on Facebook Live » https://t.co/TbWSfyNaLY pic.twitter.com/fjoh6XmDMD

— WBTV News (@WBTV_News) January 8, 2018
They were able to free Julie, who was in water up to her neck, and guide her ashore. PETA sent her rescuers a Compassionate Fire Department Award and her owner a request to let us place Julie in a sanctuary.
Swift Rescue Team Pulls Dog and Guardian From Flood
David Rooks was doing irrigation work in Florence, Colorado, with his dog Petey by his side, when heavy rain took the pair by surprise. Rooks tried to finish the job before the roads got too flooded, but as he headed home and the downpour continued, his SUV was soon up to its windows in water. The Florence Fire Department's swift-water rescue team responded to his call for help, and soon an officer was crawling across a truck ladder stretched across the torrent toward the stranded vehicle.
AMAZING swift water rescue by Florence Fire Department swift water rescue team! The man and his dog were saved from the water after parking in a dry creek bed that quickly became flooded after today's rains off Phantom Canyon Rd. Huge THANK YOU to the following who helped: BLM Florence Police Department – ColoradoFremont County Emergency Management Fremont County Road and Bridge And all the civilians who helped out. #WaterRescue #FlashFlood #SamePurposeDifferentPatchVideo by FCSO Sgt. Megan Richards

Posted by Fremont County Sheriff's Office – Colorado on Sunday, July 30, 2017
With life jackets secured around them, first Petey and then Rooks were lifted by the firefighter onto the ladder and helped across the water to safety. PETA awarded the entire department's bravery and compassion for animals with a certificate, vegan cookies, and a copy of The Engine 2 Diet.
Dog-Specific Oxygen Mask Saves Pup's Life
The Bakersfield Fire Department in California responded to a house fire and discovered that one family member was still inside: beloved dog Jack. Fire Engineer Matt Smith pulled the unresponsive dog from the house, and the team gave him oxygen using a dog-specific oxygen mask donated by local Girl Scouts.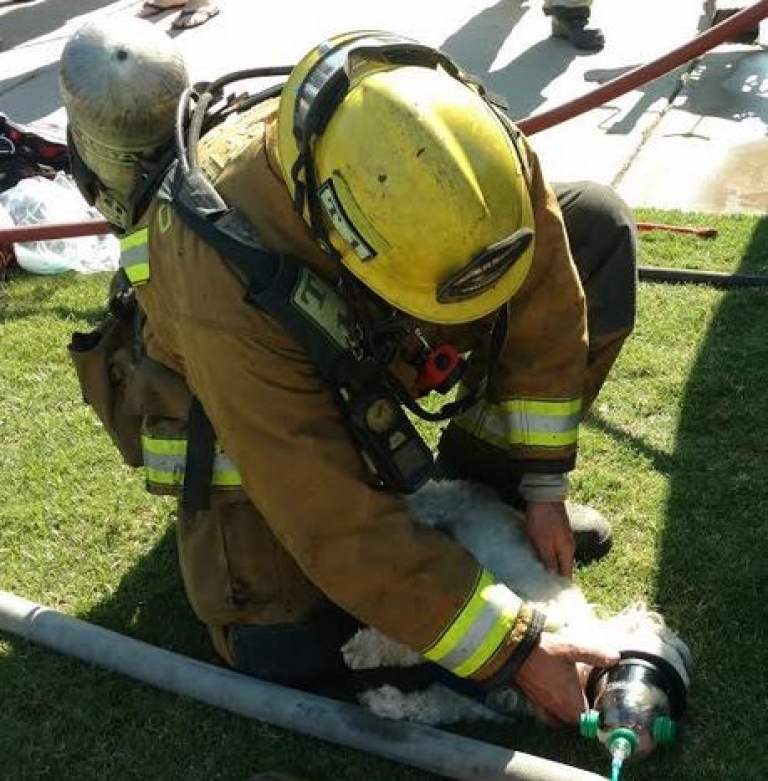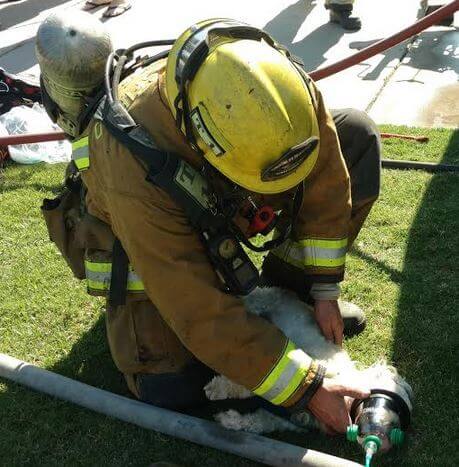 © Bakersfield Fire Department
Jack regained consciousness, and they rushed him to a vet. When Smith visited the next day, he was told that his heroics had saved the dog's life. Now Jack is back with his family, and the department received an award from PETA that included a package of window stickers that it can distribute in the community alerting first responders to animals inside a home.
Police Save Kitten Frozen to Dock
It was an unusual call that came into the Mercer County Sheriff's Office in Harrodsburg, Kentucky. As snow blanketed the area, Roy and Laurie Jasper found a kitten frozen to their boat dock. Sheriff Ernie Kelty responded to the call. He poured water over the kitten's paws and fur and slowly began working him loose. Once the animal was free, he wrapped the shivering ball of fur in a sweatshirt and carried him into the Jaspers' home to warm up.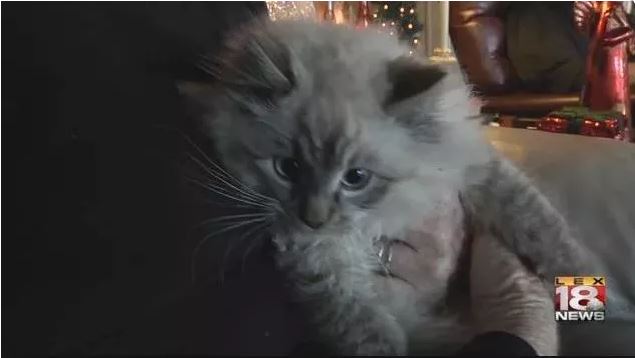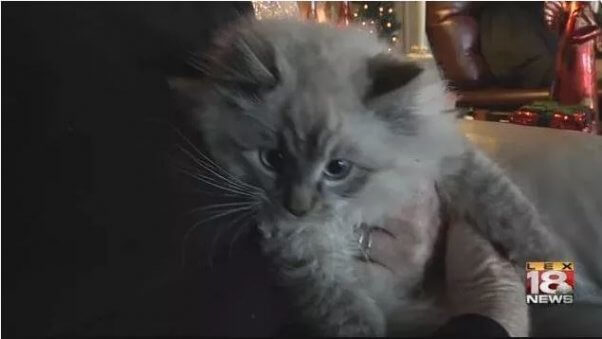 © LEX 18 News
Now the kitten who once faced freezing to death alone on a dock has a loving home with the Jaspers. They've named him Ernie.
Firefighters Dive Into Icy Water to Rescue Dog
Two firefighters from the Oaklyn Fire Department near Atlantic City, New Jersey, braved ice-filled water to pull a stranded pup to safety. Lilly had fallen through ice 150 feet from the shore. The two men waded out to her in ice-rescue suits, placed her on a sled, and pulled her back to shore. They warmed the shivering dog in their truck and got her safely returned to her guardians.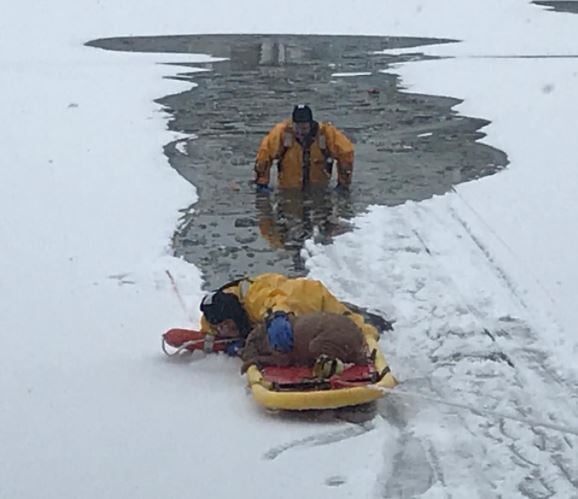 © Oaklyn Fire Department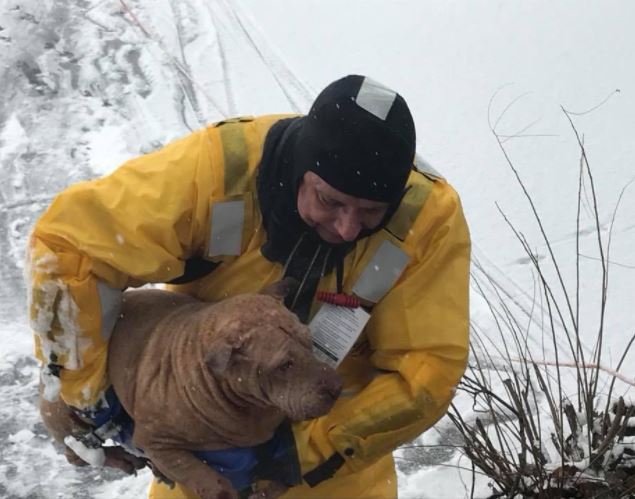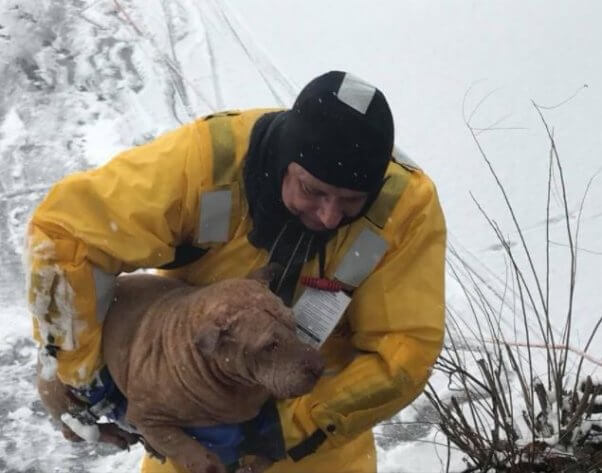 © Oaklyn Fire Department
The department previously rescued chickens from a burning coop and a cat who was lodged in a tree and is receiving a well-deserved award from PETA.
Dog Saved After Sliding Down Snowy Ravine
As snow began to pile up in Hyattsville, Maryland, an unfortunate dog took a dangerous spill and slid down into a snow-covered ravine. Firefighters with the Prince George's County Fire and Emergency Medical Services Department lowered a ladder down the embankment, crossed icy water to reach the freezing animal, and carried him back to safety.
Great work by #PGFD Company 30 They assisted this frozen dog and took him to the Station awaiting Animal Control. @PGFDPIO @PGFDNews @BenBmbarksdale pic.twitter.com/nE0RxMZtNP

— Bryan Spies (@bryanspies) December 15, 2017
The lucky dog was later reunited with his guardian. PETA awarded the rescue workers and asked the entire county to keep its animals safely indoors.
Animal Control Officers Sleep in Doghouses in 11-Degree Weather
A doghouse is no place for our best friends any time of year, but keeping a dog chained outside in frigid winter weather is especially cruel. To show people what lonely chained dogs endure in the cold, three officers from Saginaw Animal Control in Michigan spent a harrowing night sleeping in doghouses as temperatures dipped to a miserable 11 degrees.
Students from a local elementary school took the officers' temperatures and heart rates and observed how quickly the water bowls and food froze over. And EMTs were on the scene to keep the trio safe—a luxury not afforded to animals left outside, who often suffer from frostbite.
PETA sent the officers accolades and vegan treats. We also shared their story far and wide to urge people to bring their animals indoors, as we've already had to come to the aid of nearly 3,000 animals this winter.
*****
These are just some of the selfless first responders who recognize that every life is worth saving. Fortunately, PETA receives reports all the time about police and fire departments that have gone to great lengths to rescue animals. We proudly salute these heroes and urge everyone to be heroic and refuse to abandon animals in need.