Washington resident Alba Suarez—a parent, nurse, former teacher, and PETA member—has sent a letter to the head of the state's PTA regarding its announced partnership with McDonald's to "promote healthy eating for kids."
No, this isn't a belated April Fool's joke.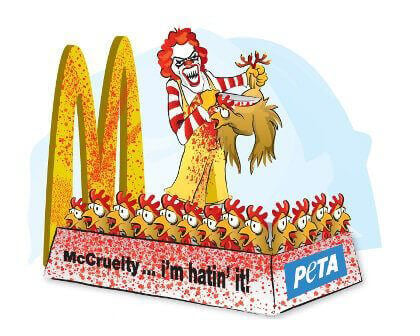 Suarez's letter asks the group to shelve the partnership since it sends the message that the PTA endorses the fast-food giant's fat-, cholesterol-, and sugar-laden foods—the type of foods linked to diabetes, heart disease, and the childhood-obesity epidemic—not to mention the cruel factory-farming practices used by McDonald's suppliers. As Suarez explains in her letter, "Despite the revenue from the partnership, I urge you to consider its true long-term cost—the promotion of unhealthy and inhumanely produced foods to our children."
How You Can Help
Our children deserve better than to be sold (and sold out for) harmful animal products. Please join Alba Suarez and PETA in asking the Washington State PTA to drop its partnership with McDonald's, and be sure to start your own kids on a lifetime of good health and compassionate action by choosing vegan foods for your family.