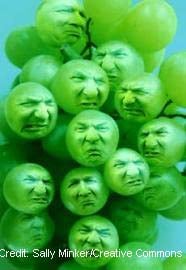 Sour Grapes?
Like, he's really, really pissed off. It all started a couple of years ago with an April Fools joke PETA did where we pretended that some scientists in Louisiana had discovered genetic evidence of the link between hunting and unusually small penis size. Gene, who's the Outdoors columnist for The Washington Times, was taken in by the prank and, since he's one of those people who gets a big kick out of killing animals himself, he got uppity as hell about the whole thing. Unfortunately for Gene, it was all about to get a lot funnier, since we pitched the story about his angry reaction to Howard Kurtz, the media editor at rival newspaper The Washington Post, who loved it and ran this little piece (scroll down to the bottom) about it in his column, essentially calling ol' Gene out for being a bad sport—and a dupe, to boot.
Fast-forward to two years later, and Gene is still really effing mad at PETA. Some impish soul in our Communications department dug up his e-mail address yesterday to send him a link to our latest April Fools prank on hunters and ask if he'd be interested in running a story about it. Here's Gene's response:
"I wouldn't waste one gram of printer's ink publishing your drivel about the April Fool's joke. You people need to lay on a psychiatrist's couch and pour your beleaguered hearts out; then go and eat a wonderful medium-rare venison steak with sauted onions and mushrooms.
-Gene Mueller, Washington Times"
Aw Gene, honey, you're still a very grumpy little hunter over that small penis joke, aren't you?