I'm not sure how many of you know this, but PETA's President Ingrid Newkirk is a huge Formula 1 fan. She always jokes that when PETA achieves animal liberation she is moving to France to be a F1 pit hound. Actually, she probably isn't joking.
Anyway, as reliably as the sun rising in the morning, if there is a F1 race on, Ingrid is watching it, and the first race of the season two weekends ago was no exception. The financial services company ING is the major sponsor of the Renault team. Ingrid is a big Renault fan, and even has a couple of Renault drivers—Giancarlo Fisichella and Heikki Kovalainen—featured on her F1 press pronunciation assistance site, NameThatDriver.com.
If you're not into F1—and if you live in America I realize that you're probably not—you may be thinking, "so what?" Well, coincidentally, it turns out that Ingrid has just finished shooting a PETA ad parodying the iconic ING "It's easier on the bench" ads. I'm sure you've seen those.
So here's the shot from our ad. The original concept was that while ING provides tools to make its customers' lives easier, PETA provides the tools to make animals' lives easier. That, and the ING Financial bench is an advertising icon, and the first three letters of our President's name are "I N G".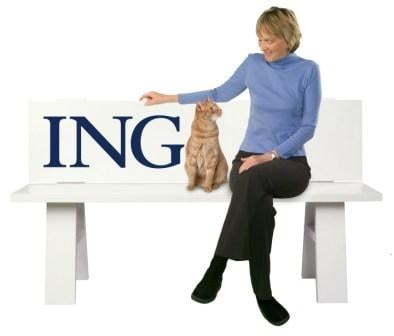 See Why Its Easier—for animals—On the Bench
And here are a just a few ways PETA made animals' lives easier over the past year:
PETA successfully negotiated agreements with some of the largest poultry sellers, including Safeway, CKE Restaurants (the parent company of Hardee's and Carl's Jr.), and Denny's, to advocate for CAK with their poultry suppliers.
Chicago's City Council voted 48-1 to ban the sale of foie gras after watching PETA's graphic expos— narrated by Sir Roger Moore, which documents how ducks and geese have pipes shoved down their throats to force-feed them up to 4 pounds of grain per day.
Over the past year, PETA's corporate outreach efforts caused some of the largest and best-known clothing brands in the world to go fur-free, including Polo Ralph Lauren, Tommy Hilfiger, Limited Brands (which includes Victoria's Secret), Ann Taylor and J.Crew.
Leading retailers Eddie Bauer, Liz Claiborne, and Kenneth Cole gave fresh assurances that they are still boycotting Indian leather after PETA India ramped up our international campaign in response to a lack of significant action by government officials to stop abuses like beating animals who are too sick or injured to walk and butchering animals with dull knives in full view of each other.
General Electric and 3M agreed to provide PETA with regular updates on their efforts to reduce the stress and loneliness of the animals used in tests, and DuPont has agreed to work with PETA to reduce the number of animal tests it uses.
PETA discovered that juice companies Ocean Spray and Welch's had funded cruel experiments on animals that involved inducing stomach ulcers and inflicting brain injuries in mice and cutting dogs' chests open to induce massive blood clotting (as well as other cruel tests). PETA convinced both companies to join our list of more than 20 juice companies that have pledged not to fund animal experiments—none of which are required by law.
As a result of PETA's efforts to combat the use of animals in the U.S. Environmental Protection Agency's program to test toxins, seven corporations and chemical industry associations have agreed not to conduct certain tests, sparing more than 10,000 animals.
Pretty cool, huh?