A Texas man's funeral for the two fish he'd kept as companions put Twitter in a frenzy. According to BuzzFeed, the young man decided to honor the two fish—Tiffany and Tori—with a funeral service. He lit candles and wore a suit:
https://twitter.com/jaimesuemil/status/950897412763213824
His sister tweeted photos from the funeral, writing, "so my sister in law sends me these pictures of my brother giving their fish a full funeral…i'm in real tears." The tweet has since gone viral—it's received more than 40,000 "likes" and nearly 10,000 retweets. Other animal guardians chimed in to share their own stories of their late companions:
. RIP Gio. Never forgotten. @Nate_Seibert @tylershields11 @dompango @BrennanDaunt pic.twitter.com/UsEBOCLe3P

— phil wagner (@wagner_phil) January 12, 2018
https://twitter.com/LoveeMonaee99/status/951553460540968960
https://twitter.com/5678_bam/status/951556179569840136
https://twitter.com/bbbrrriiix0x0/status/951547597029822464
@Shepherd_Courts this brings back memories of our fish funeral in summer

— Levi (@levi_shepherdd) January 11, 2018
Here at PETA, we've also chosen to honor fish—the ones who are abused and killed by humans every year for food and "sport"—in a unique way: with the world's first fish empathy quilt.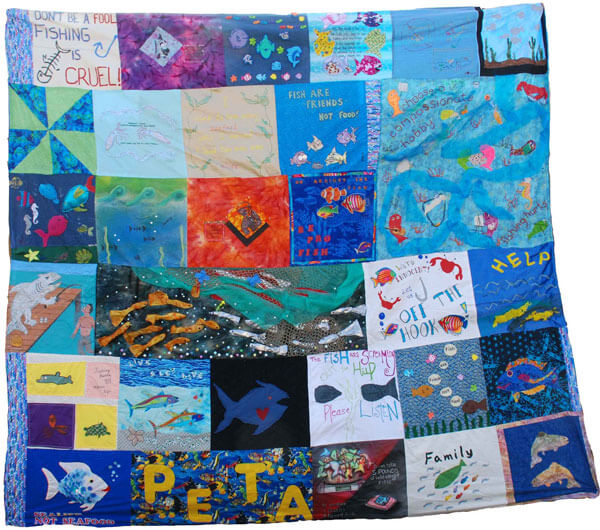 Each square was handmade by PETA members and supporters around the world. Many participants also submitted touching stories about the reasons they no longer eat or catch fish, because they've learned how smart, sensitive, and fascinating these animals are and that they aren't swimming vegetables but rather are capable of all sorts of feats and feelings. Submissions have included the following:
A Girl Scout troop from Austin, Texas, submitted several patches. Members were inspired by a discussion with a former commercial fisher—who had since gone vegetarian—about the damage that fishing does to animals and the environment.
A quilter from Winnipeg, Manitoba, shared a story regarding the decision that she and her grandfather made to stop fishing because of the cruelty involved. They found other ways to spend time together instead.
Several quilters made patches that bear the PETA slogan made famous by the film Finding Nemo: "Fish Are Friends, Not Food!"
Submit Your Own Square for the Fish Empathy Quilt
Fish kept in tanks are robbed of their natural habitats and denied the ability to travel freely—they're forced to swim around endlessly in the same few cubic inches of water. If you love fish, don't keep them in tanks or aquariums. Instead, download one of the many colorful and realistic fish-themed computer screensavers, and consider helping us grow our fish quilt by submitting a square of your own! Click the button to learn more: