The recent "monkey snatches toddler" video might induce surface-level laughs, but the story behind it is just another upsetting example of the way animals suffer when they're used for tawdry amusement.
LOOK CLOSER — THIS IS NOT FUNNY.

The monkey is being pulled by a rope. They're likely clinging onto this toddler in a desperate attempt to escape the abuser on the other end of the leash.

Animals who are forced to perform are often abused and exploited.pic.twitter.com/DRPtbLCWD7

— PETA (@peta) May 6, 2020
At first glance, the video appears to show a monkey riding a small motorbike pulling up to a toddler sitting on a bench, grabbing the child, and then attempting to drag him away. Some called the incident a "kidnap" attempt. But if you look closely, you'll notice that there's a rope fastened around the monkey's neck—he or she isn't abducting the toddler, the animal is holding on to the child to try to escape whomever is tugging on the other end of the rope. The monkey was likely just as terrified as the toddler.
The upsetting incident reportedly occurred in the East Java capital of Surabaya, Indonesia, where such exploits are apparently "a traditional form of street entertainment." According to the Indonesia Expat, horrified bystanders called out to the primate's handler, urging them to stop the abuse. Other reports alleged that the handler "beat the monkey with a gamelan mallet" after the stunt. The toddler, according to ABC7, was spooked and sustained a few scratches but was otherwise unharmed.
Although certainly upsetting, this exploitative event and the details surrounding it aren't terribly shocking.
In Indonesia and elsewhere in Asia, monkeys are often kept as "pets" and used for human amusement. Indonesian law doesn't protect all primate species, although topeng monyet (the type of "street entertainment" seen in the video) was reportedly banned in East Java in 2018. Training monkeys for topeng monyet can apparently include torture, and performances increase the risk of zoonotic diseases—like COVID-19—being transmitted.
In their natural habitats, Old World monkeys—like the one abused in this video—spend much of their days on the ground. These primates, who are native to Africa and Asia, have pads on their hind regions that become calloused because of the time they spend sitting to rest or snack on leaves and grasses. Childcare is strictly a female responsibility among them—mothers often carry their babies on their stomachs …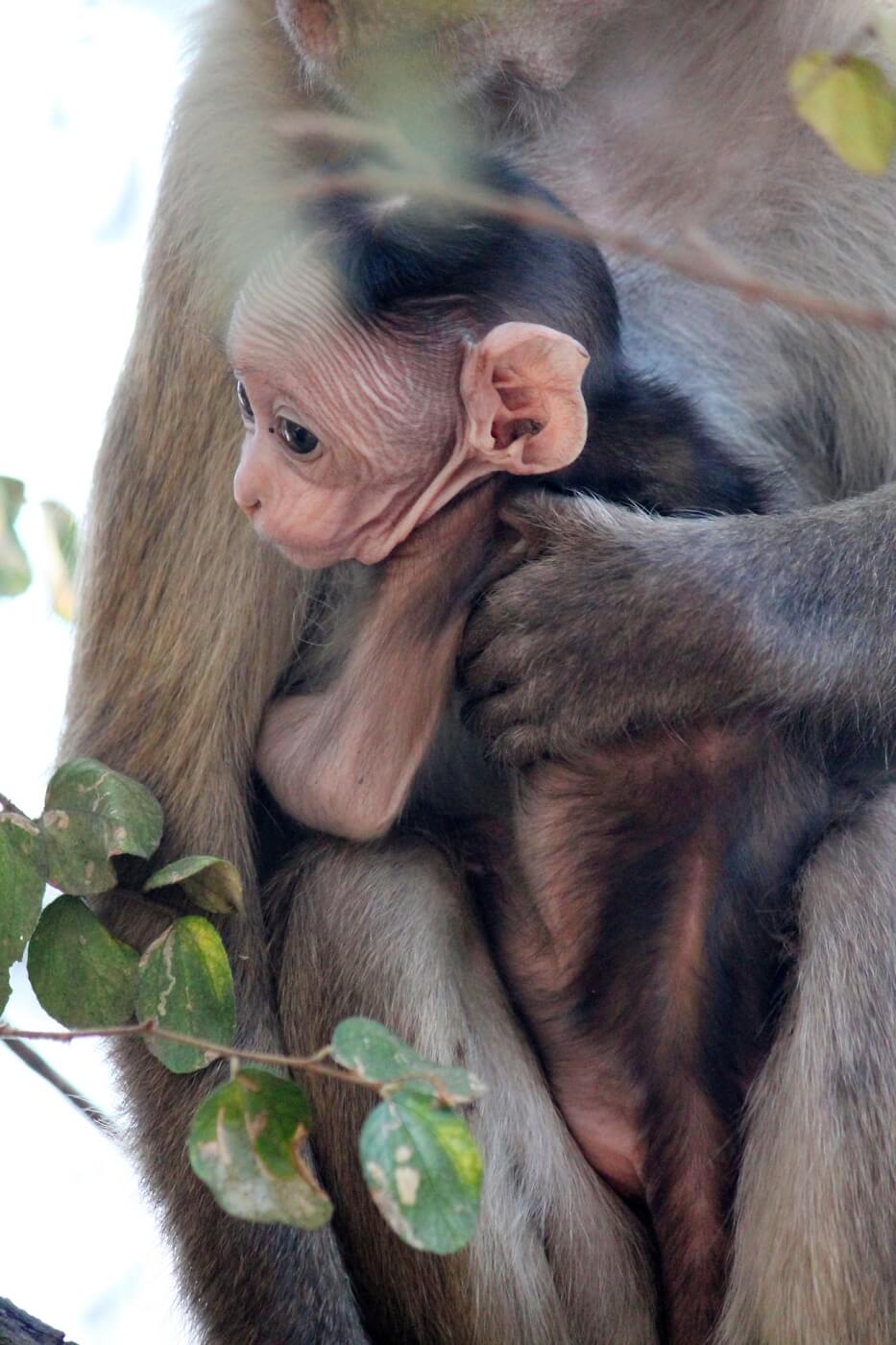 … while the babies of New World monkeys, who are indigenous to the Americas, typically ride on their mothers' backs.
But monkeys like the one in this video are commonly torn away from their mothers' protective sides and their natural habitats.
There are reportedly hundreds of monkeys for sale in Indonesia, if not more—and the more that people buy them, the more these animals will be taken from their native homes. As "pets," they're denied familial bonds and the opportunity to forage for food. As "entertainers," they endure horrific abuse and put members of the public at risk, as this "monkey snatches toddler" incident demonstrates.
Captive monkeys—who have been robbed of the opportunity to live in their natural habitat—should be cared for by wildlife experts who understand their physical and psychological needs. They belong in reputable sanctuaries that will let them live in natural social groups—not with a "pet" owner and certainly not in the hands of a handler who will treat them as nothing more than a prop.
Monkeys and other exotic animals are not "pets," and they're not props.
Whether you're in the U.S., Asia, or elsewhere, please, never buy animals, and support legislation that would make owning exotic animals illegal. Take action for primates now: