Update: As part of our work to get Oswald's Bear Ranch to end its abusive photo ops with and public handling of bear cubs, PETA launched a mobile billboard proclaiming, "Your Ticket, Your Fault. Cubs Are Suffering for Photo Ops at Oswald's Bear Ranch." For approximately nine hours a day through September 3, it will circle the area around the notorious roadside zoo, where people who are considering a trip to the exploitative exhibit over Labor Day weekend will likely see it. PETA hopes to remind people—before they buy a ticket—that animals are not toys, photo props, or social media fodder.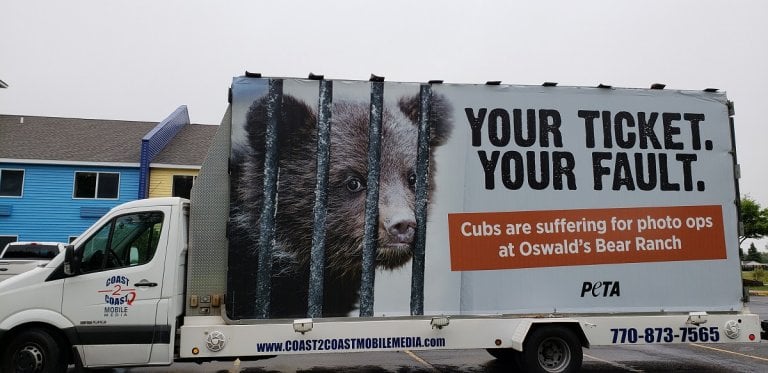 © Coast2Coast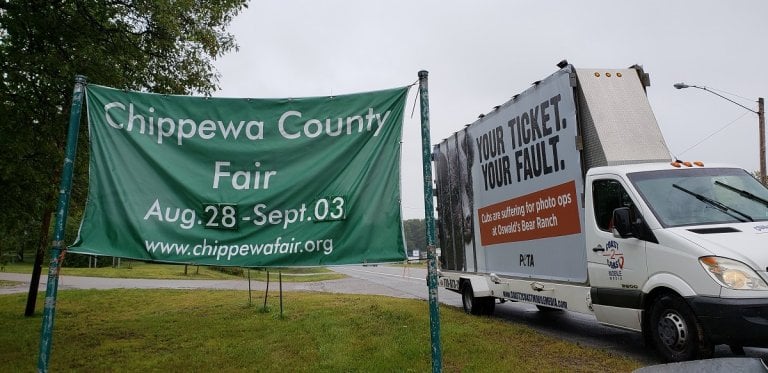 © Coast2Coast
The following was originally published on May 24, 2018:
If this doesn't convince you that paying to take photos with wild animals funds exploitation, nothing will. This disturbing video shows three infant bear cubs crying after they were sent to Oswald's Bear Ranch, a Michigan roadside zoo that sells pictures with captive baby bears. The ranch owners try to feed the cubs with bottles as the animals, who don't know how to drink from a bottle, struggle and cry out, likely calling for their mother:
FEEDING 1ST TIME! Checkout our BEAR CLUB to help our rescue efforts:http://www.oswaldsbearranch.com/index.php?page=Bear_Club. Thanks for your Shares & Likes! Also videos on our YouTube.com/ossie1939oswaldsbearranch. Cub namimg contest coming soon?

Posted by Dean Oswald on Wednesday, April 4, 2018
This morning, PETA sent a letter requesting that the Michigan Department of Natural Resources (MDNR) investigate Oswald's Bear Ranch—which is owned and operated by notorious animal exhibitor Dean Oswald—in Newberry, Michigan, for numerous apparent violations of state law, including for its methods of acquiring bears and for intentionally misleading lawmakers.
In the past 22 years, Oswald's Bear Ranch has bred 13 cubs and purchased or received 60 others for use in photo ops, including Daley, Jalyn, and Lulu, who were acquired just this year from a breeder in Wisconsin. PETA's meticulous review of MDNR and Michigan Department of Agriculture and Rural Development records also revealed that there was no documentation for a 2016 transfer of three cubs from a facility that Oswald's referenced on Facebook and that acquisitions that Oswald's claims to have made weren't corroborated by monthly inventory reports. Additionally, at least three bears who were placed at the facility by government agencies were moved to a breeding facility in Arizona, and despite misleading authorities into believing that it functions solely as a rescue facility, Oswald's hasn't taken in a single orphaned cub from government agencies since lawmakers amended the Large Carnivore Act in 2013.
In this video, the cubs try to nurse on the videographer's fingers, the ranch owner's pant legs, and anything else that they can find:
CUBS ENJOY 1ST OUTDOORS PLAY! Hibernation Contest continues…Choose a Date & Time the last bear emerges from the den? BEAR CLUB memberships are available here: http://www.oswaldsbearranch.com/index.php?page=Bear_Club. More videos on our www.Youtube.com/ossie1939oswaldsbearranch! Thanks for your Shares and Likes!

Posted by Oswald's Bear Ranch on Tuesday, May 1, 2018
"Dean Oswald's lip service to animal welfare can't hide the fact that he's stockpiling bear cubs, who should be with their mothers, to use as moneymaking machines in cruel photo ops," says PETA Foundation Director of Captive Animal Law Enforcement Brittany Peet. "PETA is calling on authorities to investigate our findings and, if warranted, throw the book at this sham operation."
Oswald's Bear Ranch has a history of federal animal-welfare violations and was cited in 2010 for using physical abuse to handle an animal after a U.S. Department of Agriculture inspector witnessed a handler strike a bear cub twice during a photo op. Video footage taken just last year shows three bear cubs used for photo ops pacing and crying out, and one was observed repeatedly chewing on the caging—all signs of severe psychological distress. And in this video, Dean Oswald intentionally misleads people about how the facility acquires bear cubs:
Please, never, never give your money to exhibitors who sell pictures with wild animals. The animals are almost always taken from their mothers, which causes unimaginable psychological suffering, and forced into constant contact with humans. And please tell Oswald's Bear Ranch that it's time to close the shutter on its baby wildlife photos.