Toka, Thika, and Iringa—the three elephants from the Toronto Zoo—have finally arrived in California, two years after the Toronto City Council overwhelmingly agreed that the Performing Animal Welfare Society (PAWS) sanctuary is a much more appropriate home for them.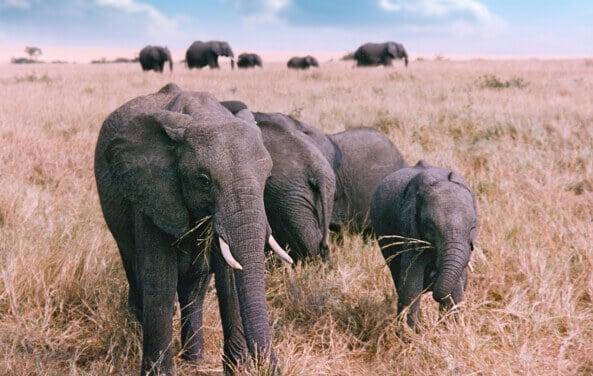 PETA and our colleagues at Zoocheck Canada kept up the pressure, writing to council members and mobilizing Canadians to make their opinions known. We also gave our Compassionate Legislator Award to three members of the Toronto City Council to thank them for spearheading the 2011 vote to send the three elephants to PAWS
Now, these three elephants have traded their cramped 1-hectare zoo paddock for the sanctuary's 35 hectares of rolling grasslands dotted with trees, lakes, meadows, a walnut orchard, three heated barns, and even a Jacuzzi, all of which they will eventually share with three other resident African elephants once they become acquainted.
TV icon and animal defender Bob Barker, who paid for the elephants' 2,500-mile trip to the sanctuary at a cost estimated to be between $100,000 and $300,000, was on hand to greet the elephants. Iringa, the first to be unloaded at the sanctuary, loudly trumpeted, as if to announce her arrival.
What You Can Do
Now, it's Lucy's turn. Please click here to ask Edmonton officials to follow their Toronto counterparts' lead and send this ailing and lonely elephant to PAWS.