… to sunny California. Not content with campaigning to get an ailing elephant named Lucy out of Edmonton's Valley Zoo, the tireless Bob Barker is now speaking out on behalf of Toka, Iringa, and Thika, the three elephants at the Toronto Zoo. Bob joins Toronto City Councilor Shelley Carroll, who is calling for the elephant trio to be moved to the more appropriate climate of a California sanctuary without delay—and for good reason. Seven elephants have died at the Toronto Zoo, none of old age. Some suffered and died from severe arthritis—one of the main reasons that captive elephants are euthanized—and joint disease.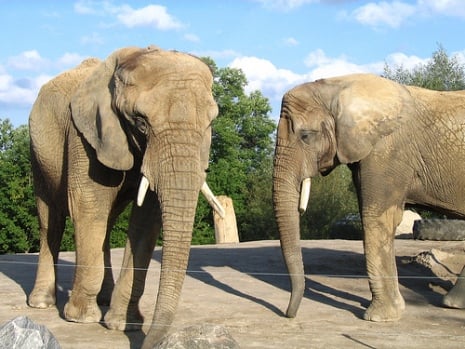 As Bob eloquently points out, the California sanctuary offers elephants "acres and acres of land. They have a mud hole; elephants love to play in the mud. They have a pool; some of them stay underwater practically the whole summer. And there are elephants for them to socialize with. Elephants come in that have been mistreated and been lonely and depressed, and they just blossom. It's wonderful to behold."
Recognizing that elephants fare very poorly in captivity, progressive zoos all over North America have retired their elephants to sanctuaries.
Please let the Toronto councilors know that you support moving Toka, Iringa, and Thika to a home where they can thrive.
Written by Jennifer O'Connor