While fashion designer Victoria Beckham, aka "Posh Spice," has vowed that none of her collections will ever include a stitch of fur, for which we thank and praise her, she has been silent on the subject of whether or not her new handbag collection will contain the skins of crocodiles, snakes, and other reptiles killed for fashion. And with the fashion diva's New York City runway show coming up this weekend, even the New York Daily News called her out for keeping mum on PETA's inquiries.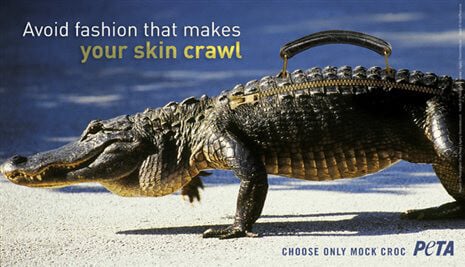 Alligator:© Dean Perrus/Dreamstime.com, Handle:© Luminis/Dreamstime.com, Zipper:© iStockPhoto.com
In a recent letter to Beckham, PETA Senior Vice President Dan Mathews described the horrors of the exotic-skins trade as shown in a PETA video narrated by Academy Award nominee Joaquin Phoenix and described how farmed reptiles are beaten over the head before being skinned alive. Snakes are either nailed to trees or poles by their heads or have water forced down their throats to loosen their skin before they, too, are skinned alive.
Beckham has stated that her bags adhere to the guidelines set forth by the Convention on International Trade in Endangered Species of Wild Fauna and Flora (CITES), but PETA explained that CITES aims only to prevent a species from going extinct and has nothing to do with the atrocious ways in which animals are confined and killed.
Bags, belts, shoes, and watchbands made from high-fashion pleather abound, so there's never been a better time to give leather and exotic-animal skins the boot. In the meantime, we'll keep doing our best to get Posh to dump the croc.
Written by Alisa Mullins