Check out vegan bodybuilder Jim Morris—Elton John's ex-bodyguard—in PETA's newest ad urging people to go vegan to improve their health and increase their life expectancy: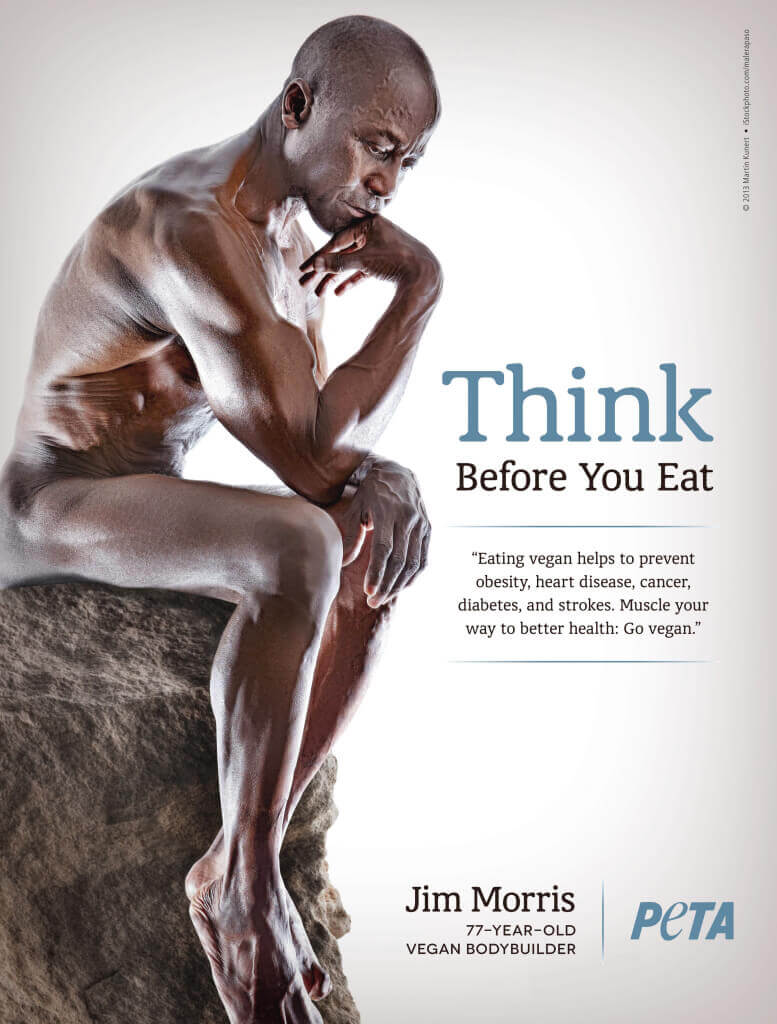 Pretty buff for a septuagenarian, huh?
He broke the color barrier in bodybuilding, and now he's breaking the age barrier as PETA's most senior pin-up to promote vegan eating. Jim is also the subject of a documentary premiering this month at the 2014 Slamdance Film Festival in Utah.
It's never too late to make healthy, humane choices. Jim went vegetarian when he was 50 and vegan when he was 65. In an interview with PETA, he talks about the health problems he endured when he ate meat and dairy products and he doubts that he would be alive today if he had continued to eat an unhealthy animal-based diet. He reveals that he now not only feels better physically but also feels good about himself because his food choices no longer cause thinking, feeling animals to suffer.
https://www.youtube.com/watch?v=XPTniEYdetY
While not everyone wants to look like a bodybuilder, most people want to be fit and trim well into their golden years. Studies show that vegetarians and vegans live, on average, six to 10 years longer than meat-eaters and that they're less likely to suffer from common, chronic illnesses.
If you want to look and feel awesome at any age, pick up a copy of PETA's free vegetarian/vegan starter kit. No heavy lifting required—we promise.