Armed with piles of evidence that meat sold with "humane" labels is anything but, PETA filed a petition calling on the U.S. Department of Agriculture's Food Safety and Inspection Service (FSIS) to amend its rules so that it no longer approves claims on labels about how animals were raised.
The FSIS, which does not regulate the on-farm treatment of animals raised for meat, bases its approval of claims like "humanely raised" or "raised in a stress-free environment" on the companies' own submissions, with no other supporting evidence required and no ability to audit farms. As a result, companies can submit claims that are completely false or grossly misleading and still get the agency's stamp of approval—and the financial motivation to do so is high.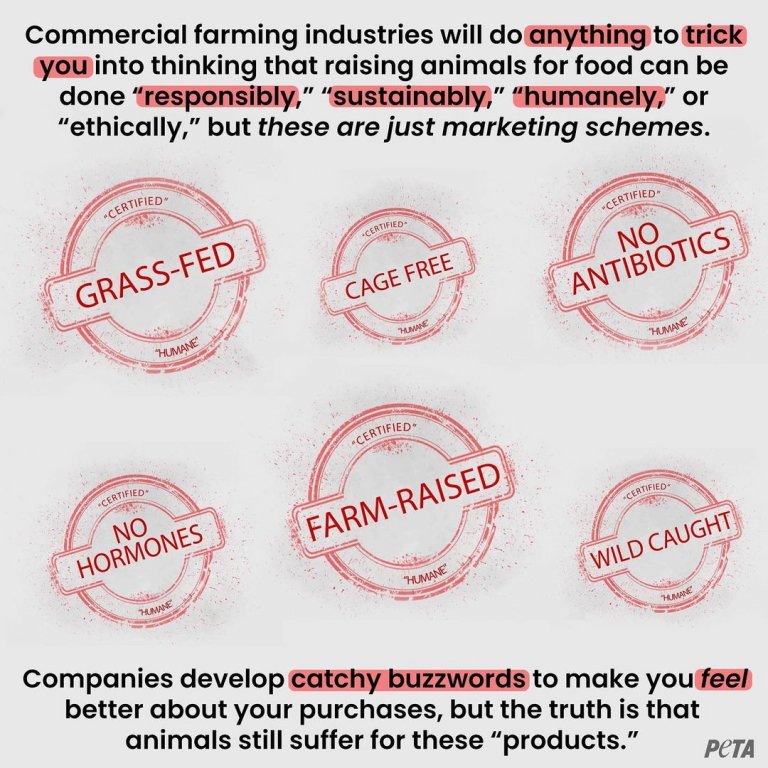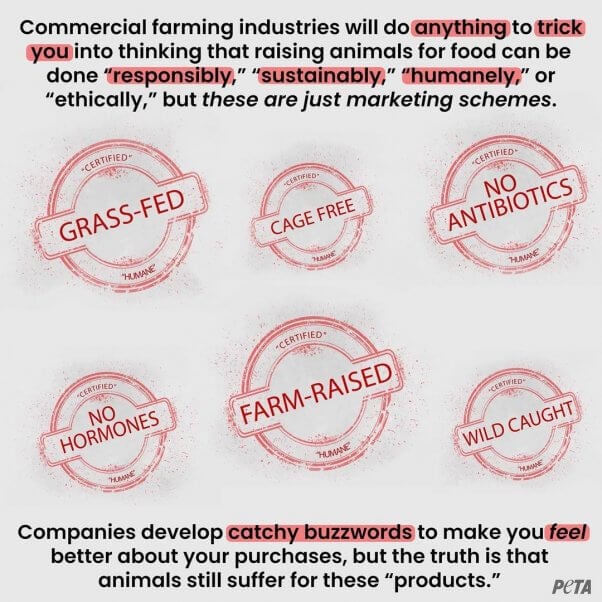 Studies reveal that 67% of consumers are more likely to purchase items labeled "humanely raised" and that they're willing to spend as much as 30% more on products from companies claiming to treat animals "humanely."
PETA's petition points to the following examples of cruelty at companies that make "humane" claims on FSIS-approved labels:
At Plainville Farms, a PETA investigator observed that workers kicked and stomped on scores of turkeys, tried and failed to break their necks, beat them with a rod, and left them on floors to convulse and die in agony.
At a hatchery owned by Maple Leaf Farms—the largest duck slaughterer in the U.S.—a PETA investigator observed that a worker dumped still-conscious day-old ducklings into a macerator.
At Culver Duck Farms, the second-largest duck slaughterer in the U.S., a whistleblower saw workers slitting ducks' throats while they were apparently still conscious—and a PETA exposé revealed that birds were bludgeoned, decapitated, and kept in ammonia-ridden sheds.
By signing off on meaningless "humane" labels, the FSIS is giving companies carte blanche to charge more for products that are just as cruelly produced as their "conventional" counterparts. PETA is calling on the FSIS to stop giving the government's stamp of approval to companies that may be misleading well-intentioned consumers.

—Jared Goodman, PETA Foundation General Counsel for Animal Law
Exploiting animals for food—like eggs and cow's milk—leads to harm, suffering, and death. If you really care about animals, the environment, and your health, there's only one animal-friendly label you should look for: "Vegan."