Following a joint PETA investigation in which activists exposed one of the cruelest industrial cattle slaughter methods on Earth, the Orthodox Union (OU)—the largest kosher certifying agency in the U.S.—told its meat suppliers that it will no longer accept flesh from animals killed by the "shackle and hoist" slaughter method.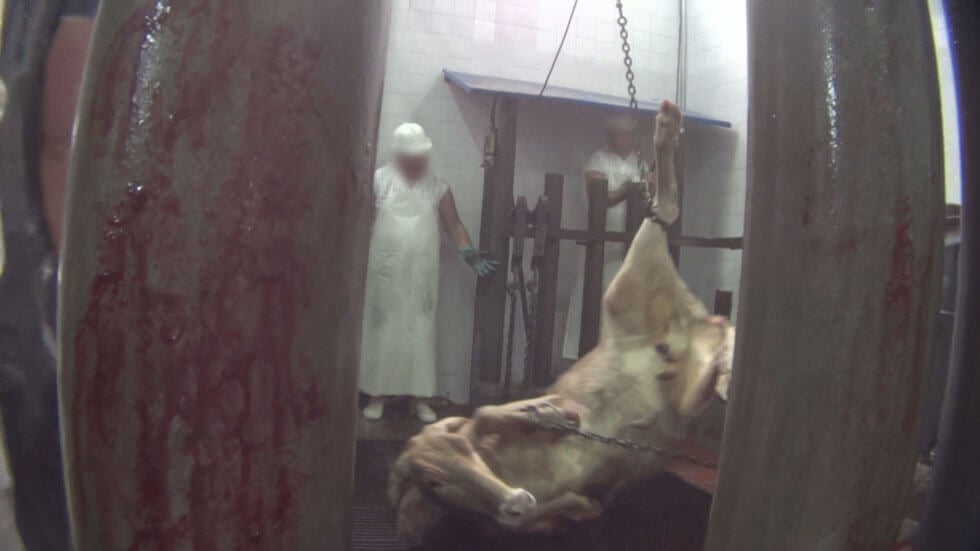 The OU told the Jewish Telegraphic Agency that it "expects that all slaughterhouses certified by the O.U. will stop the practice by the end of September." The kosher union added that roughly one-third of kosher beef that it certifies for import into the U.S. comes from South America—where PETA has conducted three investigations into "shackle and hoist" slaughter.
This landmark victory comes roughly a year after a joint eyewitness investigation and campaign by PETA and two Israeli organizations—Animals Now and Let the Animals Live—persuaded Israel to ban the "shackle and hoist" slaughter method for any imported beef.
In 2016, observers from PETA and Animals Now traveled to South America and recorded footage of kosher "shackle and hoist" slaughter. Cows were seen hoisted by their hind legs and pulled taut with chains. Workers grabbed their struggling heads and used a pronged restraint tool to wrench their heads backward, exposing their throats. After the animals were painfully pinned, a worker stepped forward and cut their throats with a large knife. Immediately, the cows were hoisted into the air by a hind leg, struggling and fully conscious. Many of those observed exhibited clear signs of consciousness, including motions to try to right themselves to a sternal position, as well as blinking.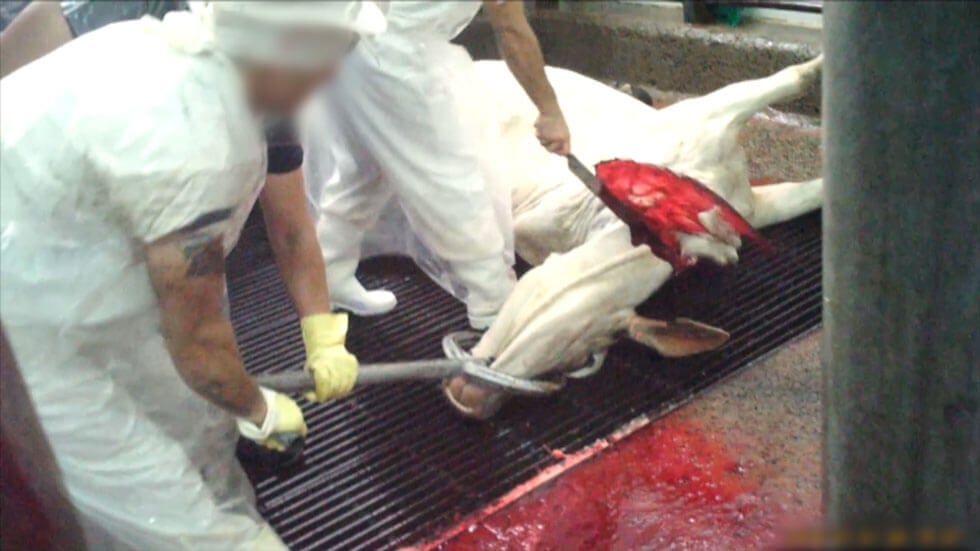 Renowned animal-welfare expert Dr. Temple Grandin stated, "The highly stressful cruel methods of restraint must be eliminated," adding that the shackling and hoisting methods seen in our investigation are "a violation of all industry and international welfare guidelines."
Kosher law states that animals shouldn't suffer unnecessarily during slaughter.
This landmark, compassionate decision by the OU finally puts principle over profit. Judaism has a long, proud tradition of compassion for animals, known as the principle of tsa'ar ba'alei chayim. The kosher meat industry violated the trust of Jewish consumers by abusing cows to produce cheap meat.
Living, feeling beings shouldn't be slaughtered for their flesh. Go vegan today.
It's impossible to be compassionate while killing someone who wants to live. Save nearly 200 animals a year by simply leaving them off your plate. Need help getting started? We have you covered.