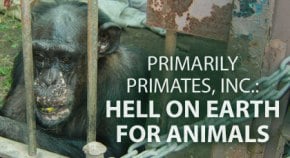 You probably remember the Primarily Primates, Inc. (PPI) case we have been working on for a year or so. If not, PPI is the pseudo-sanctuary in Texas where, late in 2005, staff members called PETA to report that animals were suffering horribly and dying and that the facility's director, Wally Swett, was drunk a lot of the time. PPI staff members reported that Swett did the following things:
Refused to provide veterinary care to animals who desperately needed it
Shot animals because "bullets are cheaper" than euthanasia
Denied primates any psychological enrichment
Threw out donated enrichment treats
Ignored staff members when they pleaded for animals to be given proper shelter
Purchased birds and a baby chimpanzee for tens of thousands of dollars
Locked chimpanzees in isolation for no reason
Took baby chimpanzees away from their mothers in order to hand-rear them in his house, neglecting them so badly that some died
Told staff members to use high-pressure water hoses to control chimpanzees, because the poor design of the facility does not enable anyone to safely enter the enclosures
To make a long story short, on the heels of a lawsuit fueled by PETA, the Texas Attorney General filed its own lawsuit against PPI and the Court appointed a well-known specialist with more than 20 years of primate and rehabilitation experience to bring the place up to some level of decency. She did that, and then some, and things were getting better—animals have received veterinary care, proper feed, clean water, and the comfort of bedding and nesting boxes that was all denied to them previously.
But just today, the Texas Attorney General has entered into a settlement agreement whereby all charges against PPI are to be dismissed, and he will wash his hands of the obligations of caring for all the animals and turn the pseudo-sanctuary back over to a board of directors that includes Friends of Animals president Priscilla Feral, who backed the old regime including its director, Wally Swett, who drunkenly threatened volunteers with a firearm most recently and, in the past, has failed to provide even emergency veterinary care for dying animals.
The court-appointed Receiver (the current administrator of PPI), Lee Theisen-Watt, her attorney, Skip Trimble, and longtime staff member and whistleblowers on site are expressing their outrage. In the settlement, the Attorney General pledges to use his offices to attempt to retrieve the seven surviving former OSU chimpanzees who are now doing well in their rehabilitation at Chimp Haven in Louisiana, a move that will be hard fought. Their return would violate a Texas state and local law prohibiting dangerous animals at a site like PPI, so let's all hope that doesn't happen.
Here is PETA President Ingrid Newkirk's statement on this disaster:
"PETA is pleased to have helped gather and organize the evidence that led to a search and seizure warrant being served at PPI in October, 2006. Although it was too late to save animals who had died of outright neglect, some lingering in pain for long periods of time, as a result of that entry into what had been a closed premises, relief was delivered to hundreds of chimpanzees and other animals who had been neglected. Since then, animals have received veterinary care, proper feed, clean water, and the comfort of bedding and nesting boxes that was all denied to them under Wally Swett and Stephen Tellos, and with the protection of Friends of Animals. The Texas Attorney General has now settled the case, much to the distress of those who have come to know and love the animals they have cared for during this interim period, and to the concern of all those who know what Friends of Animals sanctioned and how it stood by and didn't take action that could have saved animals from suffering. Nevertheless, we live in hope that lessons have been learned and that the facility will no longer be mismanaged and be the place of despair for animals it once was."
Please take just a few moments to contact these people to politely state your concern:
Texas Attorney General Greg Abbott:
Phone: 512 475-4665
Fax: 512-322-0578
Governor Rick Perrywww.governor.state.tx.us/contact

Citizen's Opinion Hotline: 800 252 9600Main Switchboard: 512-463-2000Fax: 512-463-1849
And just to give you a first-person perspective on this mess, I'll leave you with a letter written by Chance French who has worked with these amazing animals over the past few months. At the end is a list of animals who will suffer because of the Attorney General's action:
November 1, 2006 7:30 a.m.

This was the first time Christina and I ever stepped foot on PPI's property. Let me tell you it was one of the hardest days in our lives. The abuse and neglect we were shown for the next eleven hours was horrific. The only thing that kept us going was the thought that we were going to be able to make a difference in all of these amazing, forgiving lives. And the next day we begun! Day after day, hour after hour WE MADE A DIFFERENCE! To give a friend (chimp, for those of you who haven't ever heard me speak of them) a blanket when it's cold or uncomfortable on the concrete at night, a toy to play with when bored, a three course meal of produce three times a day when all they've ever had was monkey chow (a damn' dog biscuit), enrichment filled with treats because they deserve it or just those fifteen minute talks throughout the day with them, those times when they look at you and you see in their eyes the joy and happiness it brings each and every one of them. We all were hopeful it would never end. Well it's happened, the attorney general has dropped the case against PPI because the receivership has brought the sanctuary back to the standards it should be at. The truth is the attorney generals office dropped the ball by misfiling and other problems. So to save face and not look stupid they're running! Let me tell you if I could save this place by dancing naked only in a cowboy hat in front of the Alamo in this great state of Texas……………..IN A HEARTBEAT! The sad truth is that it will end up back to what it was. And who suffers?

TINA CHAMP DEETER JEWEL URI RAISIN KOKO OKO JOSHUA WILLIE CHOBE HARRY SIRI CHEETAH LB ARLENE VANESSA PENNY VIOLET RICHIE SHANNON NICOLE LAURA NAOMI SIERRA JESSIE EFFIE CINDY RUDY JOSIE JASON JONSIE LEAHA HANZIE BANGO OLIVER JUSTIN CLAIRE DEE ROSEMARY HOPE LISA BOBO WANDA HOLLY MANDY ABE CARMEN BUFFY APRIL HOPE AMY THEO THOMAS SUDIO MARION MALLORY STELLA SEAN SHU SHU BAXTER WALTER BUBBA BARBI JULIEAmong hundreds of other wonderful loving animals. I don't know what else to say except they were all stabbed in the back by one elected official. Chance
Please, for all the animals above, take the time to contact the officials listed above. Thanks guys.