Twitter's updated Hateful Conduct Policy is good, but including a ban on speciesist language in its rules against hate speech would make it great—which is why we're writing to Jack Dorsey, urging the Twitter CEO to expand his company's ethical position to include hateful, derogatory speciesist language that harms and degrades not just humans but all animals.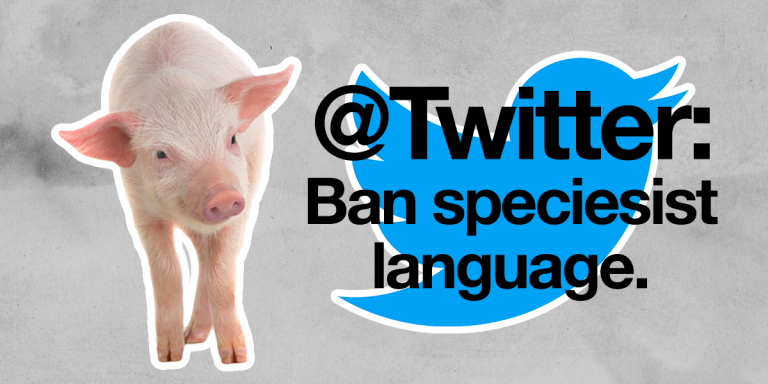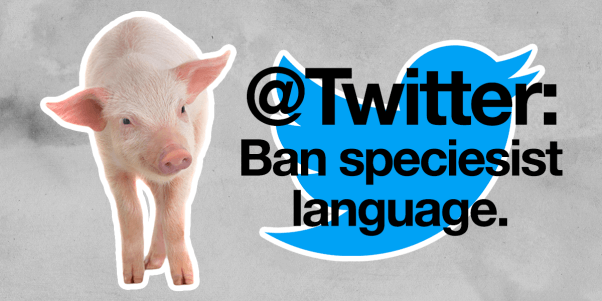 © iStock.com/bazilfoto
Twitter proved it gets that words matter when it expanded its hateful conduct rules to include a ban on hate speech based on race, ethnicity, or national origin. But by imposing a ban on speciesist language, too, the platform could help drive home the message that there is no "us" and "them"—we are all sentient beings.
Referring to animals as "it," rather than "he" or "she," and using them as insults, such as calling a gluttonous human a "pig," are rooted in speciesism—the misguided belief that all other animals are inferior, so it's acceptable to harm them. Such speciesist language desensitizes the public and paves the way for the complacent acceptance of cruelty to animals. To change this, we must adjust the way we think and write, given that most of us have been conditioned since childhood to view certain species as worthy of care and compassion and others as unworthy—all based on arbitrary human preferences.
As our recognition and understanding of social justice evolves, our language must evolve with it.
Many of us are taught that puppies and kittens are "friends," cows and chickens are "food," and mice and insects are "pests." Most children are also taught that humans' wants, needs, and interests always trump those of any other species. We can—and must—overcome this wrong and harmful mindset.
All animals deserve equal consideration, regardless of the way humans feel about them. We are all living beings with thoughts, feelings, and desires—and all of us should be spared pain and suffering and being treated as if we exist simply to serve others. We can start implementing this idea right now, by changing the way we speak about and refer to other animals. Rather than calling someone a "chicken," we can say "coward." Instead of "pig," we can say "glutton" or "repulsive." And in place of "rat," we can say "snitch." Twitter—with its hundreds of millions of users—is poised to play a major role in dismantling speciesism, and PETA stands prepared and eager to help.
From Hens to Humans, We're All Animals
We all have a role to play in ending speciesism. Discrimination, whether based on species or anything else, has no place on Twitter—no place in the world—and you can help overcome it.
The first step is to recognize that every animal has the right to live free from human exploitation. Click below to discover the next steps:
And join us in urging dictionaries to ban derogatory, speciesist definitions, like Merriam-Webster's pig ("a dirty, gluttonous, or repulsive person"):