Update: February 12, 2020
Roughly two months after Missouri's Truman State University denied a PETA campus rep's application for a new animal rights student group, the college has changed its policy and no longer denies groups based on the subjective viewpoints of administrators.
"I am so excited that the Animal Alliance is now recognized as an official club," campus rep Naomi Mathew told PETA. "Truman definitely made the right choice. We can't wait to use our new platform to speak up for the animals."
PETA applauds Truman State University for reforming its student group recognition policies. Groups will now be approved or denied based on viewpoint-neutral reasons. That's a win for animals and our First Amendment rights.
Originally published on December 16, 2019:
Rallying with like-minded folks in support of progressive social movements is practically half the college experience. But apparently, Truman State University has a problem with this higher education pastime, as the school has denied a PETA campus rep's application for a new animal rights student group.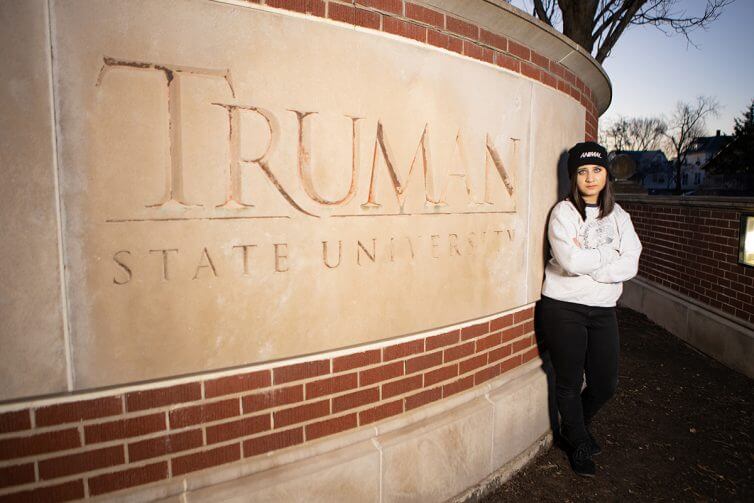 Rivera Eye Photography for FIRE.
The Missouri university citied a "reputational risk" regarding associating with PETA and an "emotional risk" to students. Wow—so much for the idea of a tolerant college culture.
Truman sophomore Naomi Mathew—who submitted the registration request—did everything required to start a club on her campus. She submitted an application form, selected an adviser, and identified more than 10 interested students. Despite this, administrators denied the application following a hearing and closed-door deliberations.
Now Mathew is fighting for her constitutional right to free speech with the help of the Foundation for Individual Rights in Education (FIRE) and PETA.
"I was shocked and hurt when the school denied our club. We had all the members we needed, filled out the paperwork, and did everything else that they asked of us," said Mathew. "The animals can't speak up for themselves, so my friends and I started the group to be a voice for them. But apparently our school thinks it's too 'emotionally risky' to stand up for animals."
Why Are Truman Officials So Scared of Vegans?
This is at least the fourth instance in which Truman State University has tried to snuff out students' involvement in animal rights. In 2017, the school rejected an application from students attempting to establish a vegetarian club, going so far as to call them "very very very extreme."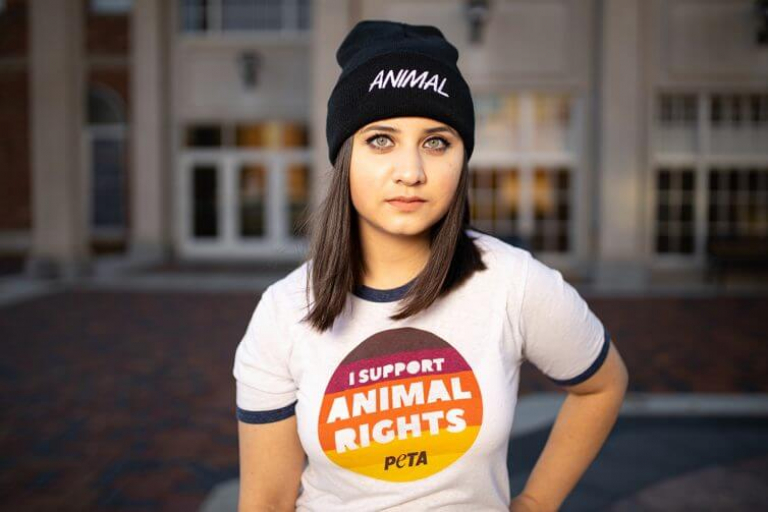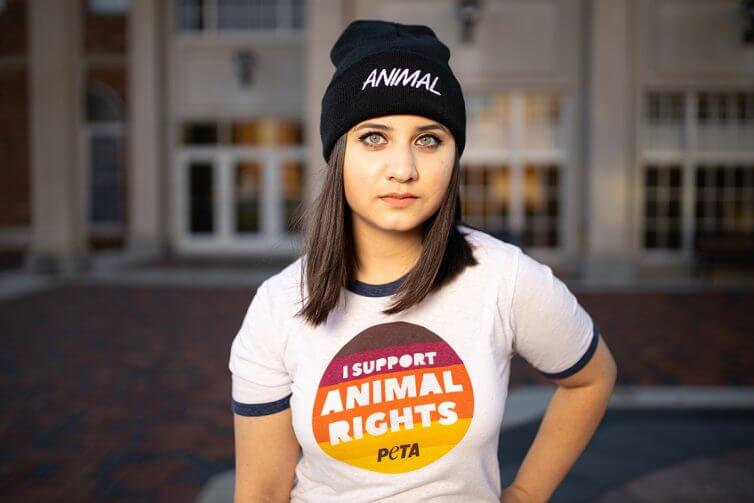 Rivera Eye Photography for FIRE.
Despite the school's best efforts to silence her, Mathew has reached hundreds of Truman students through animal rights events that she's hosted on campus this semester as part of her contract as a PETA campus rep. With our help, she's encouraging her peers to consider the ways humans use and abuse other animals, and she's determined to reach even more students in the spring semester.
Here's How You Can Win for Animals
We refuse to let the old ways of thinking slow down global animal liberation. Young people are the leaders in advocating for animal rights—and students around the world must take action now to save animals and demand an end to speciesism.
Click the link below to help end speciesism in your school or community.