Lawmakers in Essex, Ontario, know that circuses continue to exploit animals by beating, prodding, and whipping them into performing meaningless tricks, so they took charge and banned wild-animal acts in the town.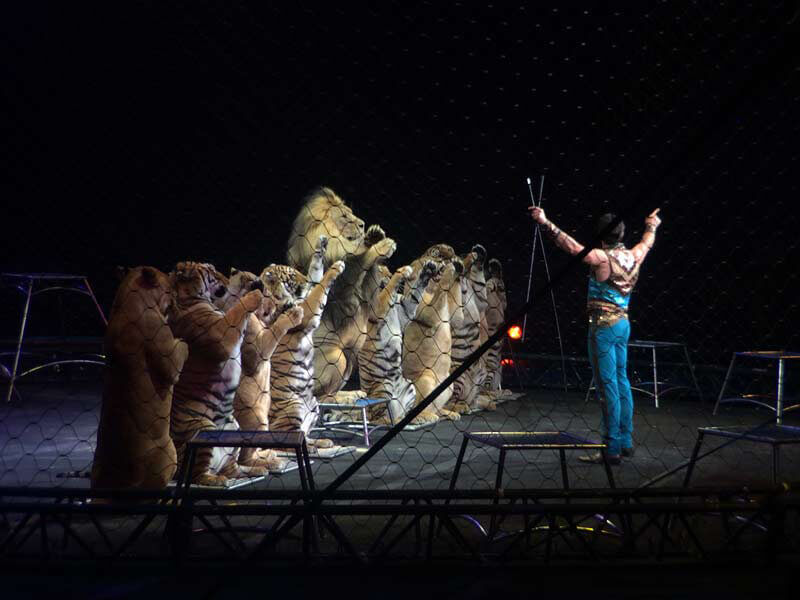 In addition to prohibiting circuses that abuse animals, changes to the town's bylaws give the Ontario Society for the Prevention of Cruelty to Animals the authority to charge people with causing "mental distress" to animals. Essex may well be the first municipality in the region to take this important step. The law also notes that animals should be treated with "tenderness, compassion and sympathy."
"In the past when an [animal had] the basic elements, food and shelter, we really couldn't do anything," Councilor Sherry Bondy told CBC News. "We define mental distress when we talk about people, so why would we not look at it when we talk about animals too?"
The Cruelest Show on Earth
Although circuses continue to enslave and abuse animals for entertainment, public sentiment is rapidly changing. A growing list of countries, states, and municipalities around the world have banned the use of animals in circuses or the cruel weapons used to force them to perform.
PETA has uncovered numerous instances of animal abuse in circuses over the years. We've even heard testimony from previous circus employees about the beatings that animals endure behind the scenes.
Because of a lack of stimulation and enrichment and the constant threat of violence, many animals suffering in circuses experience a psychological breakdown known as "zoochosis." Symptoms include repetitive pacing, circling, swaying, and self-injury.
What You Can Do
Take your family to an exciting non-animal circus. If a circus that abuses animals is in town, you can plan a demonstration.
You can also contact circuses such as Ringling Bros. and Barnum & Bailey and UniverSoul and demand that they end all animal acts.
Please feel free to use our sample letter to contact UniverSoul, but remember that using your own words is always more effective.