People have been safely using toothpaste, dish soap, and other household products for generations, but that didn't stop REACH, the European Union's massive chemical-testing program, from torturing and killing about 200,000 animals in tests on the ingredients in these products, among many other chemicals. A recent report by the agency that oversees REACH reveals that companies are ignoring the requirement to use every available alternative to experimenting on animals and are instead putting thousands of animals through suffering that most people wouldn't wish on their worst enemy.
According to the U.K.'s Daily Mail, "Among these 'unnecessary' tests were 188 studies on eye irritation carried out on rabbits; 336 skin sensitisation studies on guinea pigs or mice; 254 short-term toxicity tests on fish; and 33 genetic toxicity tests on mice."
PETA U.K. is calling out the government officials responsible for enforcing REACH by placing this ad in an influential European politics magazine, The Parliament, and asking Europeans to write to the European Commission.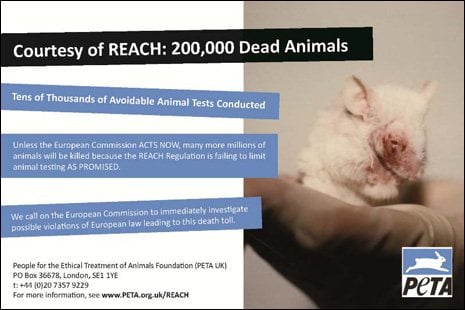 In related news, PETA and its international affiliates have written to the European Chemicals Agency, which oversees REACH, demanding a moratorium on reproductive toxicity testing until a newly approved refinement―that can spare hundreds of thousands of animals―is in place.   
In the meantime, you can help animals on both sides of the pond by buying only cruelty-free products. Visit the PETA Living page for lists of companies that do and don't test on animals.
 
Written by Lindsay Pollard-Post