Judit and Juergen Nerger illegally left big cats in cramped, barren crates and ditched six tigers at a roadside zoo in Sarasota, Florida, all after their circus show business failed. They had previously kept tigers in Illinois, but by carting the animals to Florida and failing to alert the U.S. Department of Agriculture (USDA), the couple evaded federal inspections for years. And after intense calls from PETA, the USDA finally canceled the tiger exhibitors' federal Animal Welfare Act license.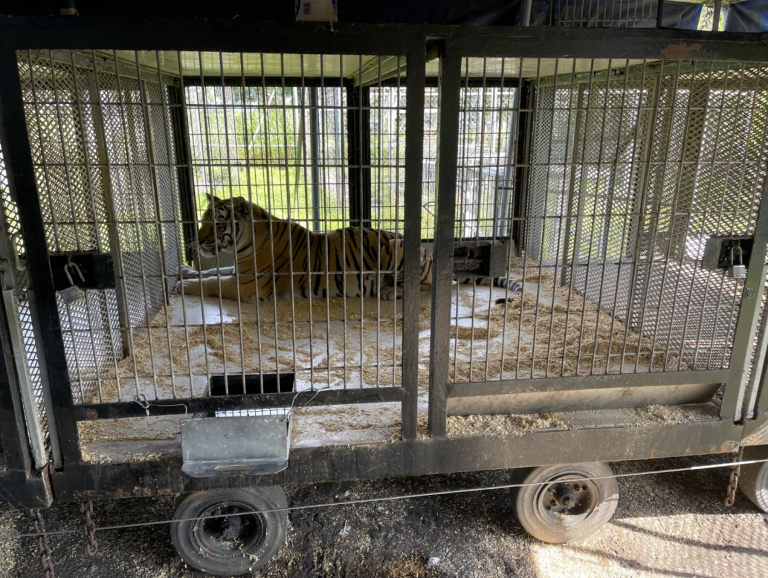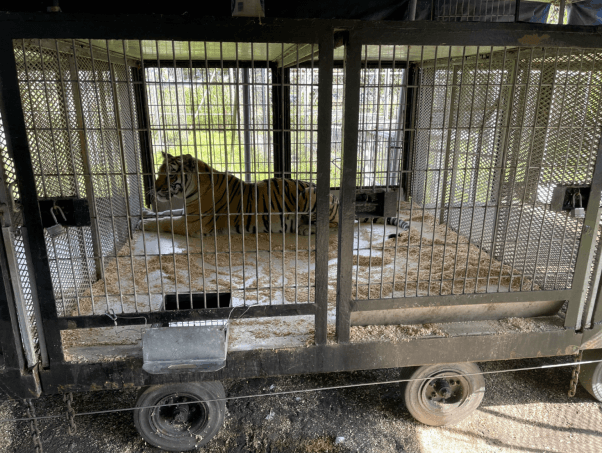 "The tigers were being kept in travel cages approximately 7.5′ x 7.5′ in area," a Florida Fish and Wildlife Conservation Commission report noted.This victory follows our letter to the agency, which pointed out a report from the Florida Fish and Wildlife Conservation Commission indicating that the Nergers lacked authorization to keep tigers in Florida, yet they unlawfully kept six tigers at Big Cat Habitat & Gulf Coast Sanctuary, where Juergen Nerger told the roadside zoo owner "that he intended to leave the country and leave his cats behind." While at Big Cat Habitat, five tigers were kept in cramped crates, and the Nergers agreed to relinquish the tigers to the state. The roadside zoo arranged for them to be shipped off to Tennessee-based Tiger Haven—a disreputable facility where an 18-year-old nearly lost her arm during a recent tiger attack.
We estimate that there are fewer than 10 exhibitors routinely displaying big cats in circuses and fairs in the U.S.—a clear sign that the public has no interest in cruel, outdated acts that exploit wild animals. This is also the second circus exhibitor whose license to exhibit tigers was canceled in the last few months following action from PETA: Exhibitor and big-cat supplier Adam Burck's license was canceled last month.
So while Judit and Juergen's tiger show business is already on the outs, there's still something we can do to help big cats like those exploited and neglected by the Nergers: Never visit any animal "attraction," participate in a cub photo op, or pay to interact with exotic or wild animals. Let your friends and family know that buying tickets to such activities perpetuates cruelty …
… and click below to take further action for tigers suffering in tourist traps: