Though 27 greyhound tracks have closed in the U.S., with Rhode Island's last two tracks closing on August 8—and while countries around the world have all shuttered their once-active tracks—a legislature in the Philippines has just introduced a bill that would allow a company to build and operate a brand-new greyhound racetrack.
If approved, this bill has the potential to doom thousands of greyhounds to miserable existences. But have no fear: PETA Asia-Pacific has teamed up with Senator Maria Ana "Jamby" Madrigal—and her fearless dog, Prasad—to urge senators in the Philippines to vote "no" on this cruel bill. Check out Senator Jamby and Prasad in action at Tuesday's press conference inside the Senate building:
Photo © Erving Go
Prasad, a seasoned doggy-do-gooder, is howling mad about the introduction of this bill.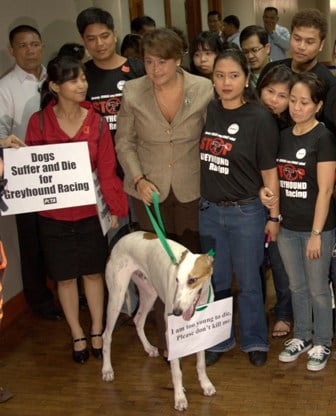 Senator Madrigal has pledged her opposition to this so-called sport because greyhounds who are forced to compete are kept muzzled and confined to cramped cages when they're not training or racing. Once they have slowed down or suffered career-ending injuries, the dogs are often abandoned, killed, or sold to laboratories to be used in experiments.
Don't all greyhounds deserve a loving home like Prasad's?
Written by Liz Graffeo