Exciting international news: PETA has awarded Terry Hurtado Gómez, a member of the city council of Cali, Colombia, the Courage in Leadership Award. This marks the first time that a politician outside the U.S. has received this prestigious award!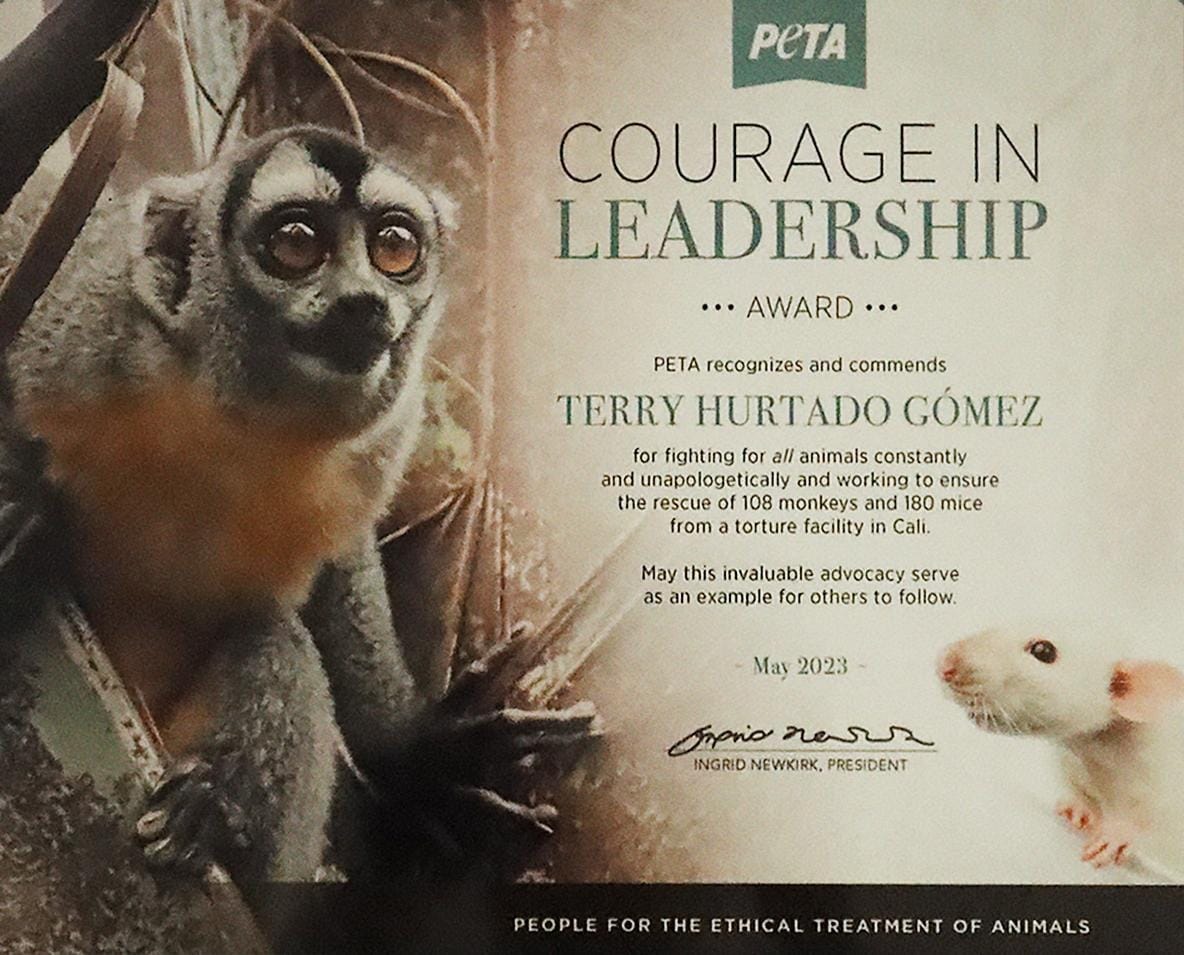 Hurtado's many accomplishments include his instrumental role in getting regional environmental authorities in Colombia and the City of Cali to rescue 108 monkeys and 180 mice from humans conducting cruel and pointless malaria vaccine experiments on animals—a sham exposed by PETA. We continue to work with Colombian authorities, lawmakers, and primate experts to ensure that the monkeys can enjoy the remainder of their lives in peace and with dignity.
I am honored by this recognition from PETA for the work done for the freedom of all nonhuman animals and for contributing to the liberation of the mice and monkeys who were being exploited as experimental objects. I receive this award recognizing the work and contribution made by the colleagues with whom I work at Cali Council, the Federación de Liberación Animal, and the entire Movimiento Animalista del Valle. [Translated from Spanish.]

—Terry Hurtado Gómez
Hurtado, a vegan activist for animal and human rights and a member of Movimiento Animalista del Valle, has mobilized his supporters and opened important communication channels for PETA's work, including with Colombian senators. The award also recognizes his constant and unapologetic fight for all animals.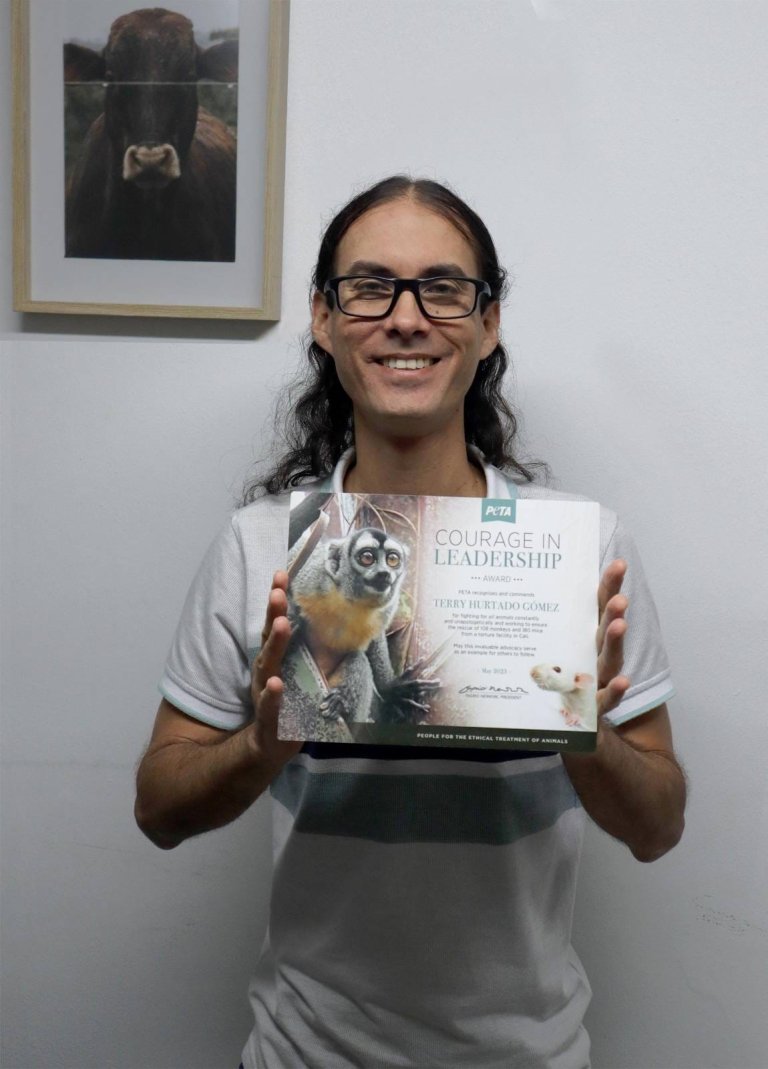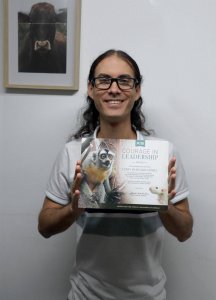 15 Other Examples of Hurtado's Work to Help Animals in Colombia 
In 1996, he organized the first protest in Cali against bullfighting.
He contributed to the process that led to the 2013 ban on wild animals in circuses in Colombia.
In 2006, he founded Vida Libre, the first magazine in Colombia focused on animal rights.
In 2010, he organized a Colombian political initiative—Voto Animalista—to back candidates for public office in the country who support animal rights. As a result of this initiative, then presidential candidate—and current president—Gustavo Petro incorporated an anti-bullfighting initiative into his agenda.
In 2014, Hurtado contributed to efforts to cancel a horse parade at the Cali Fair.
He founded the grassroots organization Animal Liberation Federation, which advocates for the rights of all animals.
He's a member of the country's steering Committee for the Defense of Water and Life.
He's carried out academic research on the effects of Colombian armed conflict on nonhuman species.
He's organized and led workshops promoting empathy toward animals and vegan living.
He serves as the director of the Animal Liberation School, a program that trains people to become active supporters of animal rights.
As a Cali council member, he proposed the creation of the Interspecies Ethics and Animal Welfare Committee and the Urban Police for Animal Protection, both of which help protect animals. He also worked to secure the construction of the city's Animal Welfare Center.
Following a devastatingly heavy rainy season in 2021, Hurtado was instrumental in establishing the first interspecies shelter in Cali's Siloé neighborhood, where 11 families affected by flooding and their animal companions lived for almost a month. During this period, five animals were rescued, 15 received deworming treatments and vaccinations, nine were spayed or neutered, and two underwent other needed surgeries.
In 2021, he helped create the first interspecies care center for unhoused families in Colombia. The facility offers housing, food, vaccinations, and other services for humans and their animal companions.
In 2022, he filed a complaint with Colombia's Ministry of Labor after underage bullfighters were approved to participate in bullfighting events in the cities of Cali and Manizales. Hurtado's complaint led to the cancellation of the events and a ruling that banned the participation of these minors in such events.
He created a map highlighting areas where motorists have a high risk of running over animals on Cali roads. This work led to the installation of 50 interspecies traffic signals, which alert drivers to the presence of dogs, cats, foxes, iguanas, guatines—a rodent species—and others.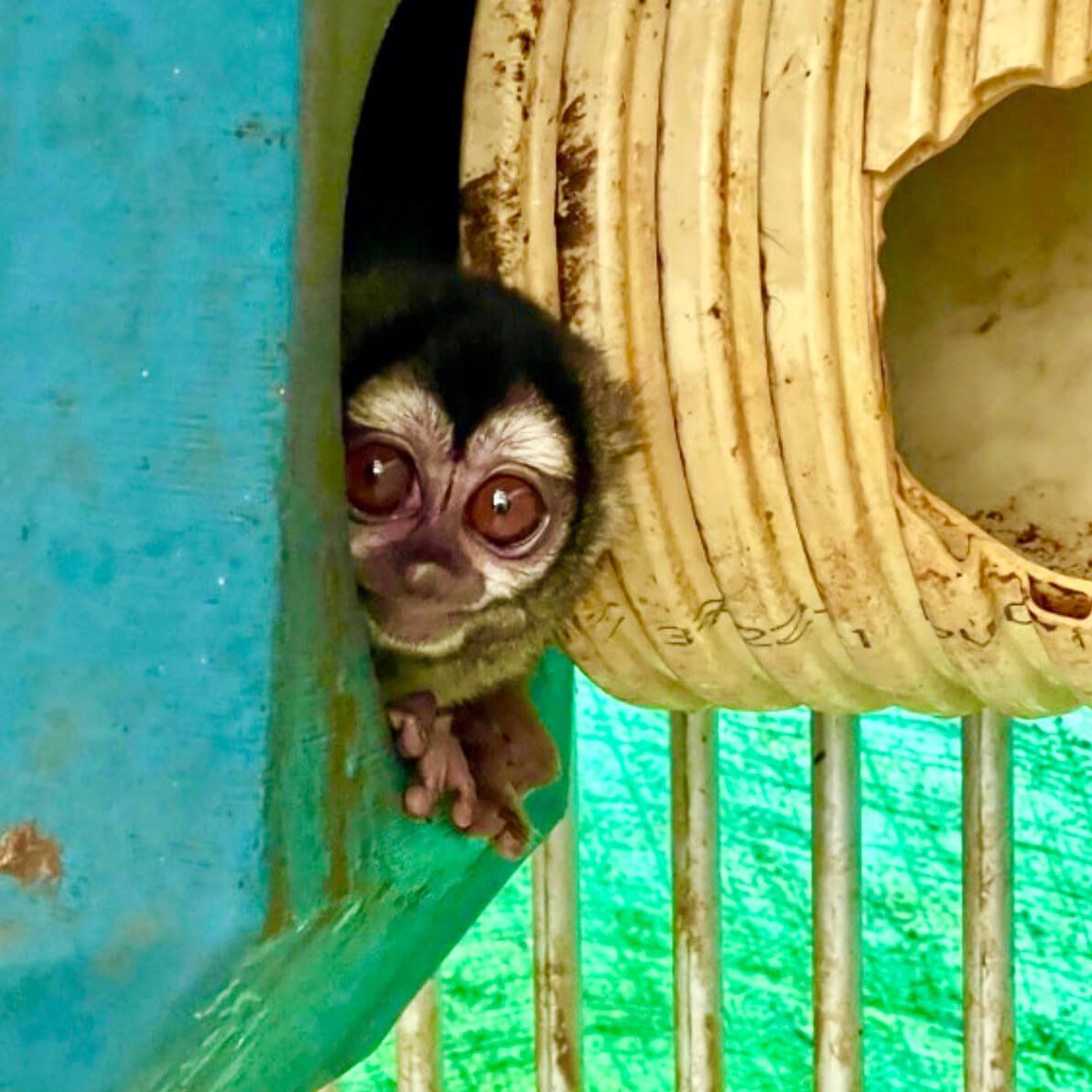 Colombian authorities and politicians have rightfully taken notice of and were moved to action by PETA's discoveries about animals suffering in malaria vaccine experiments, but in the U.S., the National Institutes of Health has said nothing.
For years, the agency has bankrolled this shameful operation with millions in taxpayer dollars, and it continues to fund the experiments that were just ordered to end. You can help hold the agency accountable:
Note: PETA supports animal rights, opposes all forms of animal exploitation, and educates the public on those issues. PETA does not directly or indirectly participate or intervene in any political campaign on behalf of or in opposition to any candidate for public office or any political party.