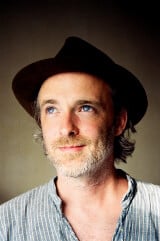 It was a gesture that was definitely more long-lasting and meaningful than a bouquet of flowers: Fran Healy of the band Travis thought of the perfect way to thank Sir Paul McCartney for contributing bass lines to a track on Healy's just-released solo debut album, Wreckorder. He—and his family—went vegetarian.
Healy recalls, "I thought, Paul's a big veggie, my son's already vegetarian, it'd be nice to maybe have the whole family do it, so I asked my wife and she said, 'That's a great idea, and what a way to say thank you.'" Talk about the gift that keeps on giving!
There are billions of reasons to go vegan—now PETA wants to know why you stopped eating animals. What was your incredible inspiration?
The person whose story moves us the most will win the grand prize, which includes Wreckorder CDs (both the wide-release and limited editions) and the vinyl version of the album—signed by Fran Healy—as well as a collectible T-shirt and tote bag. One runner-up will win an autographed copy of Wreckorder. The contest ends on October 8, 2010, and the winner will be chosen the same day. Be sure to read our privacy policy and terms and conditions, as you're agreeing to both by commenting.
Thank you—and good luck!
Written by Karin Bennett