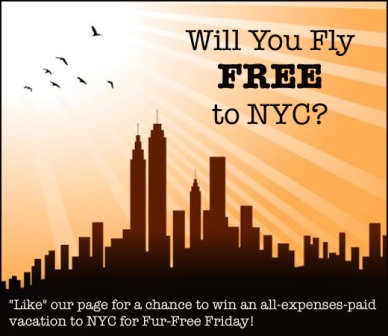 There's a lot to love about New York City, and PETA has teamed up with generous sponsors, including quintessential vegan tastemakers MooShoes and Candle 79, to send two lucky animal defenders to the Big Apple, just in time for Fur-Free Friday.
If you're a U.S. resident who's 18 years or older and able to travel from November 24 to 27, 2010—and you "Like" PETA (and fill out the promo page)—you might win two round-trip airline tickets to New York City, three nights at Hotel Mela in Times Square, cruelty-free kicks from MooShoes, and a mouthwatering meal at Candle 79.
What are you waiting for? Read the fine print, enter to win, and then start packing—that is, unless you plan on going "Frankel-style." You know that PETA's all for that—getting an important message out and freeing up room in your suitcases so that you'll be ready to partake in another vital NYC activity.
Good luck!
Written by Karin Bennett