Update: Thanks to pressure by animal advocates, zoo officials have moved Diego to a larger enclosure, where he can now feel grass under his paws. They have also moved a lioness in with him, and he seems to be relishing the company of his new friend.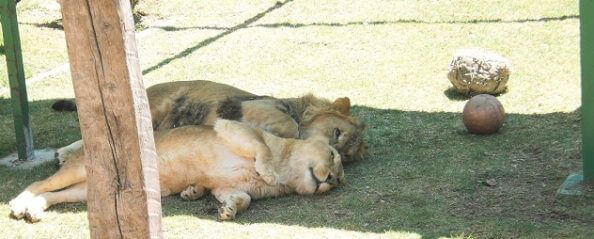 Published May 22, 2012:
Diego, a young lion, has spent most of his life alone in a cement and chain-link cage. Mexico's wildlife protection agency, PROFEPA, seized him during a criminal investigation when Diego was just a few months old. PROFEPA placed Diego in the Zacango Zoo outside Mexico City, where he has languished in a barren cell, alone (lions are by far the most social of the big cats). Telemundo star Pablo Azar has teamed up with PETA to persuade PROFEPA—which has legal custody of Diego—to send the lonely lion to a U.S. sanctuary that is standing by to receive him.

Photographs and video footage provided to PETA depict Diego pacing incessantly in his tiny cage—behavior that is indicative of stress, boredom, and frustration.
In his letter to PROFEPA, Azar implored:
Diego's life has no enrichment, and he paces back and forth in his tiny space, making it clear that he is losing his mind in this unnatural situation. … Please do the compassionate thing and see to it that Diego is transported to the United States as soon as possible so that he does not have to suffer another day.
At the sanctuary, Diego could finally enjoy the company of other lions, receive veterinary care, enjoy a vast space in which to roam and explore, and recover from the stress of intensive confinement. 
Urge Mexican officials to transfer Diego to the U.S. sanctuary.