That would be PETA supporters Emily McCoy and Emily Lavender (aka adorable fuzzy seal), who shook things up a bit at the fall conference of the Fisheries Council of Canada.
Check out the look on the face of the woman in the foreground.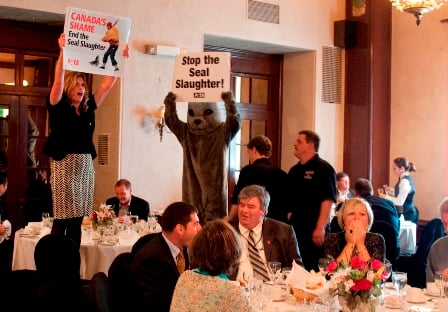 Why were these two nice ladies attending a conference for the Fisheries Council? Because the Fisheries Department oversees Canada's annual seal slaughter, in which hundreds of thousands of baby seals are bludgeoned or shot to death. Boo, hiss!
The duo chanted and drew attention to the seal slaughter for about 20 minutes, then they were carted off to the pokey. Ah well, all in a day's work.
Written by Alisa Mullins