At the Los Angeles County Science Fair, PETA presented its first Special Award for Humane Science—along with a $500 cash prize—to Palos Verdes Peninsula High School senior Shu Hee "Sophie" Kim for her mathematical model that accurately predicts the growth of breast cancer cells in patients after they receive radiotherapy treatments. Sophie's project has also been selected to advance to the Intel International Science and Engineering Fair (Intel ISEF) next month.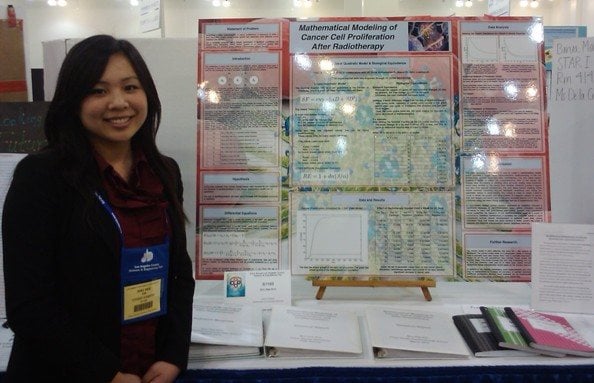 Here's Sophie and her award-winning project
Boxing Isn't the Only 'Sweet Science'
When compared with results from in vitro tests using human tissue, Sophie's model—which she developed working with a mathematics professor at the University of California–Irvine—accurately predicted outcomes, which may help doctors better anticipate the effectiveness of treatments for breast cancer and other forms of cancer.
This award is part of PETA's work to promote humane and progressive non-animal research. In 2010, after discussions with PETA, the Intel ISEF—of which the Los Angeles fair is a satellite event—adopted a policy that "strongly endorses the use of non-animal research methods and encourages students to use alternatives to animal research."
Don't Give if It Hurts
Animal-based breast cancer research typically involves injecting animals with chemicals or cancer cells and forcing them to endure the growth of painful tumors until they die or are killed. These cruel studies have still not identified a cure for the disease, in part because, as National Breast Cancer Coalition founder Fran Visco has stated, "[a]nimals don't reflect the reality of cancer in humans."
If you want to donate to the fight against breast cancer, make sure you're giving to organizations that won't waste your money on shabby and cruel experiments on animals.