One surprising item in the news today (h/t Treehugger) is a story about activists with the Israeli group Animals Now.
For the last few years, Animals Now has been campaigning against the use of cruel battery cages on egg factory farms. Now, the group has put a hidden webcam inside a battery cage on an egg factory farm in Israel, streaming live video showing exactly what life is like for hens who are forced to live in these cramped wire-mesh cages. So far, the owners of the farm haven't been able to locate the camera—but, as you might imagine, they're apparently trying to find it.
As Treehugger put it (an understatement, to say the least), "It does not make for pleasant viewing." In the short time that I watched, I saw the caged birds pecking at each other in obvious frustration, and, as is apparent from the abuse, neglect, filth, and cruelty exposed by PETA's many undercover investigations, the situation is often even uglier for animals on factory farms.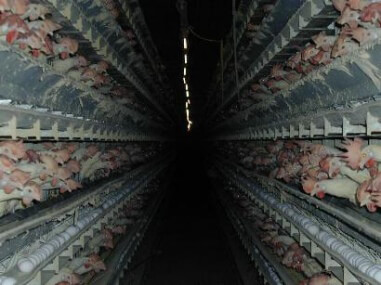 aleutia | CC by 2.0
Written by Jeff Mackey