Update: Following a federal complaint by PETA, the USDA has opened an investigation of MPI Research, Inc.
Michigan-based MPI Research, Inc., conducts experiments on tens of thousands of animals every year. Hired by corporations and universities such as Merck, ArmaGen Technologies, Gilead Sciences, and the University of North Carolina at Chapel Hill, the company drips products into rabbits' eyes to test for irritancy, injects animals with experimental compounds that sicken and kill them, force-feeds chemicals to animals by pushing a thick plastic tube down their throats, and conducts other cruel experiments. Now one distraught insider has had enough.
After hearing from this whistleblower about the suffering of dogs, monkeys, rats, and other animals at MPI, PETA filed complaints this morning calling on the U.S. Department of Agriculture (USDA) and the National Institutes of Health to investigate the allegations.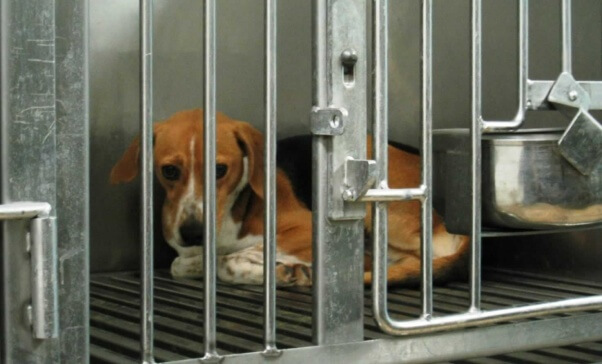 Subjecting Dogs to Spinal Taps
According to the insider, MPI maintains a colony of dogs who are used for drug testing— even though more than 90 percent of drugs that pass tests on animals fail in human studies. Reportedly, a metal port is surgically implanted into the dogs' lower back with a catheter leading into the spinal canal so that samples of spinal fluid can be drawn out.
The dogs are then force-fed a test drug. Afterward, they're subjected to spinal taps, which, according to the insider, causes them excruciating pain in the form of "severe migraines."
But according to the insider, despite undergoing such painful and terrifying procedures, the dogs remain "so forgiving" and "still wag their tails" when they see the staff:
The dogs are so starved [for] affection … that when the nightly water check is performed with a plastic paddle, they lean up against it seeking some tactile comfort. It is heartbreaking.
Reportedly, the spinal-tap experiments are repeated over and over again until the dogs are 3 or 4 years old. Then, says the insider, they are killed and replaced by months-old puppies, and the cycle starts all over again.
Other animals also suffer at MPI. The insider reports that monkeys are grabbed and roughly yanked out of their cages by collars worn around their necks and that many of them struggle desperately to cling to their cages:
I have seen a monkey turn blue in the face from the struggle …. These monkeys are smart …. They know what is going to happen when technicians enter a room.
The monkeys reportedly suffer from such frustration and stress that they develop stereotypical behaviors, including pacing and circling: "The monkeys will pick themselves raw and self-mutilate in extreme cases."
And mice and rats, who are not even protected by the meager provisions of the federal Animal Welfare Act (AWA), are also allegedly subjected to extreme suffering. They are placed in clear plastic boxes and crudely gassed to death with carbon dioxide:
[They] run out of air and gasp [their] last breath while the light goes out of their eyes …. I think that my soul shall never be the same after my experience in that place.
MPI's Long History of Animal Abuse
Federal inspectors have also found problems inside MPI's laboratories. In 2013, the USDA took the rare step of fining MPI nearly $7,000 for serious violations of the AWA. Three of the violations involved animals who had to be euthanized as a result of the injuries that they sustained from improper handling—including a monkey with a fractured femur, a pig with a fractured tibia and fibula, and a dog with a dislocated hip. MPI was also cited for failing to provide monkeys with adequate veterinary care, including one who had lost more than 75 percent of her fur.
What You Can Do
Please politely urge your member of Congress to take action to end the use of dogs and monkeys in experiments.