As the old saying goes, an ounce of prevention is worth a pound of cure, and nowhere is this truer than when it comes to spaying and neutering dogs and cats. That's why I'm so excited to announce that 2010 was a banner year for PETA's mobile clinics, which spayed and neutered a record 10,683 animals. That includes 919 feral cats and 478 pit bulls (135 of whom were sterilized at no charge to their guardians). In addition, 1,372 surgeries were performed on the animals of indigent families. Our clinics have sterilized more than 69,000 dogs, cats, and rabbits in the last decade!
All those spay/neuter surgeries will prevent the births of hundreds of thousands of kittens and puppies who would have otherwise likely struggled for survival on the mean streets or been euthanized simply because there aren't enough good homes.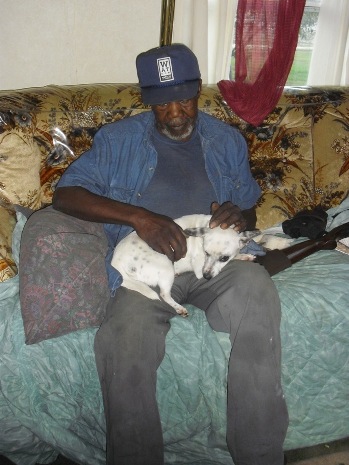 PETA's fieldworkers meet many people, particularly older residents who live in rural areas and who have never even heard the term "spaying." This was the case with Ring Eye's family. PETA's fieldworkers transported Ring Eye to and from her spay appointment, and her appreciative family even invited them to stay for dinner!
Spot also got a lift to his neuter appointment, courtesy of PETA. The boy holding Spot hopes to become a veterinarian one day. PETA's fieldworkers stop by this address often, and the kids are always very interested in their visit. They are hoping to show the kids how to be compassionate toward animals.
TeeTee lives indoors, and her guardian treats her as a beloved family member, but she simply did not have the $200 that most veterinarians in the area charge to spay a dog. The woman heard about PETA's program and was extremely grateful for this service.
PETA's clinics also provide spay/neuter services to local animal shelters and rescue groups to ensure that none of the animals who are adopted contributes to the overpopulation crisis by having puppies and kittens!
2010 was a booming year for PETA's clinics, but I know already that 2011 is going to be even better, because PETA has secured funding for a third mobile clinic! The yet-to-be-named state-of-the-art clinic will join PETA's SNIP and ABC clinics, which work around the clock to fight the overpopulation crisis in PETA's own backyard.
Want to help? Check out PETA's ABC pages to learn how to promote animal birth control in your own community and reduce the number of homeless animals who need to be rescued in the first place. Please also join PETA in calling on elected officials to pass mandatory spay/neuter laws in your state, county, and town. Together, we can become a no-birth nation—which is the only way to become a "no-kill" nation.
Written by Lindsay Pollard-Post