Toronto Fashion Week is all about the clothes, but one star was there in the flesh—hers. With her naked body painted to resemble a lizard's skin, Laura Vandervoort, of Smallville and V fame, stars in a new ad for PETA (shot by photographer Nick Saglimbeni) that she unveiled at Toronto Fashion Week while asking her fellow Canadians to shed exotic skins from their wardrobes.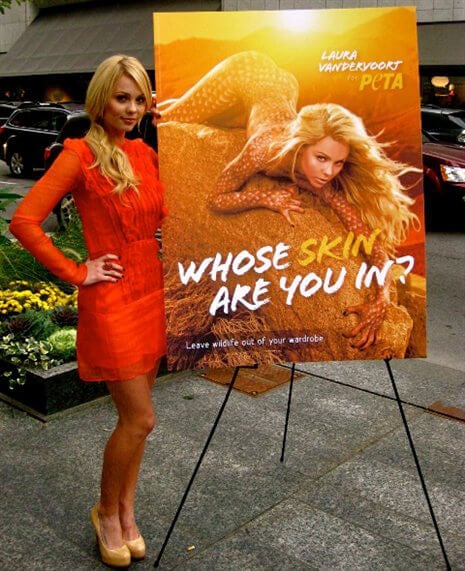 Laura first appeared as a reptile in V, but this time around, she reprised her role as a lithe lizard to help protect the animals from being killed for their skins. "Three or four alligators have to die for one purse," she said in an exclusive interview from the photo shoot. "They nail the snake's head to a tree while it is still alive and peel its skin off. Because they are cold-blooded creatures, they take that much longer to die, so they suffer that much longer. … [Y]ou wouldn't skin your dog to wear to an event, to go out on a date, just for a status symbol. So please, have some compassion for animals."
To see behind-the-scenes video footage from Laura's photo shoot and enter to win a faux-snakeskin bag, check out her full PETA feature.
Written by Michelle Sherrow