If the exploitation of baby sloths boils your blood, you've come to the right blog to get heated in a helpful way. Larry Wallach—the shameless owner of Sloth Encounters and a longtime PETA target—has a lengthy history of citations from the U.S. Department of Agriculture (USDA), including two critical citations from an inspection report in August.
PETA is calling on everyone to take action against Sloth Encounters—a shady business on Long Island, New York, that exploits sloths. With Wallach's lengthy history of violating the federal Animal Welfare Act's minimum standards of care—including a critical citation for failing to follow veterinary instructions when a tiger cub fractured a bone in her foot—these latest citations are no surprise.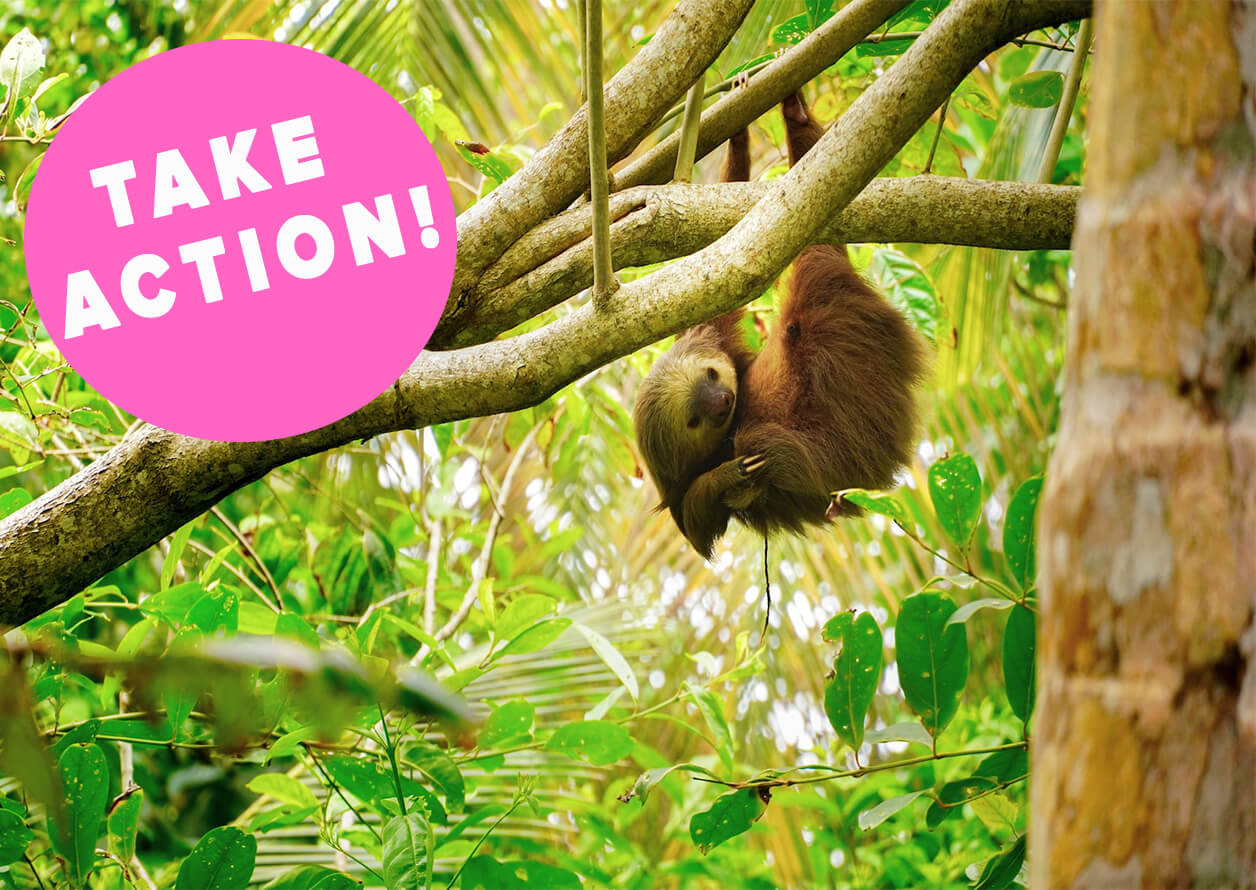 USDA Slaps Sloth Encounters Exhibitor With Multiple Citations
In mid-October, the feds cited Wallach for housing baby sloths in unapproved locations and failing to provide inspectors with a written program of veterinary care.
Two critical citations were given prior to that in August, the first for lying to the USDA. When questioned about a possible incident in which a sloth bit a member of the public, Wallach told inspectors that nothing happened, and his employees present for the inspection agreed that no guest had been bitten. But the USDA obtained records from the Suffolk County Department of Health Services documenting that someone was bitten and/or scratched during an encounter on July 24.
The health department delivered an order that the sloth—named Edward—be quarantined for 30 days for rabies observation. The order was signed by Wallach.
Also lying to the USDA about how the sloths were fed by the public, Wallach said that they were fed with tongs, but social media posts showed three guests—two children and an adult—feeding the animals with their bare hands.
The second critical citation was for the sloth bite itself, which caused the person to seek immediate medical care and led to Edward's 30-day quarantine. The inspection report stated that "[a]ccording to the health officials, had the incident involved one of the other more recently acquired sloths, euthanasia and rabies testing of the sloth would likely have been required for public health purposes."
Sloth Exploitation Called Out by the Town of Islip and the Suffolk County Supreme Court
With these additional citations, the writing is definitely on the wall for serial animal exploiter Wallach and Sloth Encounters: The town of Islip, where the outfit is located, even took legal action against it in September.
After Wallach failed to take appropriate steps to comply with town code, Islip filed a lawsuit seeking a permanent injunction to get Sloth Encounters closed for good.
The Suffolk County Supreme Court also issued a temporary injunction that prevented the facility from operating in the town until further notice from the court.
Sloth Babies Used for Entertainment Need You to Take Action
As Wallach's business keeps facing criminal charges and mounting legal problems over his exploitation of sloths, these sensitive animals are still suffering at his hands and need your help.
Sloths are nocturnal animals who sleep up to 20 hours a day and spend the majority of their time alone, but Wallach has been known to subject them to the stress of irregular sleep, handling, loud noises, and crowds of strangers. The public is at risk as well in these situations since sloths can injure humans with their sharp claws and teeth.
Public interactions are especially stressful and dangerous for vulnerable baby animals who are prematurely torn away from their mothers to be used as photo props. In nature, baby sloths cling to their mother for up to nine months—which is critical for the babies' learning and improves their confidence and motor development—yet Wallach has been known to keep a baby sloth in a tiny cage and allow public encounters with her. No baby animal should ever be used for selfies, and exploiting sloths in this way is a form of speciesism that must end.
Urge Wallach to stop exploiting sloths and allow them to be transferred to a reputable facility where they can get the care they desperately need.