After receiving information from PETA regarding the suffering endured by elephants who are forced to give rides, Shore Excursions Group made the right choice in agreeing to eliminate such activities from its offerings. To show our thanks, we've sent the travel company a box of delicious elephant-shaped chocolates.
https://twitter.com/peta/status/761743620097441792
Shore Excursions Group—the largest shore excursion company in the travel industry—works with a variety of travel agencies, cruise lines, and independent agents to provide tours and activities in port locations around the globe. Fortunately for elephants everywhere, elephant rides will no longer be included among the excursions offered.
Why You Should Turn Your Back on Elephant Rides, Too
Elephants are some of the world's most awe-inspiring animals. But they're also among the most abused when forced to entertain the public by giving rides.
In Southeast Asia, roughly half of elephants die during the grueling training, and those who survive spend the rest of their lives in servitude, lugging tourists around or performing tricks under the threat of being beaten with bullhooks (weapons that resemble a fireplace poker with a metal hook on one end) or other sharp objects. Elephant attractions are also dangerous to humans. More than a dozen tourists have been killed in Thailand in the past 15 years by elephants who have lashed out, and tuberculosis—a deadly disease that is transmissible from animals to humans—has been documented in captive Asian and African elephants.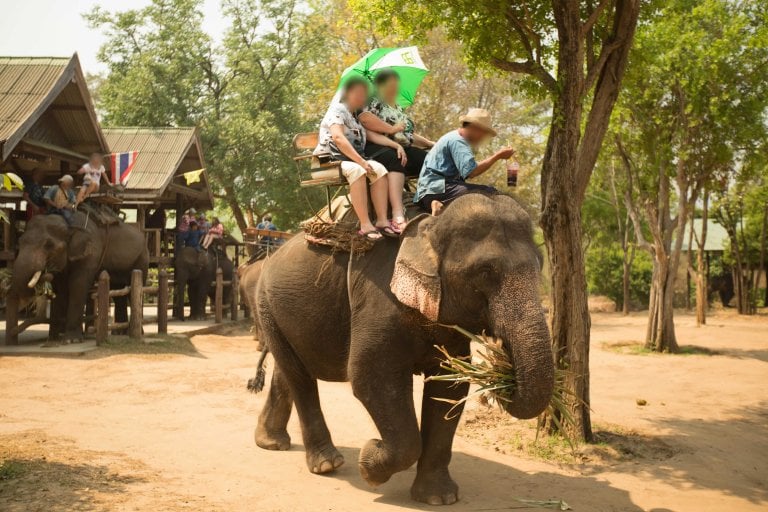 What You Can Do
Shore Excursions joins Alexander+Roberts, Collette, Costco Travel, Tauck, TripAdvisor, and many more in agreeing not to offer elephant rides. But other travel companies continue to sell these abusive experiences as a part of their tours, despite learning of the egregious cruelty and human safety risks involved. Please help PETA urge these businesses to join the long list of forward-thinking travel companies that have already committed to not offering rides or other activities that exploit elephants.