A leading primate ethologist has lashed out at maternal-deprivation experiments on baby monkeys, saying they are "cruel," "do not translate well to human mental health," and "should be stopped."
That's damning criticism from Dr. Barbara J. King, chancellor professor of anthropology at the College of William & Mary in Virginia, who has studied ape and monkey behavior in Gabon and Kenya and written five books on anthropology and primate behavior. In a powerful column just published in the highly regarded magazine Scientific American, Dr. King lambasts the National Institutes of Health (NIH) experiments in which infant monkeys are intentionally bred to suffer from mental illnesses, taken from their mothers at birth, and then subjected to terrifying and often painful experiments to worsen their symptoms of mental illness and test the severity of their psychological trauma.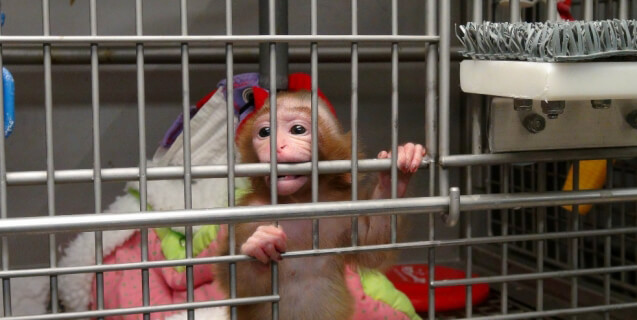 Dr. King uses her considerable knowledge of primate behavior to explain how extensive the damage is to monkeys used in these experiments:
Experiments that separate infant monkeys from their mothers cause profound and unnecessary suffering. They should be stopped. . . .

Peer-reviewed literature … reports that these infants suffer behavioral and biological consequences for the duration of their lives, including poor health, increased stress, maternal incompetence and abnormal aggression. …

[S]ystematic reviews tell us conclusively that animal models do not translate well to human mental health. To treat mental illness in humans requires direct attention to the real stressors we experience in our own lives—not artificial ones that we make rhesus infants endure. Research of diverse types, including neuroimaging and long-term follow-up of patients' day-to-day lives, is making substantive inroads in this endeavor.
This isn't the first time that Dr. King has used her expertise to advocate in behalf of these baby monkeys. She spoke to Congress about the cruelty of the experiments and their inapplicability to human health and gave her expert opinion in PETA's video exposé of the laboratory:
Scientists agree: It's time for these traumatizing, archaic experiments to stop. Tell Congress to end the experiments now.