The school year is winding down, which means the summer fair circuit is getting under way. For animals used in agricultural displays and 4-H programs, there's a long, hot summer ahead—and it's unlikely to have a pleasant ending. The animals in these programs are typically destined for one of two fates: to be sold at auction for slaughter or to be used as breeders.
There's little doubt that most young people who join the Future Farmers of America (FFA) or 4-H programs do so because they're interested in animals. But the goals of these programs demand that children develop a harmful disconnect from those very animals.
Instead of being taught that pigs are smart enough to learn how to unlock gates and that mother pigs sing to their young while nursing, children are told to fatten them up to become "bacon." Rather than explaining that calves who are taken from their mothers shake and bawl inconsolably because they are frantic and traumatized, kids are told to turn them into good breeders. We force children participating in 4-H programs to close their eyes to the fact that they are betraying an animal they've befriended—a fellow being whose trust they've courted. They're told to "celebrate" as their friend is auctioned off to the highest bidder. In short, they're forced to harden a piece of their hearts.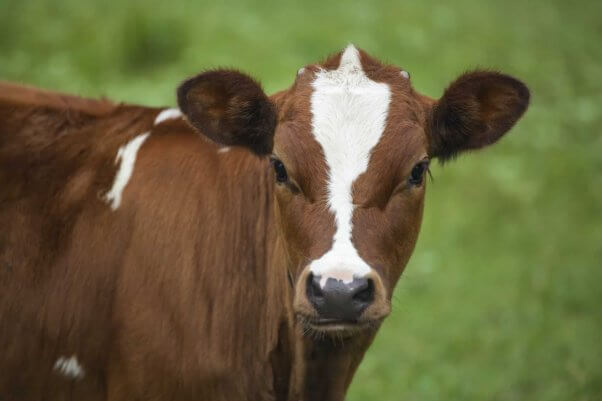 © iStock.com/dimid_86
Sooner or later, most, if not all, of the animals used in these programs will meet a grim fate in a slaughterhouse. Pigs, cows and chickens are sensitive, thinking animals who feel pain and value their lives. They're horrified at the sights and smells of the slaughterhouse and don't want to die. But the children learn to remain detached and unaffected by this—and it seems clear that FFA and 4-H play a part in that.
From a young age, we're all systematically desensitized to who, not what, we eat. We call cows' flesh "beef" and "steak." When we refer to wings and ribs, we gloss over the fact that those are the actual body parts of chickens and pigs who didn't want to die. It's easier to tell children they're eating "nuggets" rather than ground-up birds.
But as a civilized society that values fairness and compassion, we must take our blinders off and actually stop to think about the animals themselves. Dr. Marc Bekoff, a former professor of ecology and evolutionary biology at the University of Colorado, puts it this way: "I feel it's essential for people to learn more about how animals sense their worlds from the point of view of the animals and not merely from humans' points of view."
Teaching kids to respect animals for the interesting, sentient beings they are, instead of focusing on how they can be of use to humans, is the kindest lesson of all.
Are you an educator who wants to bring lessons on kindness to animals into your classroom? Visit TeachKind.org for free resources, lesson plans, and more.