What do you get for 10 years of loyal service to Green Mountain College? Well, if you're an ox, you get strung up by one leg, your throat is slit, and you are bled to death. Oxen Bill and Lou have served the agricultural school in Poultney, Vermont, as laborers for the past decade, and the students love them. Lou sustained an injury this summer, and the school decided that Bill likely would not work as well with a new partner, so Green Mountain wants to send the animals to slaughter and serve them in the school cafeteria. But PETA and the public are calling foul, insisting that the oxen deserve better.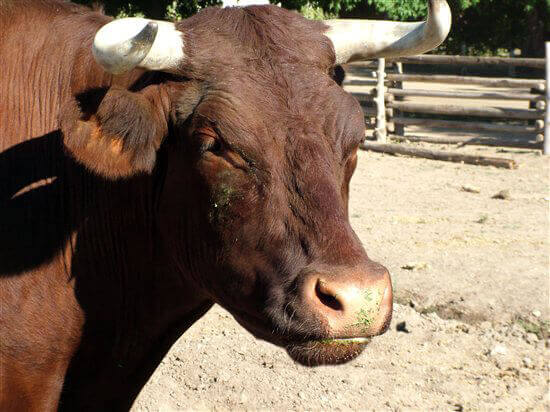 This ox does not approve of Green Mountain College's  lethal "retirement" plan for Bill and Lou.
It isn't as if the school had no easy, humane option: Vermont's VINE Sanctuary offered to provide Bill and Lou with a peaceful place to live out their days and even offered to arrange transportation for them. But the school refused.
PETA sent an urgent e-mail today to school administrators asking them—if they refuse to accept VINE Sanctuary's offer to provide Bill and Lou with a peaceful retirement—at least to allow students and the public to witness the slaughter of the animals so that they can see the terror in Bill's and Lou's eyes right before a bolt is shot into their foreheads and they are strung upside down and bled to death. But we are hopeful that it won't come to that.
Join PETA and urge Green Mountain College to allow Bill and Lou their well-deserved retirement.